The swell folks over at Top Cow are selling digital comics at a massive bargain through Humble Bundle with the goal of raising money for victims of the California Wildfires, as well as two other charities (which the user can choose when purchasing the bundle). A press release provides more details on The Darkness Sci-Fi and Sex bundle:
Top Cow Productions and Humble Bundle have reunited to offer a collection of new and classic Top Cow titles to help raise money for a charity of your choice! Your pay-what-you-want contribution can go to Direct Relief. The humanitarian aid organization is currently supplying respiratory masks, inhalers, nebulizers, eye-wash solution, and other vital medicines to California residents affected by the deadly wildfires. The two other featured charities are the Comic Book Legal Defense Fund and Musicians on Call.
Here's the books you get at the $15 level:
The Darkness Compendium Vol. 1
The Darkness Compendium Vol. 2
The Darkness: Accursed Vol. 6 – 7
The Darkness: Rebirth Vol. 3
The Darkness: Close Your Eyes
The Darkness: Vicious Traditions
Broken Trinity
Aphrodite: Ares
Aphrodite V #4
Art of Marc Silvestri
Art of Witchblade
Art of Witchblade 20th Anniversary
Blood Stain Vol. 3
Postal Vol. 5 – 7
Sunstone Vol. 4 – 5
The Darkness: Rebirth Vol. 1 – 2
The Darkness: Levels #0 – 5
The Darkness: Hope
The Darkness / Pitt Vol. 1
Art of The Darkness
Plus all of these at the $8 level and above:
Witchblade #10
Witchblade #180
Witchblade #181
Aphrodite V #2 – 3
Art of Top Cow
Art of Rahsan Ekedal
Blood Stain Vol. 2
Eclipse Vol. 1 – 2
Port of Earth Vol. 2
Stairway Vol. 1
Sugar Vol. 1
Postal Vol. 3 – 4
Swing Vol. 1
Witchblade (2017)
Sunstone Vol. 2 – 3
And these at the $1 level and above:
The Darkness: Shadows & Flame #1
Trinity: Blood on the Sands
Blood Stain Vol. 1
Aphrodite V #1
Bonehead Vol. 1
Cyber Force: Awakening Vol. 1
Dissonance Vol. 1
God Complex: Dogma Vol. 1
Golgotha Vol. 1
Port of Earth Vol. 1
Postal Vol. 1 – 2
Sunstone Vol. 1
The Freeze / Infinite Dark Preview
The comics are available in CBZ, PDF, and ePub format, DRM-free, so you can read them however you like. Top Cow says the comics are valued at a total of $760. You can purchase this bundle until November 28th.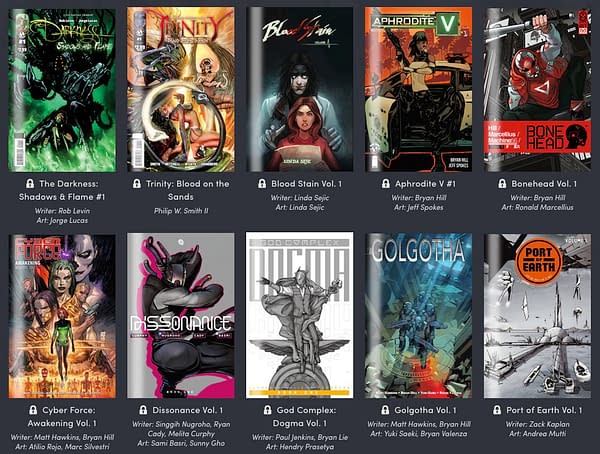 Enjoyed this article? Share it!