Trout: The Hollowest Knock read like a faced-paced fever dream, where I finished the comic before I realized I was coming to the end of issue one. Sure that I had not fallen into a sensory overload coma, I had the feeling that I had absolutely enjoyed myself regardless. Writer and Artist Troy Nixey (Neil Gaiman's Only The End of the World Again) revives his protagonists, turnip factory worker Guiseppe and the mysterious baby Trout, in in this fast paced fantasy and horror comic.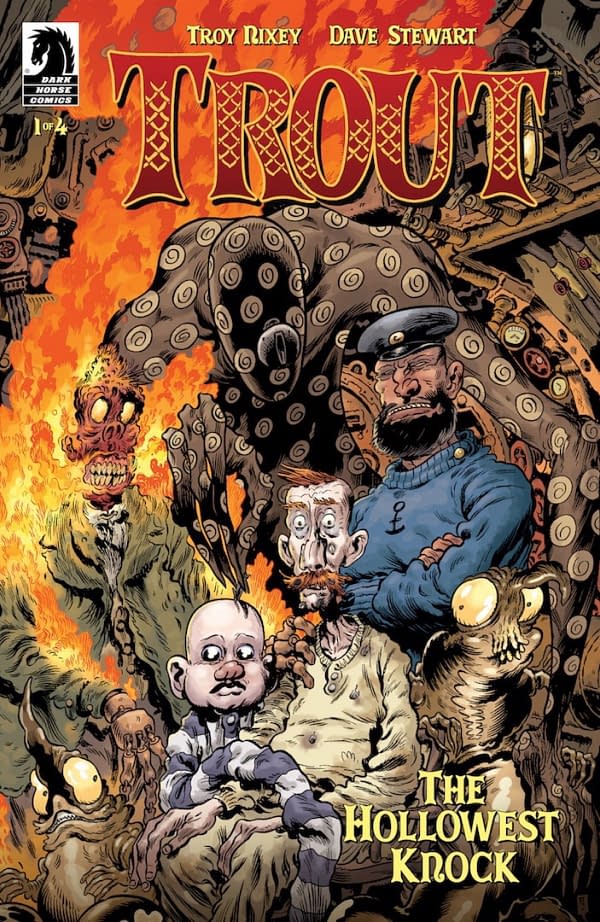 If you have not picked up Nixey's previous works featuring the strange duo, Trout is a strange little boy who lives in a hypnagogic world, and under the close eye of his caretaker Guiseppe, experiences strange and terrible adventures. The Hollowest Knock opens to a fire at the turnip factory, and the townspeople of Upton are after the blood of the old-man and baby. With no hope other than returning to his childhood home, Guiseppe escapes with Trout on the Eendracht, a ship full of superstitious sailors who soon blame the weather on the baby. Staging a mutiny, the sailors attack the pair and throw them into the ocean, where Guiseppe and Trout are separated and conclude the first issue of Nixey's story.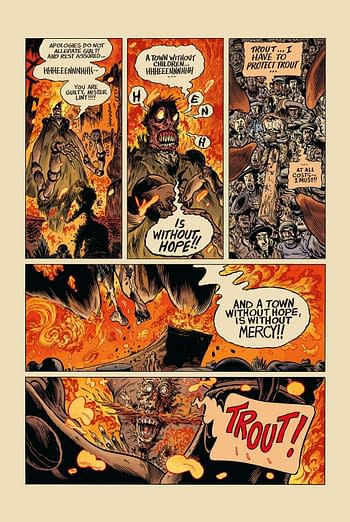 The characters in THK come in with a fury, taking up entire panels with their commentary and imagery that seems pulled straight from a Mignola horror comic. Nixey creates a world of fantasy and pairs the mysteries of the sea with images you would only see in a nightmare. The artwork looks like it was inspired by Herman Melville himself, with raging seas, grizzled characters, and monsters that the depths can barely contain. Although I was pulled in immediately to the story, I had to go back to the artwork to really understand the context clues that Nixey provided. The Hollowest Knock proved from cover to cover that this warrants more than one read, getting even entertaining the more that is absorbed from really taking in both story and art. With a cool four-issue run, this is a story that you will want to get your hands on, and a price of $3.99 is well worth the content. Issue #2 hits shelves July 17th and is one you will want to add to your hold box ASAP.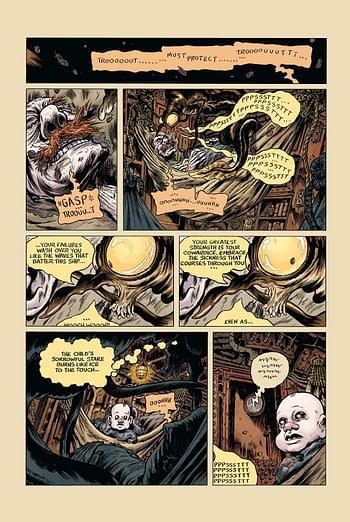 Enjoyed this article? Share it!