In the category of things I never thought I'd write about… Valiant is holding a signing to go with their Cosplay Cat Variant Covers… and they're bringing the cats. Seattle's Comics Dungeon will be holding a live, in-person signing featuring stars (and real-life felines) Fawkes and Nak, alongside Freyu – creator of the Cat Cosplay of the Feline Variety blog – on Saturday, December 17th from 12:00 pm to 4:00 pm PT.
The text on the image below says "We regret nothing"… we'll see if they're still saying that after the singing with two live cats.
Available as "order-all" covers across all of Valiant's December 2016 series, each of the cat cosplay covers are available for retailers to order in unlimited quantities at the standard suggested retail price:
• A&A: THE ADVENTURES OF ARCHER & ARMSTRONG #10
• BLOODSHOT U.S.A. #3 (of 4)
• BRITANNIA #4 (of 4)
• DIVINITY III: STALINVERSE #1 (of 4)
• FAITH #6
• GENERATION ZERO #5
• HARBINGER RENEGADES #2
• NINJAK #22
• SAVAGE #2 (of 4)
• WRATH OF THE ETERNAL WARRIOR #14
A portion of the proceeds from all the cat cosplay covers sold will benefit the Brooklyn Animal Rescue Coalition (BARC), a New York-based non-profit that operates a no-kill shelter for cats and dogs in Brooklyn's Williamsburg neighborhood. BARC's mission is to provide a safe haven for abandoned animals – with quality food, shelter, medical attention, and the love they deserve – and to find permanent loving homes for them.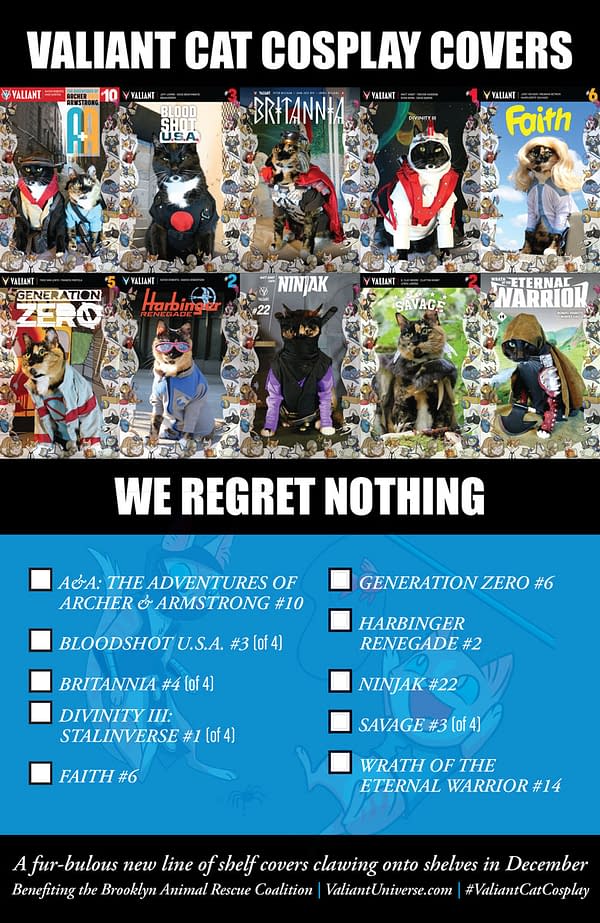 Enjoyed this article? Share it!