Magdalene Visaggio, alongside artist Jason Smith, starts off the series Vagrant Queen through publisher Vault Comics. Plus Songs of the Dead, from Andrea Fort, Michael Christopher Heron, and Sam Beck, reaches its conclusion. All of this and more can be found in their May 2018 solicits. Details below.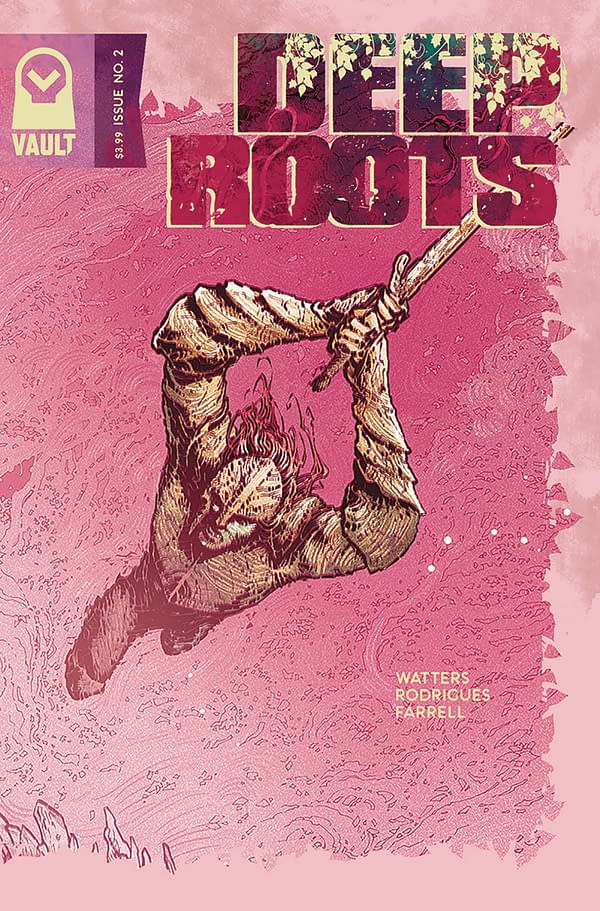 MAR182062
DEEP ROOTS #2
(W) Dan Watters (A) Val Rodrigues (CA) Dani Strips
As two worlds bleed each other for survival, infection spreads in the city, threatening to turn the bones of London to dust. Meanwhile, the Otherworld's rusting protector must face a horror wrought by the modern age. (STL079437)
MATURE THEMES
28pgs, FC SRP: $3.99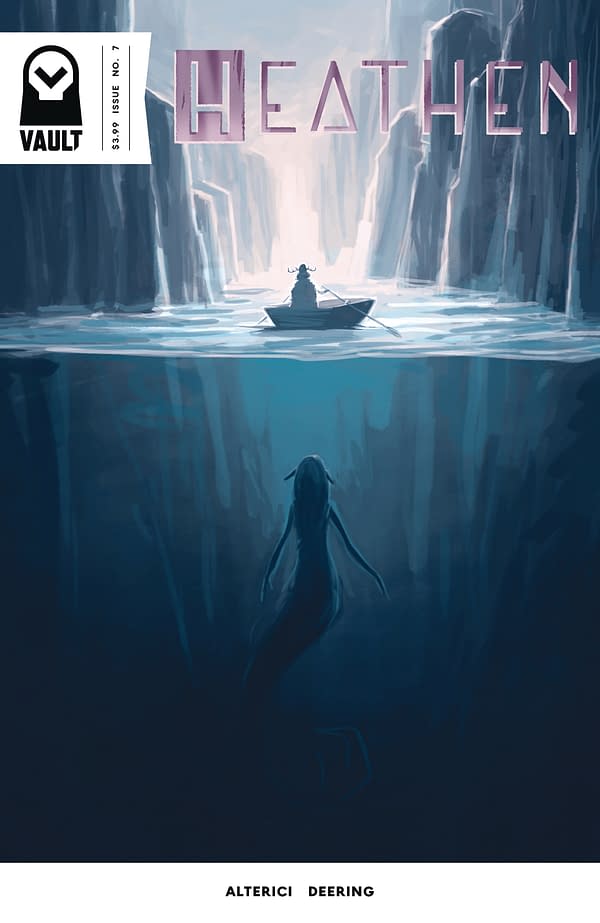 MAR182064
HEATHEN #8
(W/A/CA) Natasha Alterici
After a stormy night at sea ends in tragedy, Aydis is forced off the ship and must now face the open ocean alone. Elsewhere, Brynhild and Sigurd finally reach the Valkyrie castle, only to find it deserted of all but one belligerent goddess. (STL065150)
RES. from Previews Vol. XXVII #10 (OCT171938)
24pgs, FC SRP: $3.99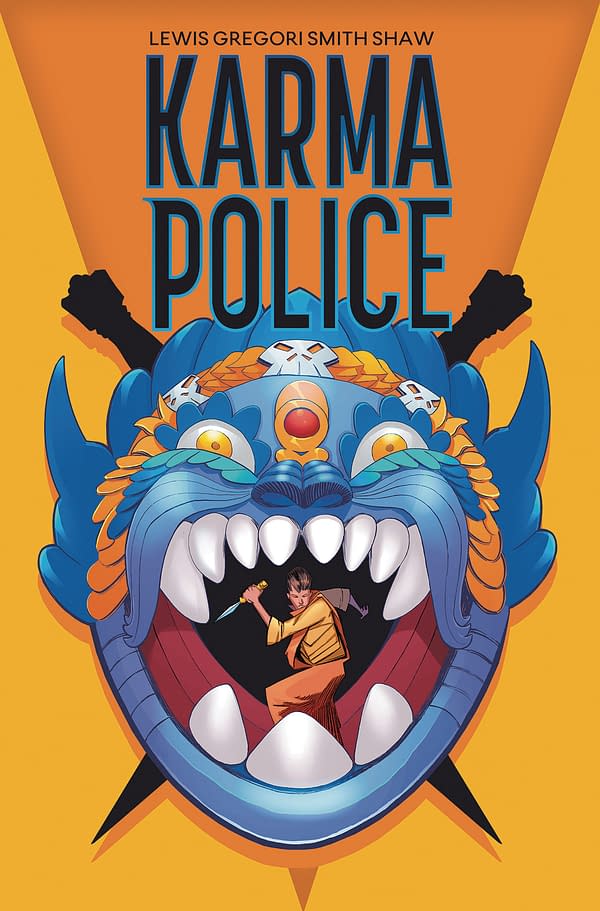 MAR182065
KARMA POLICE TP VOL 01
(W) Chris Lewis (A) Tony Gregori, Jasen Smith (CA) Tony Gregori, Mike Spicer
Jack Allen is a young woman who has been recognized as the reincarnation of a Tibetan monastery's holiest monk. Trained as a compassionate assassin, Jack soon discovers an enchanted dagger from her previous incarnation's bloody past. But she'll have to resist its lure to stop the violence surrounding her in the present. Collects issues #1-4. (STL048580) (C: 0-1-1)
RES. from Previews Vol. XXVII #7 (JUL172291)
SC, 120pgs, FC SRP: $15.99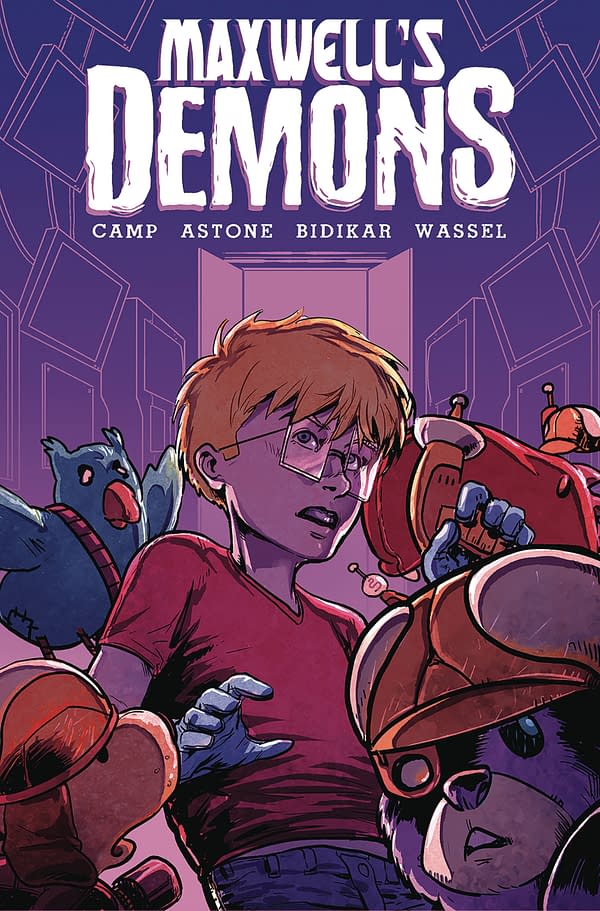 MAR182066
MAXWELLS DEMONS TP VOL 01
(W) Deniz Camp (A/CA) Vittorio Astone
Maxwell Maas may be the greatest mind the world has ever known, but at 10-years-old, he has a lot to learn! Adventuring to distant worlds through his makeshift multiversal closet door, Max will encounter greatness and goodness on a cosmic scale. But will he realize that danger lurks on both sides of the door before it's too late? Collects issues #1-5! (STL080022) (C: 0-1-1)
SC, 7×10, 160pgs, FC SRP: $19.99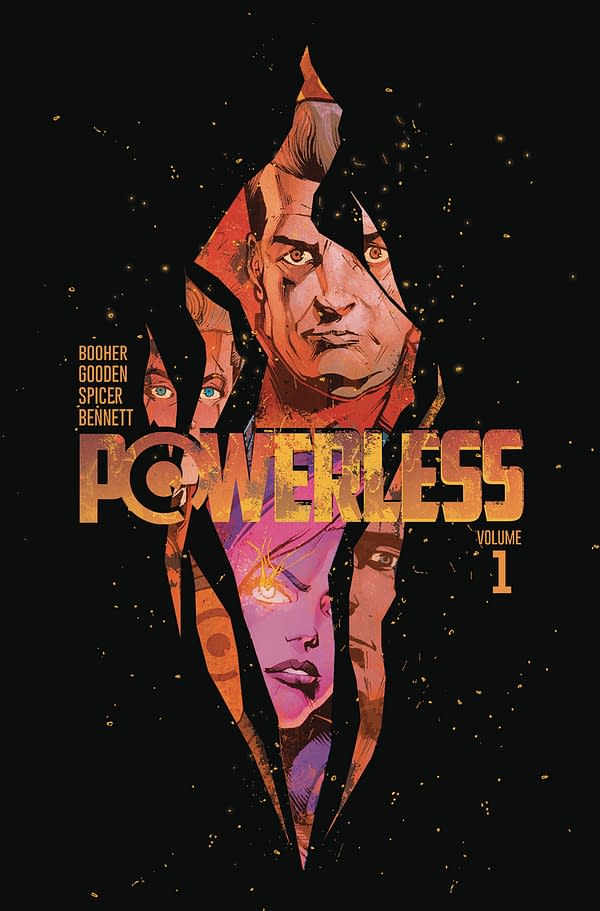 MAR182067
POWERLESS TP VOL 01
(W) David M. Booher (A/CA) Nathan Gooden
Billy Bannister lives in a world without superheroes. Not because powers don't exist, but because everyone has them! After the outbreak of PRV, a virus that ripped away those abilities, Quarantine emerges to stop the spread. An elite agent, Billy is the last line of defense against contagion. But his loyalty is tested when the infection hits too close to home. Collects issues #1-4! (STL048581) (C: 0-1-1)
SC, 140pgs, FC SRP: $15.99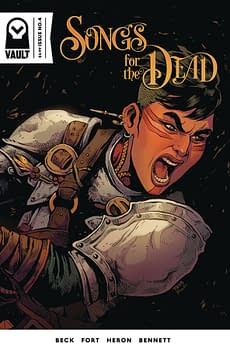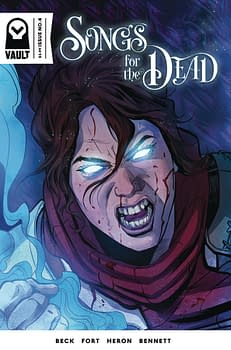 MAR182068
SONGS FOR THE DEAD #4 (OF 4) CVR A
(W) Andrea Fort, Michael Christopher Heron (A) Sam Beck (CA) Tess Fowler
After the events of Accrington, Bethany and Elissar are left with more questions than answers. Bethany's latest lead to The Covenant comes in the form of an encrypted map. Desperate for guidance, Bethany agrees to visit Barnabas Gunne, an old acquaintance of Elissar. Weather-worn and boastful, selling stories of his glory days, Barnabus seems a dubious ally. With her goal just out of reach, Bethany can't shake the feeling that something sinister is lurking, waiting to strike. (STL079440)
36pgs, FC (4 of 4) SRP: $3.99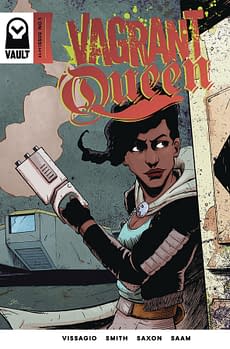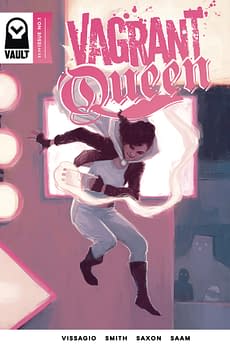 MAR182070
VAGRANT QUEEN #1
(W) Magdalene Visaggio (A) Jason Smith (CA) Natasha Alterici
Former child queen Elida was driven from her throne at age ten and forced to wander the galaxy, evading the revolutionary forces that wanted her dead. When an old frenemy claims to know the whereabouts of Elida's long-lost mother, she is forced to return to her former kingdom and stage a rescue. Interstellar badassery by Eisner-nominated writer MAGDALENE VISAGGIO (Kim & Kim) with artist JASON SMITH. (STL079446)
MATURE THEMES
28pgs, FC SRP: $3.99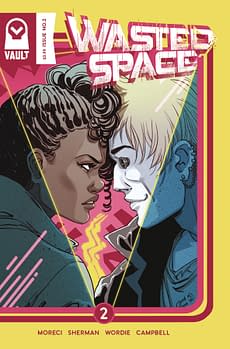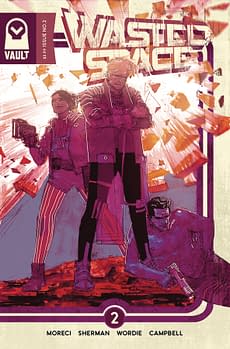 MAR182072
WASTED SPACE #2
(W) Michael Moreci (A) Hayden Sherman (CA) Marguerite Sauvage
Mayhem, cyborgs of destiny, and boozed out prophets. It's all here in Wasted Space, so strap in and hold on tight for the wildest sci-fi ride of 2018. Never has a more ragtag, unwilling group of heroes — "heroes" — been assembled, but if they don't pull their crap together, it might just spell the apocalypse. (STL079442)
MATURE THEMES
28pgs, FC SRP: $3.99
Enjoyed this article? Share it!