Venom #3 Review: Gold Standard for Creature Feature
[rwp-review-recap id="0"]
Eddie Brock finds himself no longer in control of Venom and in the process of attacking Spider-Man Miles Morales. With the help of Spider-Man, Eddie gains control of Venom once again. He and Miles agree to a truce so that they can take on the Symbiote Dragon ravaging New York City.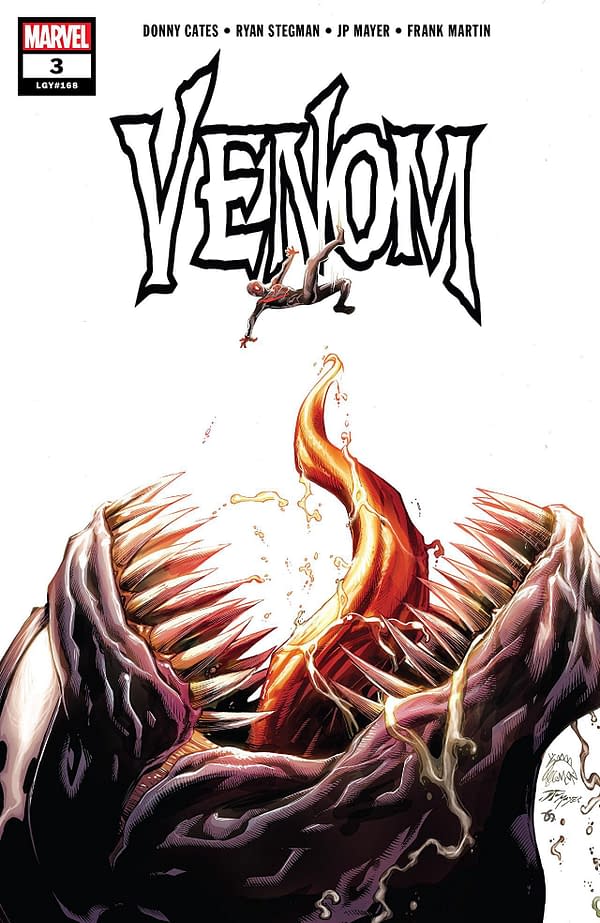 Venom #3 sets a new high point for the series already, surpassing the prior two excellent issues. This comic does so much right, and it had me enthralled until the end.
The Big Two, but especially Marvel in this case, have bad tendency to lessen the weight of their big crises by keeping the story framed outside of the consequences. This is especially the case with giant monsters; Monsters Unleashed was a horrible offender in this regard. Jason Aaron and Ed McGuinness' Avengers have improved on this so far, though.
Venom #3 frames itself almost like a horror movie, and, in doing so, keeps the scope and disaster that is the arrival of the Symbiote Dragon firmly within the reader's sight. You get that this is a catastrophe that is somehow personally haunting Eddie Brock. That makes the comic far more intense and the showdown with the Symbiote Dragon even more momentous and compelling.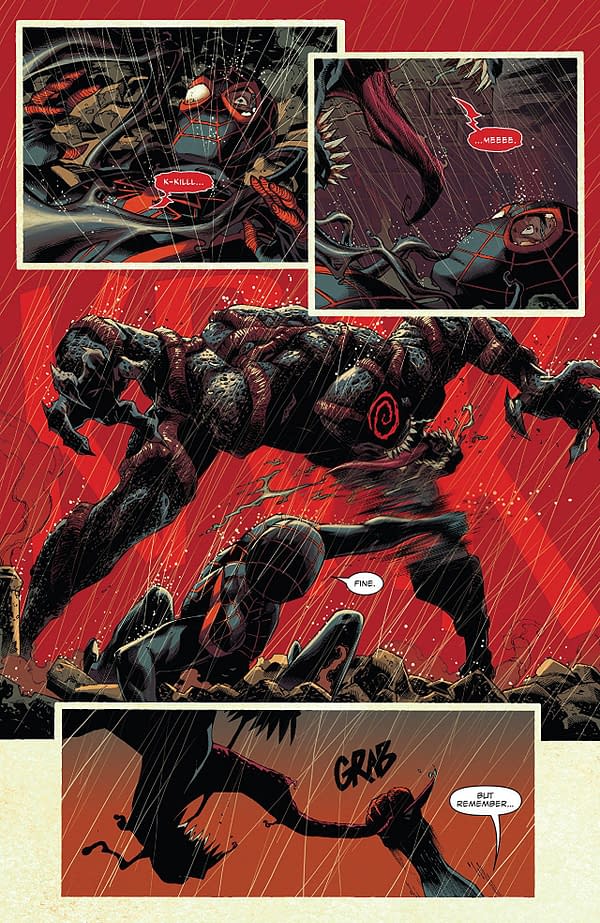 The artwork of Ryan Stegman is phenomenal too. The tense atmosphere and horror-like framing are accomplished primarily through his work here. The detailing and heavy shadowing make the world foreboding and dangerous. There is a panel where Venom and Spider-Man are talking, and you see the silhouette of the Dragon roaring in the background. Frank Martin's color work works wonders too. The background is often either a deep black or a blood red as New York burns in the wake of the Dragon.
Venom #3 is the gold standard of what a creature feature anti-hero comic can be. It maintains a powerfully ominous tone, presents a fantastic climactic fight, and keeps the stakes and dangers visible for the reader. Donny Cates, Ryan Stegman, JP Mayer, and Frank Martin knocked it out the park with this one. This book is highly recommended. Give it a read.
[rwp-review-ratings id="0"]
[rwp-review-form id="0"]