Christof Bogacs, Skylar Patridge and Nadia Shammas are launching Volume, a new comic book about a teenage girl going to war with the totalitarian regime that has taken over her city. Her one weapon? A single punk music track.
Welcome to
Volume
…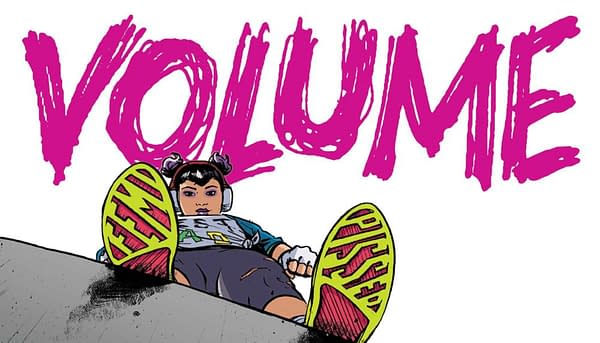 In the near future, a populist dictatorship — known simply as THE REGIME — has made music illegal, preaching a perverted version of law and order called 'PEACE IS QUIET.' Standing up to this onerous silence is ESSA, a teenager sick of living in the bland and colorless world the Regime has created. She's 16, fed-up, and her only weapon is one killer rock song. Needless to say, it's going to get noisy.

Writer and co-creator Christof Bogacs says, "VOLUME has been rattling around in my head for a while now. This is me venting all my pent-up teenage rage in an immature display of punching, explosions and song lyrics. The best part is I get to pull Skye and Nadia into the fray with me …and now Scout as well! As a fan of books like Long Lost and Heavenly Blues, I couldn't be more excited to be working with Scout to bring this punk-drenched power-fantasy to life."

Artist and co-creator Skylar Patridge added, "Volume is a really special story, not only in its message but also in its execution. We wanted to create a world devoid of color, stifled by the confines of conformity — then smash it with color and punk music. It's a story of youth, identity and reluctant rebellion in the face of authoritarianism."

Editor and co-creator Nadia Shammas concluded, "VOLUME is a story that encapsulates the way teen girls are silenced and undervalued, and the way their voices are louder than ever."
A four issue series, Volume will be published by Scout Comics later in 2019.
Enjoyed this article? Share it!