How Wally West and Booster Gold Could Have Saved Everyone in Heroes In Crisis – and Still Could (Spoilers)
So. Heroes In Crisis #9. Wally West's dead body, that we saw draped over the dead body of Roy Harper in Heroes In Crisis #1 was, it seems, placed there by his future self after killing an even more future version of himself, and then living those five days until he became his even more future self and was then killed by his past self. A circle of confusion. And unable to change that sequence of events with more time travel without unravelling space and time and giving us all another Flashpoint, the last thing we want right now.
So instead Booster and Wally went to the future and created a dead clone body of Wally West to place on the crime scene. So that Wally didn't have to die and become his own corpse, but could go to jail for manslaughter, perverting the cause of justice and murdering Lagoon Boy, but keeping the timeline as it was.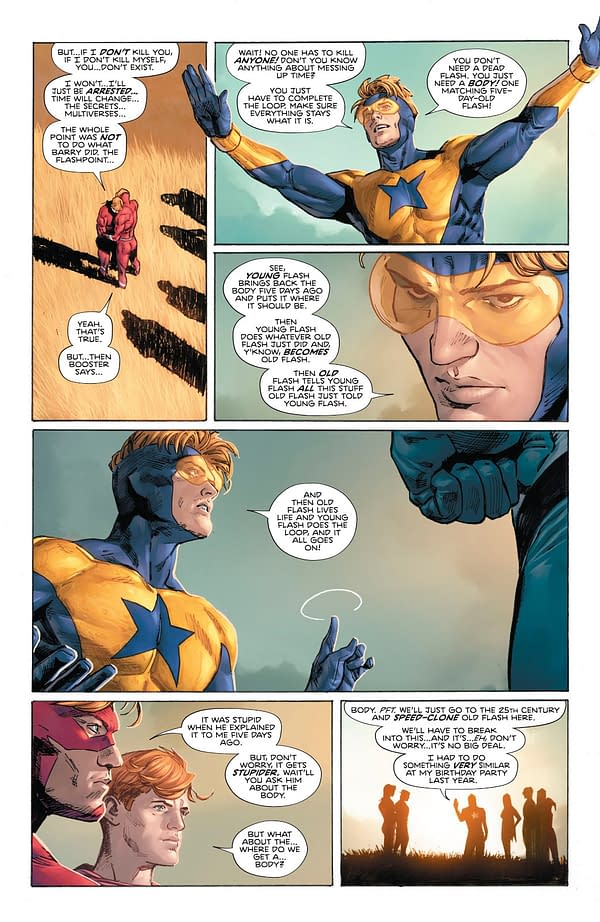 Quick diversion, while it's going to take some time for Wally West to come back from this one, he's also not going to be allowed to be a police mechanic any more, is he?
But here's the thing about all those dead bodies – why couldn't Wally West and Booster Gold have recreated all those superheroes as dead clones as well, pulled them out at the moment of death, cloned them, kept them in a pocket dimension somewhere, dropped the dead clone bodies all over Sanctuary for Wally West to find (how he actually killed them with his powers is still unclear, so that would solve that as well) and only bring out the very much alive heroes at the end of Heroes In Crisis #9, also preserving the timeline? Then no one would need to go to jail – at least, not for long.
Wally West found a way to bring Poison Ivy back as a plant elemental, couldn't he have saved the others as well? Especially Lagoon Boy? It might be a schlep to go back in time further, retrieve their DNA, create dead clones and swap them out of the timeline. But he is the fastest man alive after all.

In fact, there's nothing stopping him from doing that right now. Apart from being in a jail cell. But he can vibrate right through those bars if he so wishes…