The War Of The Realms #4 is another $4.99 twenty-page comic book. Still a rarity at Marvel Comics, it looks like DC's Year Of The Villain will be asking people to hold their mead – but at least they'll provide a choice. The War Of The Realms #4 manages to squeeze as many of the battles going on around the globe into those pages. Lots of deaths, resurrections, new looks, new races, and the return of Odin, The All-Father to battle in some very natty duds.
Is there any chance that this is an armour built for him in 1,000,000 BC by a certain Tony Stark who, it seems, was sent back in time somehow in the Free Comic Book Day Avengers event?
At least that was good value for money. Talking of which The War Of The Realms: Strikeforce: War Avengers is also $4.99 but somehow manages to use a full thirty pages of story. And in doing so, giving Deadpool a new name.
Murder Clown.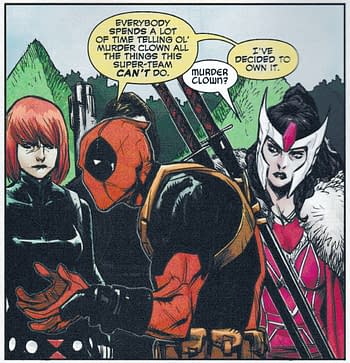 Yeah, that should stick. We also get more proof that Brian Braddock, Captain Britain, totally voted for Brexit.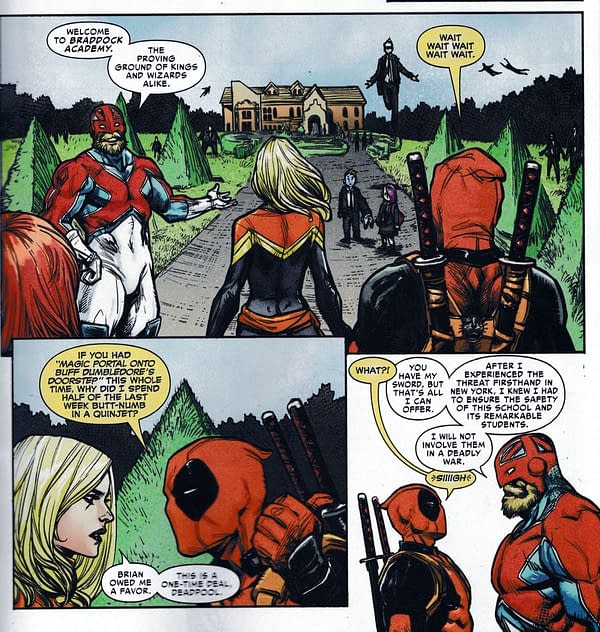 Separatism, self-determination, I'm-all-right-jack-ness… he totally voted Leave. But while all this is going on, it is worth noting that two of the comic's thirty pages…
We already read in War Of The Realms #2 last month.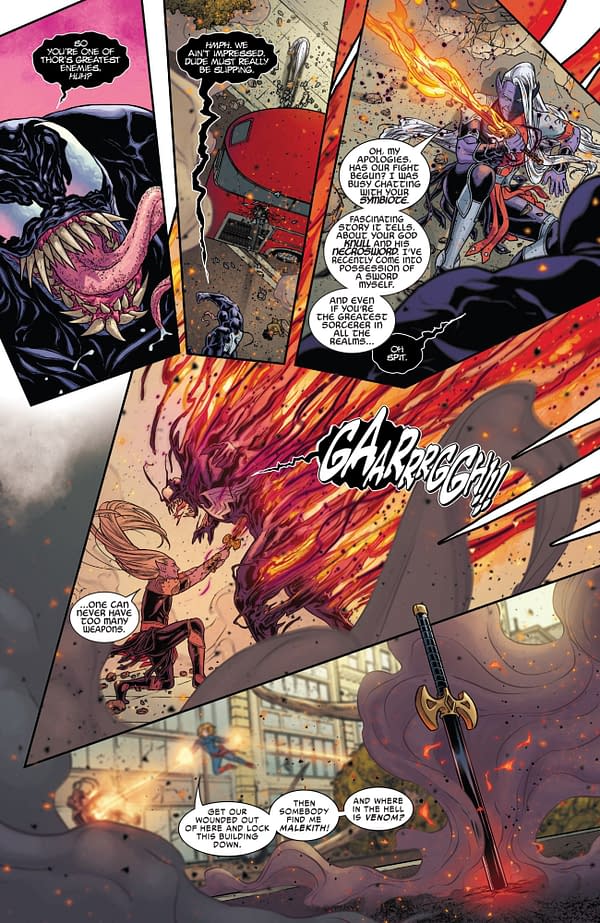 Even though the dialogue was different. And yes, as promised, War Of The Realms #4 does give us an inkling of what happened to this Venom – which, yes, is not the Venom seen in the Venom comic right now, this is the symbiote without the host…
With Venom's historical relationship to Asgardian weapon, the Necrosword bound to come up. Form of the first symbiote, whirled by Knull, All-Black, the Necrosword, also the weapon Gorr the God Butcher used to slay his victims in Jason Aaron and Esad Ribic's Thor: God of Thunder series. With Jason Aaron writing War Of The Realms and Donny Cates tying Venom and the Necrosword together, connective tissue this is bound to be a thing in upcoming issues… with Malekith already using the symbiote as a weapon to take down gods, such as Freyja.

While Giant-Man #1 has the giant men of the Marvel universe masquerading as Frost Giants on the orders of Freyja. I'm not sure all her decisions are wise ones… but 20 pages for $3.99 makes it a little easier to swallow.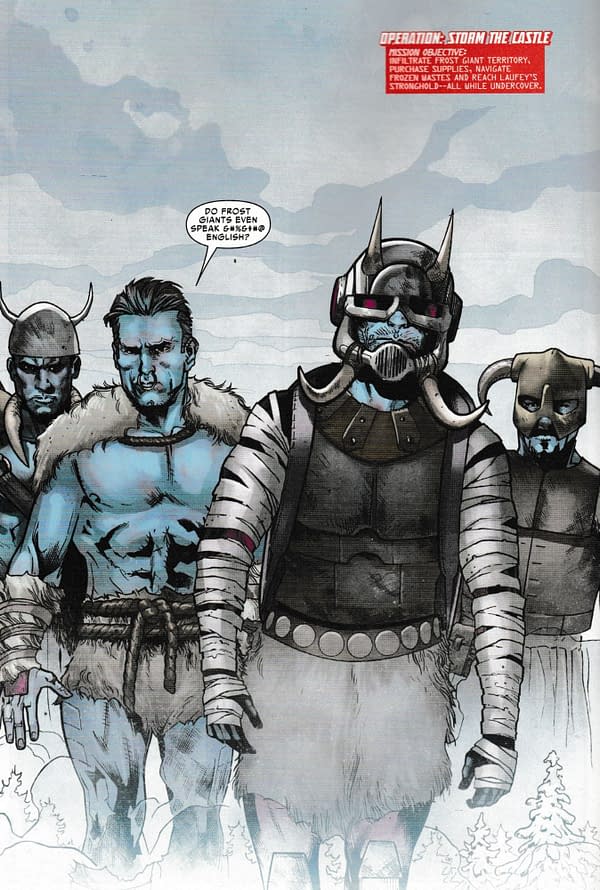 And The War Of The Realms: Spider-Man & The League Of Realms #1, 20 pages for $3.99, manages to bring a lot more humanity to this storyline than elsewhere. That, as Thor points out, is kinda the point.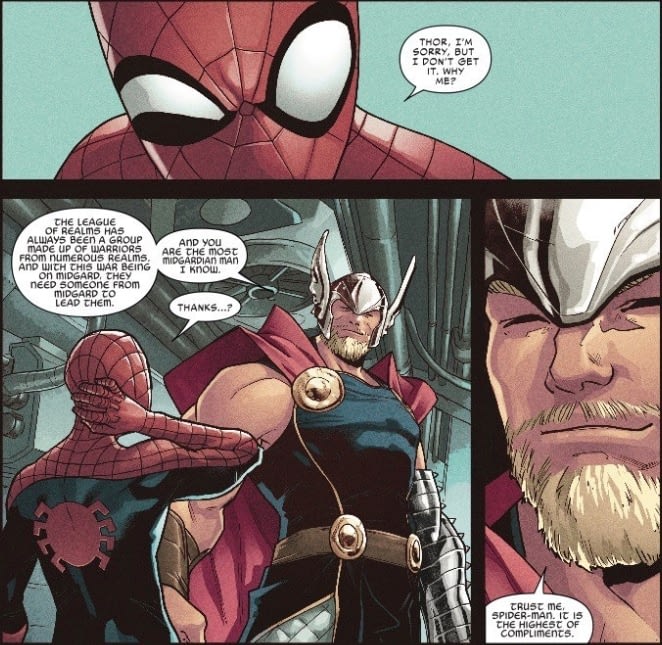 Not that it goes down all that well with the other Realms warriors…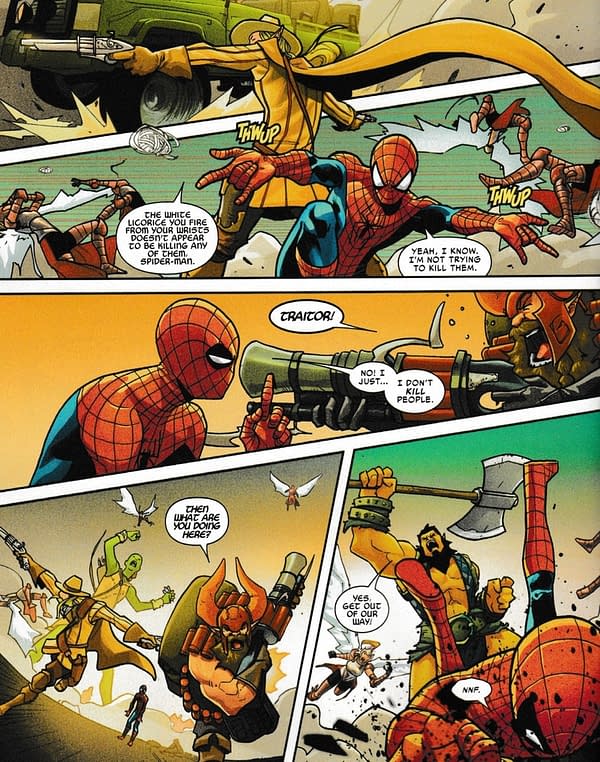 Yes, it is called a War for a reason. Still there are more than one way to skin, fricasse and kebab a cat as the trolls would no doubt point out… while over in The War Of The Realms #4, another human has a point to make.
Never have truer words been spoken.
WAR OF REALMS #4 (OF 6)
(W) Jason Aaron (A) Russell Dauterman (CA) Billy Tan
Pray to All-Mother Freyja! For in her hands lies the key to ending Malekith's war. The Black Bifrost – the only method of travel for Malekith's vast armies – must fall. Even with the Punisher, Ghost Rider, Blade and Hulk (Jen Walters) at Freyja's side, how many Dark Elves can one goddess kill? While Freyja's team heads for the swamps of Svartalfheim, Captain America's rescue mission in Jotunheim faces the wrath of giants, Captain Marvel leads a global assault team against Malekith's allies and the Black Panther defends Avengers Mountain against a siege of mythic proportion. None of them know that Malekith has a secret weapon. And its bite will prove most…VENOMOUS.
Rated T+ In Shops: May 15, 2019 SRP: $4.99
GIANT MAN #1 (OF 3)
(W) Leah Williams (A) Marco Castiello (CA) Woo Cheol
WAR OF THE REALMS TIE-IN! ON THE SHOULDERS OF GIANTS!
At the behest of All-Mother Freyja, four men must rise to monstrous heights and infiltrate the most savage territory of New Jotunheim: Florida!
Rated T In Shops: May 15, 2019 SRP: $3.99
WAR OF REALMS SPIDER-MAN & LEAGUE OF REALMS #1 (OF 3)
(W) Sean Ryan (A) Nico Leon (CA) Cully Hamner
WAR OF THE REALMS TIE-IN!
• In order to win the War of the Realms, we need a LEAGUE OF REALMS!
• Thor once led this team with one representive from each fantastical realm, but the League has a NEW leader and representative of Midgard- SPIDER-MAN!
• Spider-Man must Frodo-Up and lead this ragtag group of SCREWBEARD THE DWARF, UD THE TROLL, RO BLOODROOT THE WIZARD, SIR IVORY HONEYSHOT THE LIGHT ELF and TITANYA THE MOUNTAIN GIANT! But who will represent ASGARD?!
• And, as Spidey is a terrible leader, could this team possibly achieve ANYTHING?!
Rated T In Shops: May 15, 2019 SRP: $3.99
WAR OF REALMS STRIKEFORCE WAR AVENGERS #1 WR
(W) Dennis "Hopeless" Hallum (A) Ario Anindito (A/CA) Kim Jacinto
CAPTAIN MARVEL AND HER WAR AVENGERS HOLD THE FRONTLINE!
While two other Strikeforce teams head out to other realms, Captain Marvel leads the fight to reclaim the Earth! But even with a crew of heavy hitters (Weapon H, Captain Britain, Venom, Deadpool) and two of the best spies on the planet (the Winter Soldier and the Black Widow), Carol's fighting a losing game. Malekith's allies are without number – and the battlefield bigger than any Carol's commanded before. Time to lay it all out on the line – and fight for a miracle.
Rated T+ In Shops: May 15, 2019 SRP: $4.99
Enjoyed this article? Share it!