Warren Ellis Talks The Authority, Alan Moore & James Gunn
Warren Ellis has been talkingh about The Authority, to be a new DC Studios film, and when JIm Lee popped by to tell him that he'd sold it all to DC Comics.
---
In his Orbital Operations newsletter, Warren Ellis talked about the announcement this week by James Gunn and Peter Safran that DC Studios was to make a movie based on The Authority. As Bleeding Coolnoted, there was suddenly a feeding frenzy in the aftermarket and, as The Authority Book One sold out everywhere fast, DC is trying to get reprints back in stores as soon as possible. Warren Ellis recalls the history of the comic book series, published by DC Comics in 1999.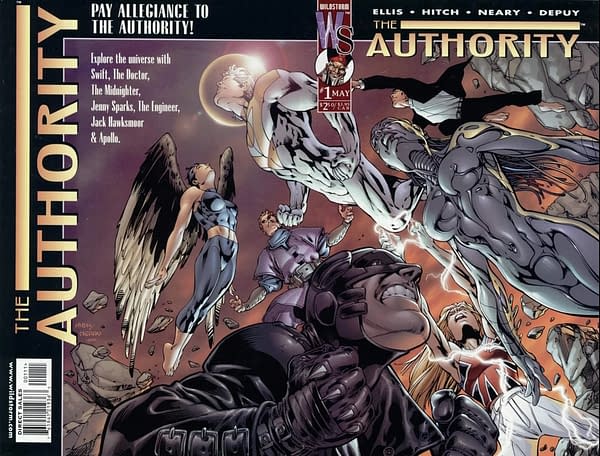 THE AUTHORITY was a comics series I created with and for the artist Bryan Hitch, with colourist Laura DePuy (now Laura Martin) in the late 1990s at DC Wildstorm. It was actually just Wildstorm when we started – I remember Jim Lee and Scott Dunbier gathering us all to dinner in London to explain that Wildstorm was being bought by DC, that doughty pair having just returned from Northampton to explain it all to Alan Moore.
They didn't explain, of course, that Paul Levitz would roll up his sleeves and start editing everything. But that was for another day.
"Alan got out of the cab with a walking stick in his hand, and I swear to god it looked like a cudgel he'd brought to beat us to death with." Alan Moore, to me later: "Ah, yes. I affect a cane these days." (Note: this is the correct English formulation of a sentence that might otherwise read, "I carry a cane as a personal affectation.")

After that news broke, I briefly exchanged messages with James Gunn, during which I wished him luck and told him to have fun with it, and later that day Jim Lee phoned me to give a few more details. I know very little more than you do, at this point, and this is because James and Peter Safran are running a very tight ship with very high operational security, and I'm not about to mess with that.

I'm very interested to see what happens next. As I said to James Gunn: if it gets made under his watch, I know that it will at least have good music. (The time I spoke to him before this, it was about his use of the fun "In The Meantime" by Spacehog in the Guardians 3 trailer, which I think is the only rock song in history to use a sample from a Penguin Cafe Orchestra piece.)

God, I hope those both work internationally. Geofencing on YouTube videos is such bullshit.

Anyway. There are plan for DC Films to make a THE AUTHORITY film. Obviously, it may never happen. Plans change all the time. And I won't be saying any more about it until either I'm told I can or something gets properly reported out about it. But it's nice to know they really want to make it, and I wish them all the luck in the world.
Absolutely unironically, I hope they use I Saved The World Today by The Euthymics coupled with international ultraviolence write large across a major city.