The signage for San Diego Comic-Con 2019, dubbed Comic-Con 50 celebrating its 50th anniversary, has started to go up. Looks like Marvel Studios will have quite the presence at the show. The images below are from Avengers Endgame: but it might suggest a certain… focus for the show. Phase Four all round perhaps? Or will this be the debut screening for the new edition of Avengers Endgame with added footage?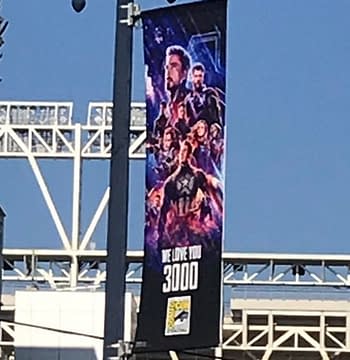 In Avengers Endgame, Tony Stark puts his daughter Morgan to bed. Before he closes the door, he says "I love you tons," and Morgan replies, "I love you 3000." The line is also spoken again, by Tony at the end of the movie.
That line was something that actor Robert Downey Jr brought to the film, as something one of his own children used to say, and was then worked into the screenplay.
Since then it has become quite the meme. And is now the San Diego Comic-Con poster for 2019…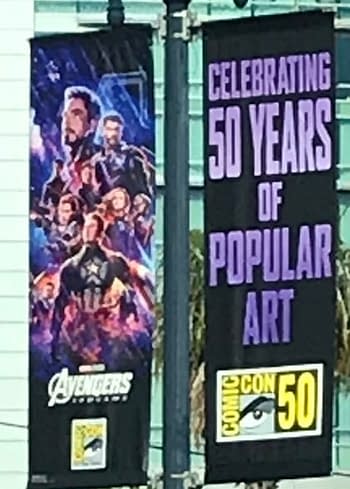 Thanks to Suzette Valle, the author of #101 Movies To See Before You Grow Up, for taking the shots. San Diego Comic-Con will run from July 17th through to the 21st. You can start lining up for Hall H… now.
Enjoyed this article? Share it!