What Was Esad Ribic Trying to Tell Us About Wolverine's Sexuality Back in 2003?
Back in 2003, Esad Ribic created a cover for Wolverine #6 that somehow slipped past the censors at Marvel despite being a pretty clear porn homage. Bleeding Cool wrote about the cover a few years ago after writer Greg Rucka confirmed its (obvious) intent on his Tumblr. Rucka was responding to a post which said:
Kurt's clearly naked

Logan's glaring at his dick

Classic porn cover poses

@Esad Ribic explain yourself please
And Rucka replied:
Also please note the placement of the beer bottle.

I once was at a show where I asked Esad about this cover.

Esad is a big, cheerful, man with a wicked sense of humor.

He just looked at me.

And then he smiled.

And the smile got bigger.

And bigger.

And he said, "And nobody at Marvel noticed!"

And then he couldn't stop laughing.
Here's the cover in question: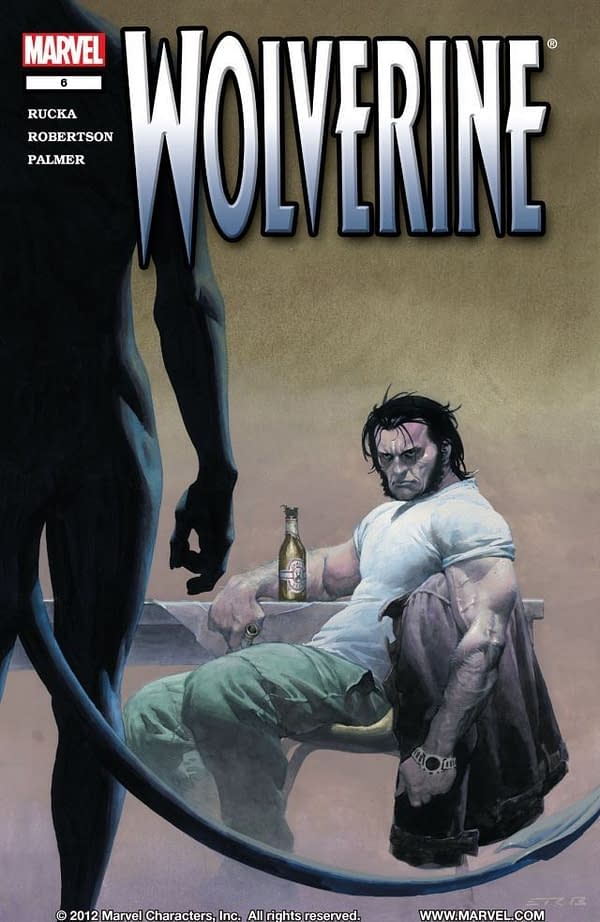 And yes, the overt implications here are obvious. And who can blame Wolverine for his arousal? Who wouldn't want to have sex with that adorable fuzzy elf? But does this cover conflict with another theory about Wolverine's sexuality that Bleeding Cool has recently been exploring?
You've heard us talk in-depth about it a lot lately. We believe that Wolverine has two dicks, one for f**king, and one for making love. We believe that this has been confirmed by the symbolism in the recently revealed logo for February's upcoming solo Wolverine book. Wolverine has two dicks, one for f**king Cyclops and one for making love to Marvel Girl, and as a result of this new relationship, Emma Frost finds an icy wall of emotional separation preventing her from pegging her ex-boyfriend Cyclops because he only has eyes for Wolverine and a tongue for Wolverine's butthole. It's all there in the logo. You can't miss it.

But when taking Ribic's theory into account, does it disprove our own? After all, it's clearly established that the beer bottle represents an erect dick. And there is, after all, only one beer bottle on the table. So, is the case closed? Does Wolverine have only one dick, and have we been deluded all this time?
Well, look again. Because, in fact, Esad Ribic's cover to Wolverine #6 actually proves our theory and becomes the earliest canon reference to Wolverine's dual-endowment we're aware of, replacing the previous earliest known reference, which was a quote from Jason Aaron on now-defunct toilet-themed comic book news site TheOuthousers.com. Because there isn't just one beer bottle in this picture. There's two. And if a beer bottle clearly represents a dick, and the cover features two beer bottles, then we don't see any other way we can possibly interpret this cover than as definitive proof that we've been right all along.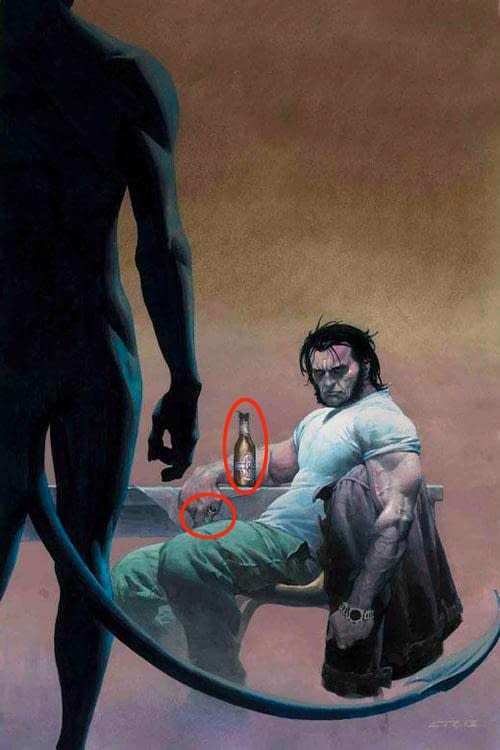 We hate to say we told you so, but… just kidding, we love to say it. Wolverine two-dicks confirmed? It's hard to argue with this evidence. Let us know what you think in the comments.