Posted in: Comics, DC Comics | Tagged: dc comics, geoff johns, golden age, jsa, justice society dark, Justice Society of America, new golden age, thirteen
---
Who Is The Harlequin's Son in DC Comics' Golden Age?
So who is The Harlequin's Son? The solicitation for the DC New Golden Age one-shot this week by Geoff Johns, Steve Lieber, Jerry Ordway, and Diego Olortegui is bringing us new Golden Age Heroes for the DC Universe. It looks like these are characters who did not previously exist in the DC Universe because they were removed from it and now are being returned under the Time Masters watch, with DC continuity retconning around them. Flashpoint Beyond #6 gave us the name of The Thirteen. Use this tag to keep up with details on them as they roll out on Bleeding Cool over the weekend.
So we have Golden Age Mister Miracle, Betsy Ross, Molly Pitcher, Golden Age Legionnaire, Ladybug, Quiz Kid, Salem The Witch Girl, Golden Age Aquaman, Cherry Bomb, The Harlequin's Son, John Henry Jr, Judy Garrick and The Golden Age Red Lantern. A series of familiar but also unfamiliar names. And this week's New Golden Age will start to tell us who is who and where we may – or may not – have seen them before. And Bleeding Cool is going to give you a sneak peek.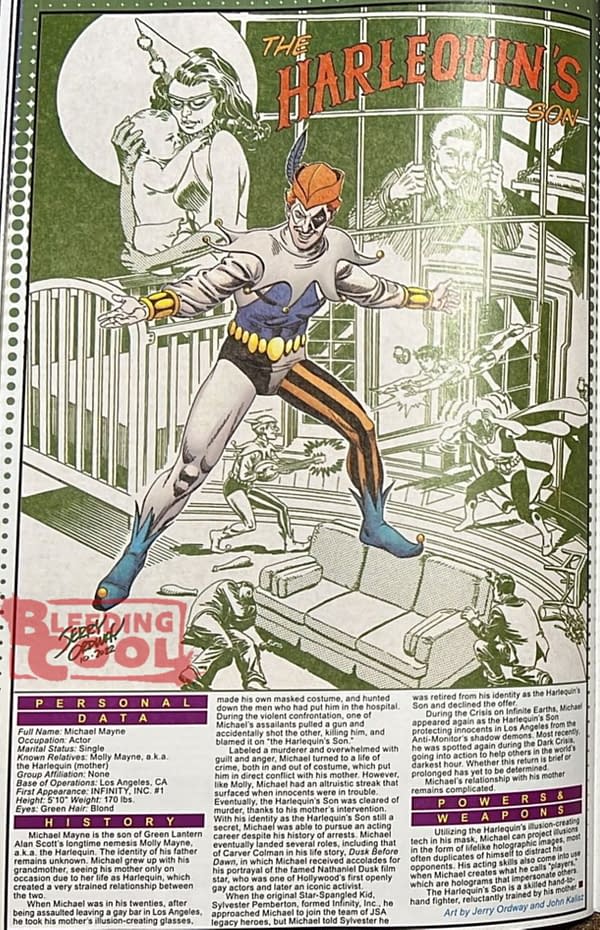 Full Name Michael Mayne
Occupation. Actor
Marital Status. Single
Known Relatives. Molly Mayne, a.k a the Harlequin (mother)
Group Affiliation. None
Base of Operations Los Angeles, CA
First Appearance: INFINITY, INC #1
Height: 5'10"
Weight: 170 lbs
Eyes: Green
Hair: Blond

Michael Mayne is the son of Green Lantern Alan Scott's longtime nemesis Molly Mayne, a.k.a. the Harlequin. The identity of his father remains unknown. Michael grew up with his grandmother, seeing his mother only on occasion due to her life as Harlequin, which created a very strained relationship between the two. When Michael was in his twenties. After being assaulted, leaving a gay bar in Los Angeles, he took his mother's illusion-creating glasses, made his own masked costume, and hunted down the men who had put him in the hospital. During the violent confrontation, one of Michael's assailants pulled a gun and accidentally shot the other, killing him, and blamed it on the Harlequin's Son: Labeled a murderer and overwhelmed with guilt and anger, Michael turned to a life of crime, both in and out of costume, which put him in direct conflict with his mother. However, like Molly, Michael had an altruistic streak that surfaced when innocents were in trouble. Eventually, the Harlequin's Son was cleared of murder, thanks to his mother "s intervention. With his identity as the Harlequin's Son still a secret. Michael was able to pursue an acting career despite his history of arrests. Michael eventually landed several roles, including that of Carver Colman in his life story, Dusk Before Dawn. in which Michael received accolades for his portrayal of the famed Nathaniel Dusk film star, who was one of Hollywood's first openly gay actors and later an iconic activist. When the original Star-Spangled Kid, Sylvester Pemberton, formed Infinity, Inc., he approached Michael to join the team of JSA legacy heroes, but Michael told Sylvester hr was retired from his identity as the Harlequin's Son and declined the offer. During the Crisis on Infinite Earths, Michael appeared again as the Harlequin's Son protecting innocents in Los Angeles from the Anti-Monitors shadow demons. Most recently, he was spotted again during the Dark Crisis, going into action to help others in the world's darkest hour. Whether this return is brief or prolonged has yet to be determined. Michael's relationship with his mother remains complicated. Utilizing the Harlequin's illusion-creating tech in his mask, Michael can project illusions in the form of lifelike holographic images, most often duplicates of himself to distract his opponents. His acting skills also come into use when Michael creates what he calls "players" which are holograms that impersonate others. The Harlequin's Son is a skilled hand-to-hand fighter, reluctantly trained by his mother.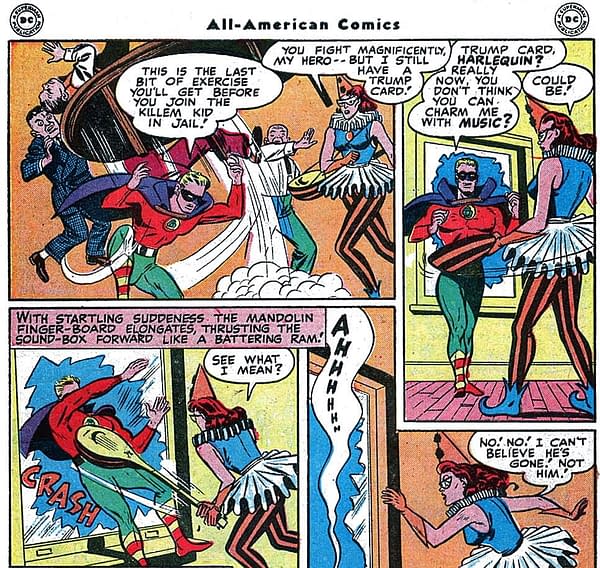 So Molly Mayne is a genuine Golden Age character, Harlequin first appearing in All-American Comics #89 in 1947. Over the years, she has been portrayed as the stepmother of Todd Rice and Jennie-Lynn Hayden, whose father was Alan Scott, the original Green Lantern and whose mother was Scott's enemy, Thorn.
But Harlequin's Son did not originally appear in Infinity Inc #1 and did not burst into the room with the other sons and daughters of heroes. All these interactions with the DC Universe, from Infinity Inc, to Crisis to Dark Crisis, did not happen – or at least, were not seen on panel. But now that's all changed. And Molly Mayne has gained a biological son of her own, Todd and Jeanine-Lynn get a step-brother, and Alan Scott a step-son.
In Doomsday Clock, also written by Geoff Johns, Nathaniel Dusk was a noir film character portrayed by actor Carver Colman who, in 1954, Carver Colman is found bludgeoned to death with the award that he won, by his own mother. Doctor Manhattan changes history so that he revealed his homosexuality, and despite being shunned by film studios, became an LGBT rights activist and was instrumental in getting homosexuality removed from the American Psychiatric Association's Diagnostic and Statistical Manual of Mental Disorders in 1973.
Now we have Michael Mayne, the Harlequin's Son playing the part of Carver Colman in a film, Dusk Before Dawn, about his life, including playing Nathaniel Dusk… a character was based on the real-life actor Robert Culp. It's a turducken of a character.
New Golden Age #1 by Geoff Johns, Steve Lieber, Jerry Ordway and Diego Olortegui is published by DC Comics on Tuesday, the 8th of November.
(W) Geoff Johns (A) Steve Lieber, Jerry Ordway, Diego Olortegui (CA) Mikel Janin
From the Justice Society of America to the Legion of Super-Heroes, The New Golden Age will unlock DC's epic and secret-ridden history of heroism, launching a new group of titles set firmly in the DC Universe. From the 1940s to the 3040s, heroes take on the great evils of their time. But in the aftermath of Flashpoint Beyond, those heroes and villains will have their lives turned upside down. DC's future…and its past…will never be the same again. But how are Mime and Marionette connected to this? Why are Rip Hunter and the Time Masters the most unlikable heroes in the DC Universe? And who or what is…Nostalgia? Don't miss the start of the strangest mystery to have ever plagued the DC Universe. Retail: $4.99 In-Store Date: 11/08/2022
(W) Geoff Johns (A/CA) Mikel Janin
The JSA returns in this monthly series by writer Geoff Johns and artist Mikel Janin with Justice Society of America: The New Golden Age Part One! The world's first and greatest superheroes return! Or do they? A long-lost hero from the JSA crashes into our era with a grave warning… but it's too late. A mysterious and malevolent enemy has invaded the entire history of the JSA, and an all-new team must come together to defeat it. But what deadly secret does this messenger from beyond keep? Where are they from? And why is all of this happening now? Only the Time Masters know… Retail: $3.99 In-Store Date: 11/29/2022
---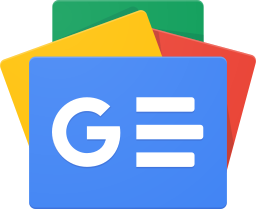 Stay up-to-date and support the site by following Bleeding Cool on Google News today!