Who Is Salem The Witch Girl Of Justice Society Dark?
This week's DC New Golden Age one-shot this week by Geoff Johns, Steve Lieber, Jerry Ordway, and Diego Olortegui is bringing back "new" Golden Age Heroes for the DC Universe, known as The Thirteen. Use this tag to keep up with details on them as they roll out on Bleeding Cool over the weekend. Because here comes Salem, The Witch Girl.
So we have Golden Age Mister Miracle, Betsy Ross, Molly Pitcher, Golden Age Legionnaire, Ladybug, Quiz Kid, Salem The Witch Girl, Golden Age Aquaman, Cherry Bomb, The Harlequin's Son, John Henry Jr, Judy Garrick and The Golden Age Red Lantern. A series of familiar but also unfamiliar names. And this week's New Golden Age will start to tell us who is who and where we may – or may not – have seen them before. And Bleeding Cool is going to give you a sneak peek.
Full Name: Salem Rula Nader
Occupation: Witch
Marital Status: Single (Forever!)
Known Relatives, None (… I care to acknowledge)
Group Affiliallon: None (Don't ask!)
Base of Operations- Salem, MA
First Appearance: MORE FUN COMICS #56
Full Height: 5'4"
Weight: 95 lbs. (Don't judge me, you regret it )
Eyes: Yellow
Hair: White

Salem Rula Nader is the daughter of an Armenian American immigrant and a woman who fled the tabled city of witches and warlocks, Limbo Town. In 1936. Salem's parents abandoned their six-year-old daughter to save themselves from the "Limbo Town Curse" and retreated to an unknown dimension. Young Salem was left to inherit her mother's Limbo Town Curse. This curse was put upon any female who deserted Limbo Town, causing 'bad fates' to befall those the deserters grew dose to. Because of the wicked curse, anyone Salem cared for would quickly find their life negatively affected in a variety of unscrupulous and unfortunate ways, from stepping in a deep puddle to being hit by a bus and killed. The curse was unpredictable and unbecoming. For most of her young life. Salem lived on the streets of Boston alone, until the 10-year-old encountered Doctor Fate in June of 1940. Despite her protests, Doctor Fate took Salem in to protect her from the villainous Wotan. who wanted to sacrifice the child to acquire power During her time with Doctor Fate, Salem learned that he was immune to her 'bad fates' curse. This provided great relief for Salem, and a person she could finally open her heart to Soon after. Salem became known as the Witch Girl, the often grating and usually arrogant sidekick to Doctor Fate. Although Salem kept her distance from others so that they might avoid the Limbo Town Curse, on occasion she would connect with someone and they would end up distraught, in the hospitals or dead. As the years went on, Salem grew more disillusioned as again and again she and Doctor Fate were unable to free her from the Limbo Town Curse. After Doctor Fate's girlfriend, Inza Cramer was almost killed because of the curse, Salem disappeared. However, Doctor Fate suspected Salem been abducted and taken back to Limbo Town. He went to the Justice Society Dark for help, but even together they were unable to locate her. The Witch Girl has not been seen since. Beyond the 'bad fates' curse she inherited from her mother, Salem also is a witch-in-tralning with great mystical knowledge and power, owing to both her heritage from Limbo Town end her tutelage under Doctor Fate as well as the secrets she unlocked within Fate's tower. Although the Witch Girl's skills are vast, she often overextends her reach and disaster occurs, While other sorcerers call it a death wish, Doctor Fate Calls it initiative. Salem has a loyal familiar named Midnight who takes the form of a black cat (and on occasion a mystical panther of terror) and an enchanted and fussy broomstick known as Sweep.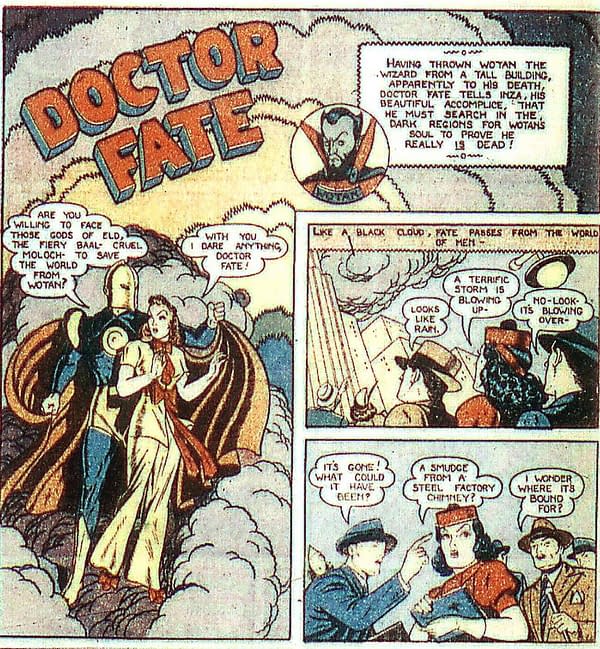 Now while Fate, Wotan and Inza Cramer are present in More Fun Comics #56, Salem The Witch Girl is not. Her name also reflects DC character Klarion The Witch Boy. And she is also notable on one of the New Golden Age cover… and another member of the Justice Society Dark alongside the Golden Age Mister Miracle.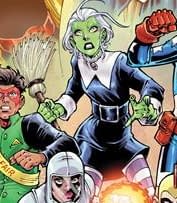 New Golden Age #1 by Geoff Johns, Steve Lieber, Jerry Ordway and Diego Olortegui is published by DC Comics on Tuesday, the 8th of November.
(W) Geoff Johns (A) Steve Lieber, Jerry Ordway, Diego Olortegui (CA) Mikel Janin
From the Justice Society of America to the Legion of Super-Heroes, The New Golden Age will unlock DC's epic and secret-ridden history of heroism, launching a new group of titles set firmly in the DC Universe. From the 1940s to the 3040s, heroes take on the great evils of their time. But in the aftermath of Flashpoint Beyond, those heroes and villains will have their lives turned upside down. DC's future…and its past…will never be the same again. But how are Mime and Marionette connected to this? Why are Rip Hunter and the Time Masters the most unlikable heroes in the DC Universe? And who or what is…Nostalgia? Don't miss the start of the strangest mystery to have ever plagued the DC Universe. Retail: $4.99 In-Store Date: 11/08/2022
(W) Geoff Johns (A/CA) Mikel Janin
The JSA returns in this monthly series by writer Geoff Johns and artist Mikel Janin with Justice Society of America: The New Golden Age Part One! The world's first and greatest superheroes return! Or do they? A long-lost hero from the JSA crashes into our era with a grave warning… but it's too late. A mysterious and malevolent enemy has invaded the entire history of the JSA, and an all-new team must come together to defeat it. But what deadly secret does this messenger from beyond keep? Where are they from? And why is all of this happening now? Only the Time Masters know… Retail: $3.99 In-Store Date: 11/29/2022