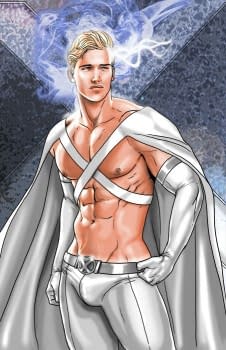 We wrote about Wildstorm creator and Gaijin Studios founder Joe Phillips' medical situation last year. Now we're asking for your help.
Cully Hamner writes,
My old friend and studiomate, comic book artist JOE PHILLIPS, suffered complications from diabetes back in November, and ended up having his foot amputated below the knee.  As you can imagine, this has been enormously trying for Joe, and his medical bills are daunting, to say the least.

Before I go on, let me tell you a bit about Joe.  He was one of the first people in this business that I met, and has always been a good friend to me.  He's also one of the founders of my old outfit, Gaijin Studios.  He's worked for every publisher you can name, from his early work on DC's MISTER MIRACLE, WONDER WOMAN, and TIMBER WOLF to his recent STAR TREK stuff for IDW.  He's always been pretty much unstoppable.

But this time, he needs our help.  This situation has put him at great disadvantage.  His ability to get into his studio and be at the drawing board for the long periods it takes to make a living is limited until he can get a prosthetic limb.  And it's not just the obvious physical and mental stuff to deal with, but the bureaucracy. It might be some time before the state of California comes through with any assistance, if at all. Joe's recieved some charitable assistance so far from great organizations like IDW and The Hero Initiative.  But with substantial (to say the least) medical bills staring him in the face, we're basically just trying to raise the cost of his prosthetic foot– an attainable $5000.  That's what we're asking for right now.  Obviously, anything above that would be very welcome and very helpful, but for right now, the goal is to get this guy on two feet again.
You can make donations right here. I just have.
Enjoyed this article? Share it!