Willow #1, Strange Academy #2 and Mercy #3 Get Second Printings
Strange Academy #2 was finally published on Wednesday by Marvel Comics – after being printed back in March. that didn't stop it selling out fast at the distributor level. And now we see Dan Slott and Humberto Ramos' second issue go back to a second printing from Marvel, to be published on the 12th of August, with repurposed art from inside the comic as a cover.
Boom Studios is also sending the first issue of this week's Buffy The Vampire Slayer: Willow #1 by Mariko Tamaki and Natacha Bustos back to a second printing for the 5th of August with a Naomi Franquiz cover we can't yet see.
While Image Comics is already sending Mirka Andolfo's Mercy #3 back to a second printing, for the 5th of August. And for that we have a cover from Mirka…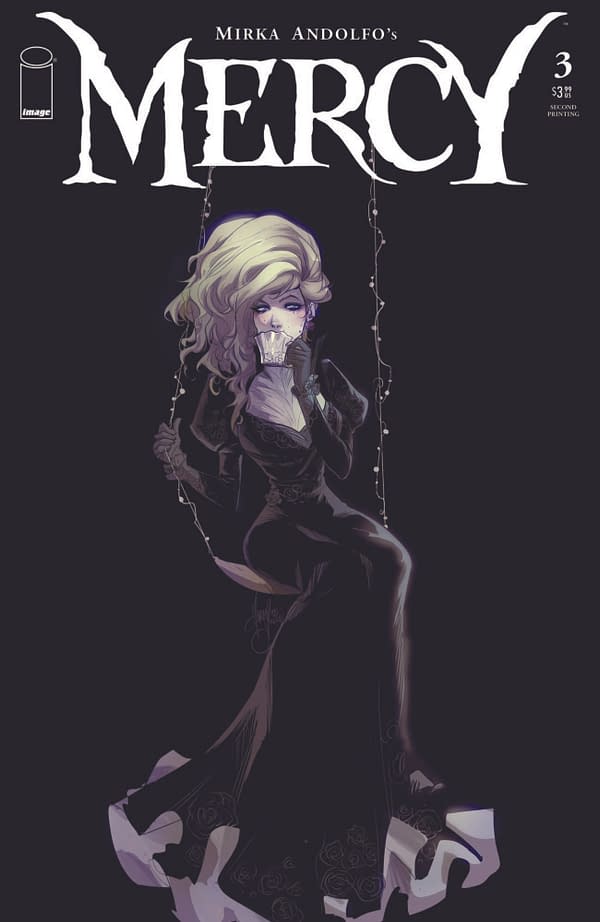 MIRKA ANDOLFO MERCY #3 (OF 6) 2ND PTG (MR)
IMAGE COMICS
JUN208000
END OF STORY ARC The first story arc of MIRKA ANDOLFO's Gothic tale comes to an end. Lady Hellaine finds a love interest…or is this just a part of her machinations? Who are the ruthless "hunters," and what are they tracking? And what's their relationship with whatever lies in the abandoned mines?In Shops: Aug 05, 2020
SRP: $3.99

STRANGE ACADEMY #2 2ND PTG VAR
MARVEL COMICS
APR209048
(W) Skottie Young (CA/A) Humberto Ramos
Go to class with the students at STRANGE ACADEMY! Your class schedule:
• 8:15-9:15 HISTORY OF MAGICAL OBJECTS with THE ANCIENT ONE
• 9:25-10:25 ELEMENTS OF CHAOS MAGIC with SCARLET WITCH
• 10:35-11:35 GYM with COACH TAYLOR
• 11:40-12:10 LUNCH (cooked by MINDFULL ONE)
• 12:20-1:20 INTRODUCTION TO THE UNDEAD with BROTHER VOODOO
• 1:30-2:30 INFERNO 101 with MAGIK
• 2:40-3:20 (Pending survival) STUDY HALL
• 3:30-4:30 MAGICAL PLANTS AND THE CARE THEREOF with PROFESSOR MAN-THING
Rated T In Shops: Aug 12, 2020 SRP: $3.99

BUFFY THE VAMPIRE SLAYER WILLOW #1 2ND PTG
BOOM! STUDIOS
APR201333
(W) Mariko Tamaki (A) Natacha Bustos (CA) Jen Bartel
* After everything – and everyone – she lost to the Hellmouth, Willow is leaving Sunnydale behind for a new school that promises "to help you prioritize your true self."
* But Willow soon learns that all is not as it seems, and if your true self isn't what the school thinks it should be…well, don't worry, they'll help you get there. By any means necessary.
* Now, truly alone for the first time in her life, Willow must rely only on her instincts – and her magic – to save herself from a different kind of threat than Buffy ever prepared her to face!
* Award-winning writer Mariko Tamaki (Laura Dean Keeps Breaking Up With Me, Harley Quinn: Breaking Glass) and superstar artist Natacha Bustos (Moon Girl and Devil Dinosaur) bring Willow face to face with the truth of her past… and plant the seeds for a future no one could've predicted.In Shops: Aug 05, 2020 SRP: $3.99