Wolverine Knows What to Do With a Neo-Nazi in Dead Man Logan #5
Wolverine is dying. Again. Well, to be specific, the older version of Wolverine known as Old Man Logan from an apocalyptic alternate future timeline is dying because the regular Wolverine who died a few years ago has come back from the dead. And by dying, we mean very slowly, over the course of a 12-issue series called Dead Man Logan.
In a preview of next week's Dead Man Logan #5, Wolverine and his pals from the X-Men, alongside the recently defected villain Mysterio, are on their way to invade the secret base of Neo-Hydra, a revival of the Nazi spinoff organization formerly headed by Captain America and now run by Syn, the daughter of the Red Skull.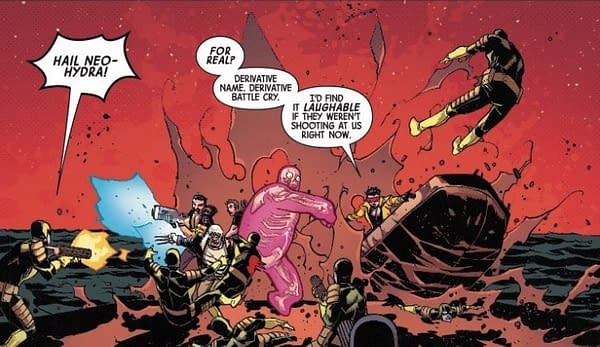 Now there's a lot of things you can say about Wolverine. That he's a Mary Sue. That he's overexposed. That he's a sanctimonious hypocrite who murders his own children. That he says "bub" too much. But one thing you can't deny is that Wolverine knows exactly what to do with a neo-Nazi…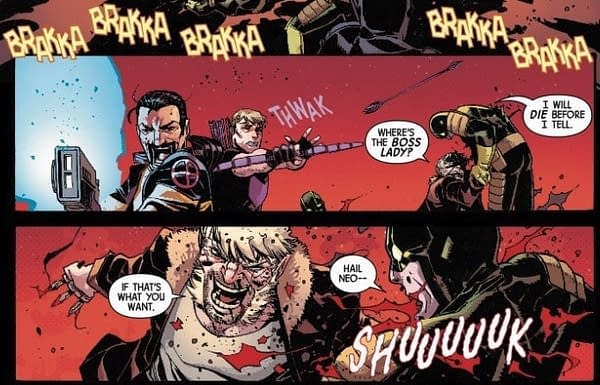 Hey, he's running out of time. Only 7 issues left before he (probably) kicks the bucket. Gotta kill as many Nazis as he can by then.

Oh, don't look so shocked, Glob. Haven't you ever heard him tell you he's the best he is at what he does?
Dead Man Logan #5 hits stores next Wednesday.
Dead Man Logan #5
(W) Ed Brisson (A) Mike Henderson (CA) Declan Shalvey
FIVE FINGERS OF DEATH!
• Sin and Miss Sinister have Logan in their clutches, and they won't be happy until his corpse is picked clean…
• Plus: The fate of Mysterio revealed!
Parental Advisory
In Shops: Mar 13, 2019
SRP: $3.99