Syfy Wire hosted an X-Men panel on its Emerald City Comic Con live-stream Saturday featuring Age of X-Man writers Zac Thompson and Lonnie Nadler along with superstar artist Todd Nauck. On the panel, Thompson and Nadler revealed their dream X-Men comic to write, which turns out to be one they've pitched to Marvel before and are still hoping to get a chance to work on.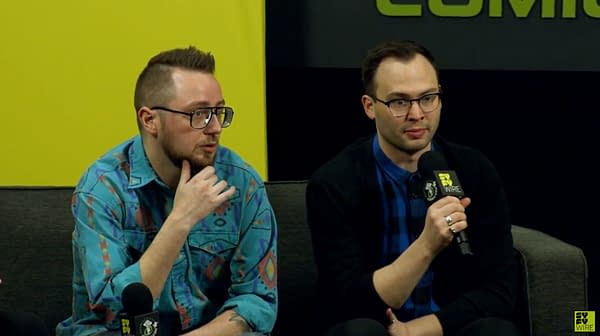 "We're big fans of Colossus and Magik," said Thompson (left). "One of the first things that we ever pitched to Marvel and one of the things that we're still holding on to hope to get is: Colossus and Magik go back to Russia to confront, like, Baba Yaga and old sort of like Russian folklore, and we'll take Ian Bertram from Little Bird with us, and we'll make a book that everyone will talk about forever. That's the plan."
Is that a book you'd be interested in reading? If so, let Marvel know about it, as the writers will have some free time coming up when Age of X-Man ends with Age of X-Man Omega in July.
Other conversation touched on the Summers family, how Cyclops was right, 90s comics fashion trends, the joys of 80s and 90s X-Men comics and cartoons, how everyone became a fan of the greatest franchise in comics, and how Axel Alonso invited Thompson and Nadler to pitch a Legion book that Peter Milligan ultimately landed. You can watch the whole thing in the video below:
Enjoyed this article? Share it!