Continuing Michael Uslan's writer commentary on the collected series Justice, Inc. that stars The Avenger, The Shadow and Doc Savage for Dynamite Entertainment. Book 2: Not only did I get to use Howard Hughes from my previous Dynamite graphic novel, but now I also get to use again good old J. Edgar Hoover. What fun!
Growing up as a kid reading science fiction, a common question was what would happen if someone's future self met his past self? Now I had the chance to answer that the way I wanted to. I also wanted to directly ask the Reader, what would you tell your younger self if you had the opportunity? In my own mind, I venture to guess that the first question a young Doc Savage would have asked an older Doc Savage is "What the hell happened to my hair?" This became a running gag in the rest of this graphic novel, as I explored how and why Doc changed his haircut from the traditional Clark Gable look to that pointy slick version.
In the confrontation between Howard Hughes and the Voodoo Master, I was once again able to go back to the continuity of "The Shadow/Green Hornet: Dark Nights." There, I made it clear that Howard Hughes had a role in saving Kent Allard from the Yucatán. Here, Hughes tries to explain to the Voodoo Master that he is not an agent of the Shadow but rather it is the Shadow who owes Hughes a debt for saving him.
As I said previously, my intent was not to change the origin story of the Avenger, but simply to expand that story. Thus, we find the Shadow aboard the same plane that Benson and his family are on. One of my favorite sequences in this book is the scene in which Benson is thrown out of the airplane to his apparent doom thousands of feet below, as the Shadow races after him in mid-air. Giovanni took control of the sequence and broke it down the way he saw it cinematically. I was enthralled by his pages!
I was clearly influenced by both "Lost Horizon" and Dr. strange as the Shadow makes his way to the sanctum of his master, Chow Lee. I loved the Yin and Yang of having two sanctums near each other in the Himalayas, one devoted to the Shadow's world of spirituality and mysticism and the other devoted to the world of Doc Savage's scientific pursuits. In this part of the story, Chow Lee gives Kent Allard (as well as the reader) a direct clue as to who the real villain is behind this unfolding plot: "For some speakers, this is a place of sunlight. For others, it is a place of shadows."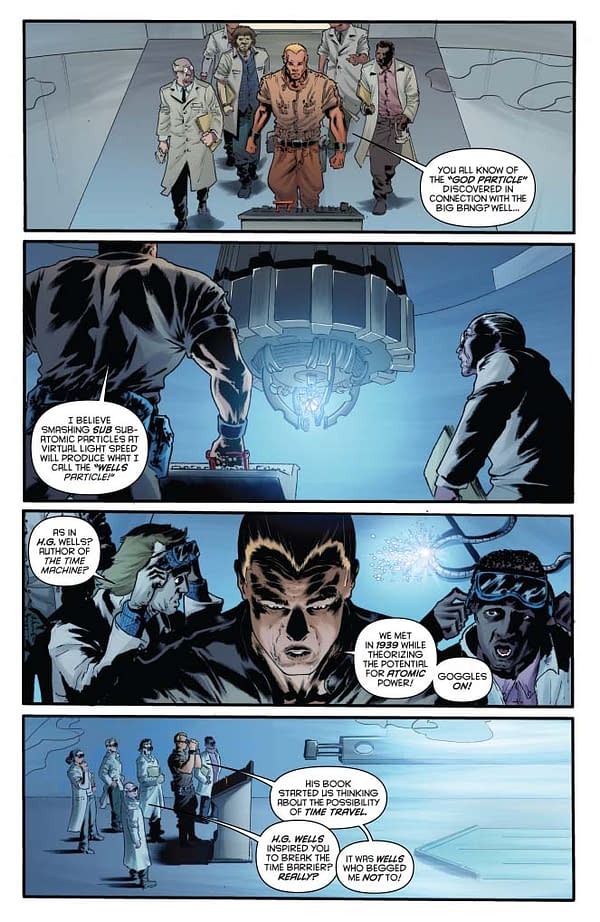 Giovanni and I thought it was a cool idea to get the Shadow out of his traditional slouch hat and cloak and into the garb of a ninja. The biggest challenge would be figuring out how quickly we could get him back into his traditional garb. As it turned out, it took quite some time.
As someone who has read comic books since I was a little kid, I knew it was a standard cliché that whenever two superheroes would meet for the first time, there would be a misunderstanding and they would fight each other. In fact, I used this device back in the mid-1970s in "The Shadow" #11 with The first team-up of the Shadow and the Avenger. This time, I would use it for four panels only before that heroes show that they are smart enough to see through it all. As the Shadow and Doc Savage initially meet, the Shadow speaks in a very condescending way to Doc. But over the course of the story, the characters will arc and gradually the Shadow will talk to and treat Doc in a very different way, as Doc continues to win his respect. Meanwhile, in the last panel of this book, it's my own little homage to the great horror film, "Frankenstein."
Book 3: I can't talk about this story without first talking about the fantastic cover rendered by Alex Ross. It showcases the agents of the Shadow, the members of the Avenger's Justice, Inc., and Doc Savage's fabulous team.
Here is where I begin to build up Shiwan Khan as a red herring. I reference back to the continuity in "The Shadow/Green Hornet: Dark Nights" graphic novel. In the process, I could not resist linking Doc Savage to a certain someone as he reveals he is descended from a barbarian tribe, and that he is a "Vandal."
Originally, I was not going to reveal the identity of the third mystery villain until the end of the graphic novel. I soon realized that that was not going to work, as the readers would get too far ahead of the heroes and consider them dumb for not figuring out who the mystery villain really was. Thus, the big reveal comes here, mid – way through Book 3.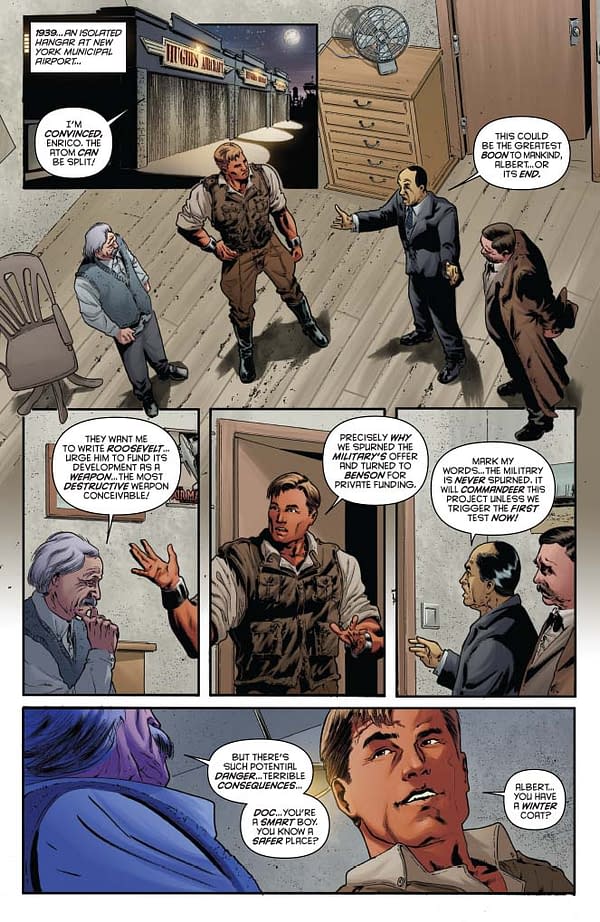 When it was determined I would be writing Doc Savage for the first time, I knew that there was one character I especially wanted to play with (creatively, not in a way Sigmund Freud would frown upon), Doc's cousin Pat Savage. Pat had to be tough in this 1939 man's world. She would take no guff from any man. It was only logical to me that I would be influenced by Karen Allen in "Raiders of the Lost Ark."
At this point Giovanni was facing a huge new challenge. The Avenger's face was frozen… immobile… expressionless. Well then, how do you tell an emotional story of such a tragic character Who visually cannot remote? Giovanni would concentrate on his eyes. And it worked!
In this scene, the Shadow offers his commentary about a similar family murder case in that year of 1939. In that case, however, it was the child who survived and the two parents who were killed. Doc hopes that that orphaned child's role model will be the Avenger and not the Shadow.
Good luck with that. I wonder whatever happened to that kid?
I had some fun connecting these three characters in the next sequence in which it is the punch of the Shadow that reveals the extent of Benson's new physical state and power. Yet it is Benson's disfigurement by that punch that causes the Shadow to have an instantaneous flashback to the horrors of World War I and his own disfigurement. It is then the Shadow who molds Benson's face into a duplicate of Doc's, which has a surprising emotional impact on Doc, ultimately driving him to try to remain unique by shaping and cutting his hair so that it looks like his future self.
With Benson now empowered, he gave me the opportunity to write scenes in which the three heroes debate their vastly different ideologies and methodologies from one extreme to the other. This was a lot of fun!
How well I remember reading the earliest issues of Justice league of America when I was a child. I remember in the origin story, I think it was Batman who proposed that the super-heroes needed to form a league or a society… a reference both to the name Justice League and its fore-runner from the Golden age of comics, the Justice Society of America. Next, I was able to have some more fun by having the Avenger propose to Doc and the Shadow that they should form a league or a society in the interests of justice. I reminded myself that as a consummate life-long businessman and corporate guy, Benson would be thinking in terms of a super-hero organization being incorporated with bylaws and a business plan. That felt very contemporary to me.
To reiterate, I was not interested in changing the Avenger's origin story, but in expanding and enhancing it.
For more information on the Justice, Inc. Volume 1 trade paperback, click here.
Enjoyed this article? Share it!