Dynamite has sent over a new Writer's Commentary, this time with Ray Fawkes talking about the second issue of The Sovereigns with art by Johnny Desjardins and cover by Stephen Segovia.
Page 1
Tragg and Lorn! The whole slate of major Gold Key characters was made available for THE SOVEREIGNS, and I really wanted to include these two in the story and show that all of their crazy adventures with the Sky Gods had a happy ending. Of course that just lands them in the danger of this story… but still!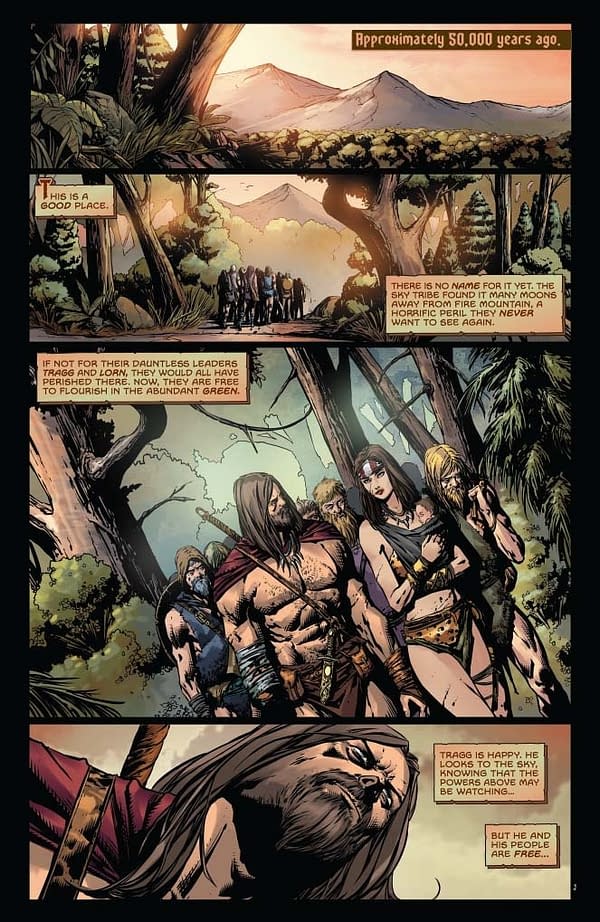 Pages 2-3
And we jump from the distant past to a futuristic science hero. Solar's a very different kind of hero than Magnus: he's more hands on, while Solar is about solving problems on a macro scale. Solar's tripartite font approach is meant to indicate that they are an amalgam of three formerly human beings – all three versions of Solar from the Gold Key & Dynamite books.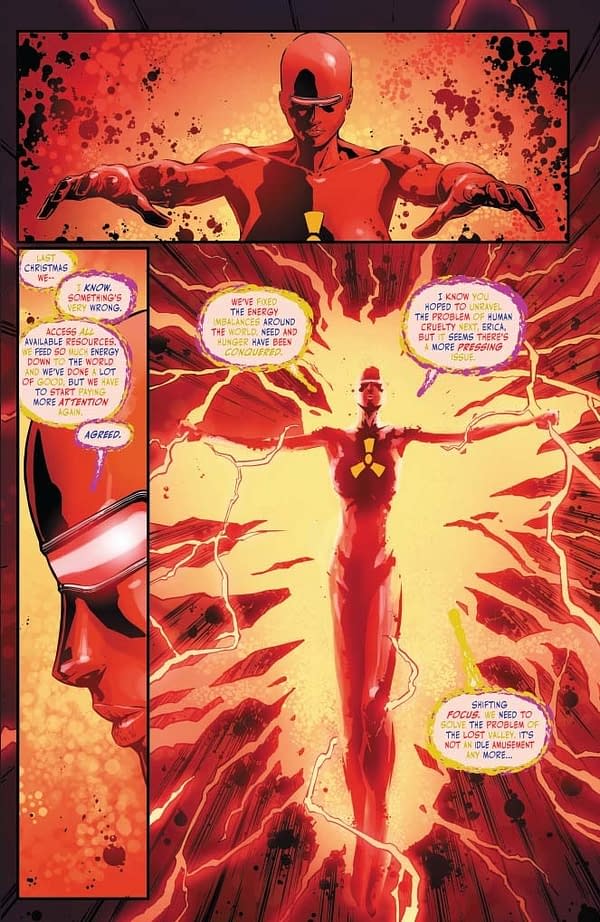 Pages 4-5
Spektor might be arrogant, but he also knows when the showmanship of the Big Secret Mystic Arts isn't doing him any good. He started out on the streets, as a private detective, and we can see that when the problem is really worrying him, he drops all the mythic language and gets down to business. Pages 6-7
Everything in Magnus' service can be repurposed at any time: a suit of armor becomes a transmitter, a surveillance drone becomes a coffee maker. It's no surprise that human beings, with their resistance to change, are so irritating to him… and no surprise that he also thinks he's smarter than everyone else.
Pages 8-9
Meanwhile, Spector is the first of our heroes to attempt to actually understand the enemy.
Pages 10-13
While Magnus tries to communicate and mollify the people he wants to protect, Samson, in his time, is just doing what needs to be done. These two heroes are more closely connected than it might seem just yet, and this scene is the first real hint at that.
Pages 14-15
Bad timing or perfect timing? I guess we'll see…
Pages 16-19
Johnny absolutely knocked it out of the park here. This sequence is a bit nuts, staging-wise : jumping between 6 characters in 4 locations and 3 times and delivering all of this information AND making it emotionally powerful… I leaned on him in this scene, and he pulled it off. I love these pages.
Page 20
Sorry, everyone. What a way to go. I promise I liked Doctor Spektor as much as you do.
For more on the Sovereigns, click here. Enjoyed this article? Share it!