Dynamite has fired up a new Project Superpowers series called Hero Killers, and we have a writer's commentary on the issue by Ryan Browne. Art by Pete Woods.
PAGE 01:
The first page starts with our wonderful editor Matt Idleson weighing in for the first time! Fun fact: I wrote everything Idleson says, so this book starts on the right foot — with a big ol' lie! Trust nothing!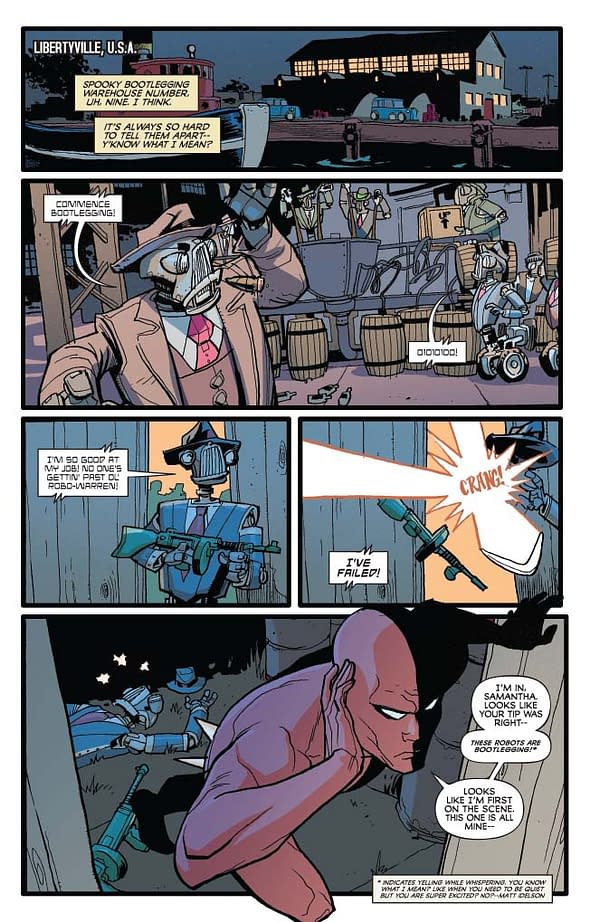 PAGE 02-03:
The dialogue on this page was written after Pete drew what he was going to draw. The panel description was, "Draw this as well as you can so you can sell the original for all the money!" But I think Pete draws digitally, so that didn't really work out.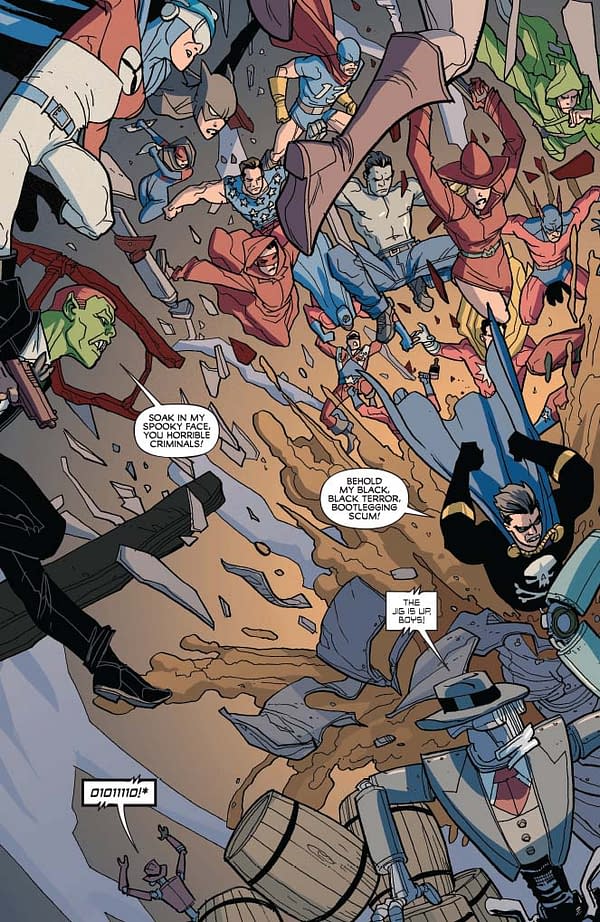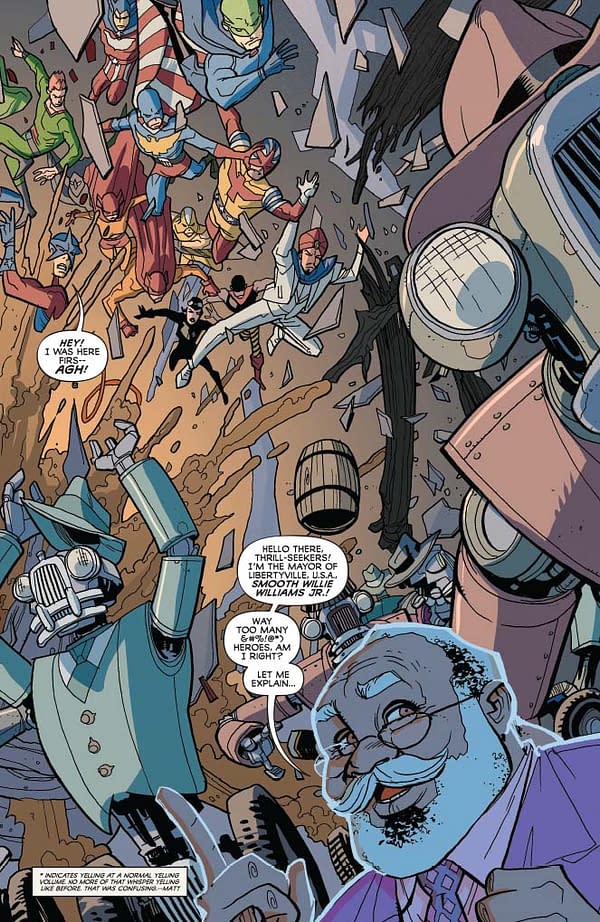 PAGE 04-05:
Gotta get all the exposition out of the way in one complicated two-page spread so we never have to talk about it again. Pete did a fantastic job organizing all this information.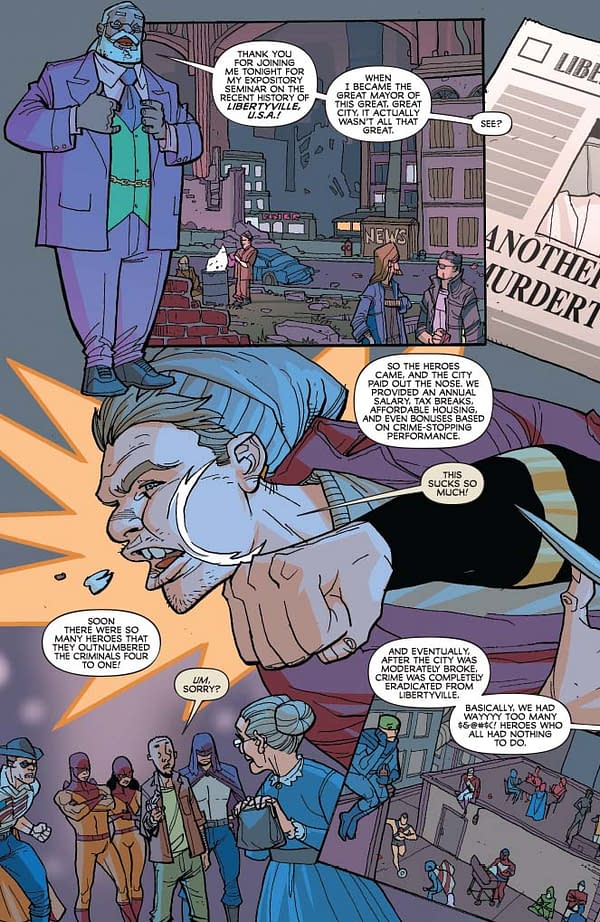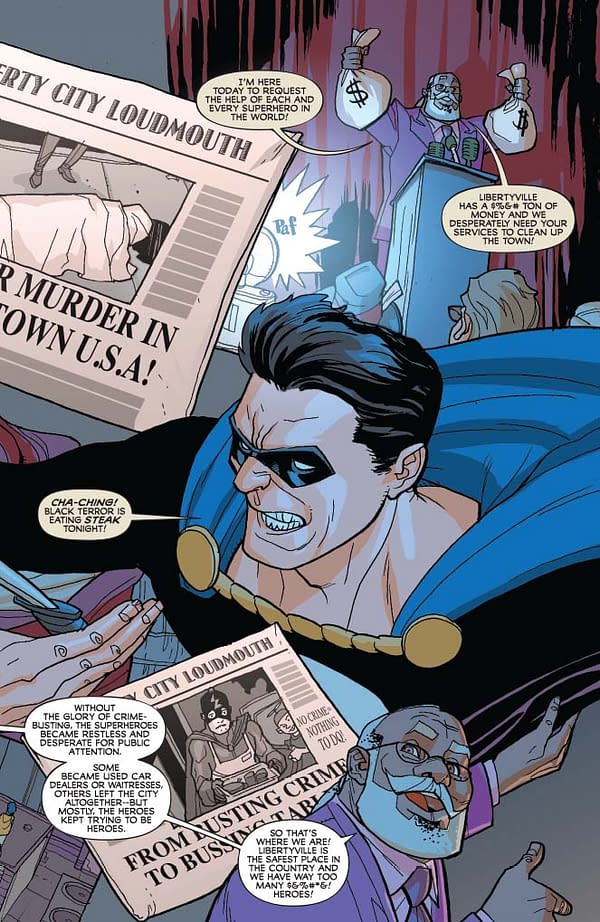 PAGE 06-07:
Again, I let Pete determine the action on these pages and wrote the dialog and SFX afterwards. The note was that there are wayyyy too many heroes, and one of the robots gets away. As an artist, I always prefer when writers let me pace the action myself. It's quicker and usually tells the story in a smoother fashion.
PAGE 08:
I love that Pete designed the bootleg bots to have faces that look like the cars they drive. I also love the idea of them driving cars, even though they have their own wheels. The final panel was described as a Monty Python-style God foot crush.
PAGE 09:
Love The Boy King. Look for more Boy King fun in future issues!
PAGE 10:
If we have more time, I'd love to get into why The Death Defying Devil was in prison.
PAGE 11:
I described the Skull Teleportation as being "Skull-shaped", but it was Pete's genius that made their heads the eyes to the skull. Genius!
PAGE 12:
SKULL HOUSE! I love the idea of a homemade superhero lair. Trying to reinforce that the intense crime-stopping competition is really making it hard to stay afloat financially.
PAGE 13:
The bone in the vomit makes me very upset. Great work, Pete!
PAGE 14:
This is the first instance of Tim's dark interior. Love the way Pete hits it hard in that fourth panel. So intense!
PAGE 15:
That sub is so dope! Maybe we will have to see it again down the line. I tried to set up the differences in the characters during this two-page scene. That was an important thing for me to start to establish early, since sidekicks tend to be so wholesome and generic.
PAGE 16:
Dr. Baron is so wonderfully gross and old, and that robot is great! Such a stupid little trashcan man! I really like the palette shift for this final scene.
PAGE 17:
Hero time! The greatest moment of their lives is now. It'll never get any better than this. Trust me.
PAGE 18:
See? Stuff just got rough. I love drunk Black Terror.
PAGE 19:
Pete's acting here is fantastic. He nailed all the expressions so perfectly. Sly readers will notice the death ray at Tim's feet. Wonder what he'll do with that…
PAGE 20:
HOLY HELL!
PAGE 21:
The final panel of this page is my favorite of the issue. Tim's body language has changed so perfectly.
PAGE 22:
So good! Tim's a monster! Wonder where it will go from here? Are Tim 'n' gang going to be okay? Probably not, but let's just wait and see! Enjoyed this article? Share it!