Posted in: Comics | Tagged: marvel, weapon x, x-men, X-ual Healing - The Weekly X-Men Recap Column
---
X-ual Healing: A Bold New Direction for Weapon X #20
Sworn to sell comics for Marvel executives who feared and hated the fact that Fox owned their movie rights, The Uncanny X-Men suffered great indignities, but with a corporate merger on the way, the X-Men can finally get back to doing what they do best: being objectively the best franchise in comics.
Each week, armed with the joy, heartbreak, and frustration of 30+ years of reading X-Men comics, we crankily read every new X-book that comes out, recap the events, provide some back-links to Marvel Unlimited, and wonder when Marvel will let Chris Claremont write something again. Seriously, how do you have the greatest writer in the history of comics on the payroll and just not use him for anything?
It's the way X-Men comics were meant to be read! It's the column that can only be known as…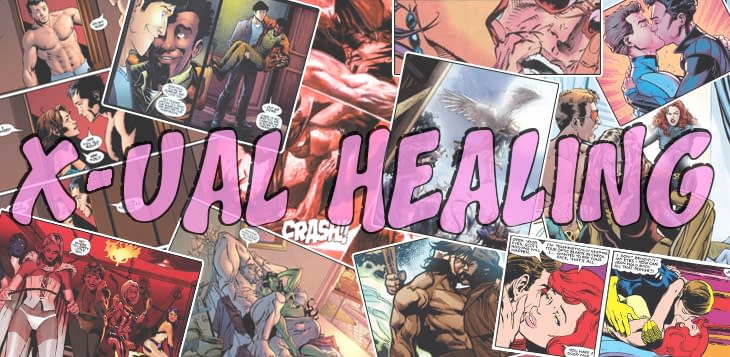 For more about the column, check out the reboot issue here.
---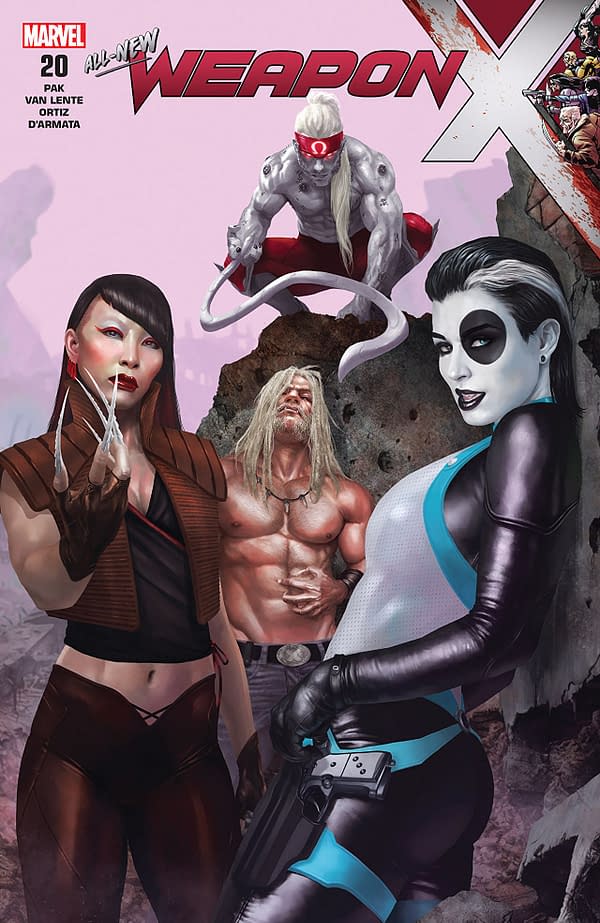 WEAPON X #20
GREG PAK & FRED VAN LENTE (W)
RICARDO LOPEZ ORTIZ (A)
Cover by RAHZZAH
ALL-NEW WEAPON X!
• Sabretooth's team of killers is going to make things right the only way they know how: WITH A BODY COUNT!
• Guest-starring Russia's premier super-team, THE WINTER GUARD!
• Special guest artist Ricardo López Ortiz (Hit Girl) crafts our bloodiest issue yet!
32 PGS./Rated T+ …$3.99
---
A new storyline, "If He Dies, He Dies," kicks off in Weapon X #20, following the events of the previous issue. Omega Red, Sabretooth, Domino, and Lady Deathstrike are in a plane on their way to the helicarrier headquarters of S.I.C.K.L.E. to take them down for imprisoning mutants and confront Omega Red's brother, Director Rossovich, who is behind the mutant camps and the manipulation of Omega Red. Before they reach the helicarrier, Warpath, their former team member who vowed to stop them last issue, shows up. However, since S.I.C.K.L.E. doesn't realize that Weapon X is on the plane, the Russian superhero team The Winter Guard intervenes, capturing Warpath.
Meanwhile, Omega Red confronts Rossovich, pretending he wants his brother to kill him. It was a ruse to learn whether Rossovich is the one who called the KGB on Omega Red when his mutant powers manifested, which is how the government turned him into a killing machine (a common story in the Marvel Universe). With a little help from his and Sabretooth's pet tiger cub, Omega Red figures it all out.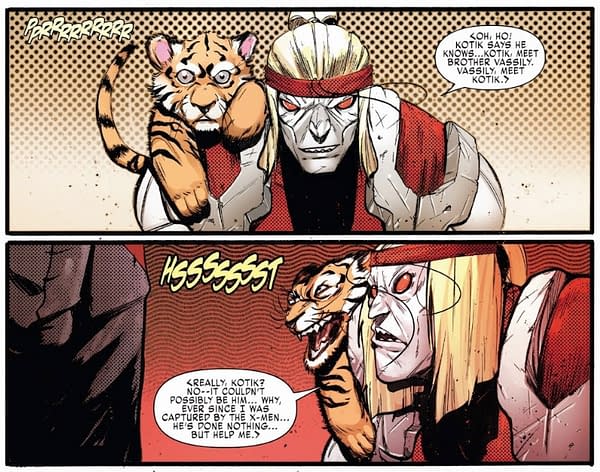 Rossovich tries to kill Omega Red using the nanobots implanted inside him, but Omega Red reveals the X-Men freed him of their control. Soldiers attack as Omega Red prepares to kill Rossovich, so Weapon X enters the fray. Sabretooth is looking to make some extra YouTube money, so he has his mercenary pal Foreigner livestream the fight to the world. When Weapon X wins, Deathstrike uploads a virus to delete Russia's mutant registry from the internet. Sabretooth reveals that the team will now be branded international terrorists, but they can command double their previous fee for jobs. Warpath, having broken free, attacks Sabretooth and this will all need to be continued next issue.
---
The Bottom Line
If you didn't like the art in previous issues of Weapon X, you'll be glad to know it's changed drastically with this issue, giving this book a more distinct look than the other five or six Wolverine comics happening right now, which is probably a good thing. Overall, the book is definitely changing in tone with Sabretooth at the helm, which will be necessary if the book is to transition to a new era without Old Man Logan, who will probably need to die soon to make way for the return of the original Wolverine. Change is good.
---
Further Reading
It looks like Warpath will be leaving Weapon X for Astonishing X-Men. The first issue of the new run there was our Wolverine's Weiner X-Pick of the week, and it's in stores now. Domino is currently starring in her own solo series by Gail Simone and David Baldeon, which is also highly recommended here at X-ual Healing.
Read more X-ual Healing here: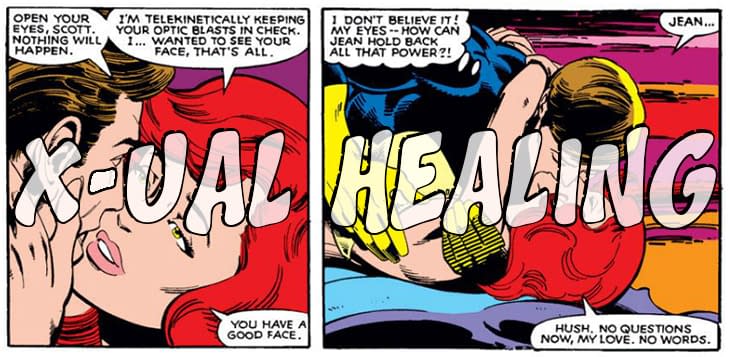 ---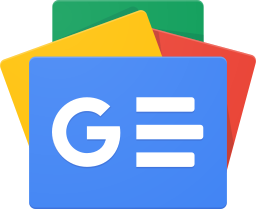 Stay up-to-date and support the site by following Bleeding Cool on Google News today!