UK retailer Zavvi, who took over the Virgin Megastore franchise, and then went online, is having a clear-out of a bunch of DC Comics hardcovers. These are the volumes published in the UK by Eaglemoss Collections, overseen by former Bleeding Cool writer Chris Thompson. With cover prices from £12.99, they are being sold ten for £24.99, around £2.50 each. That is a massive discount, even for comic book stores. Expect these to be snapped up very fast, sell out from Zavvi, go up on Amazon marketplace, sell out at about double the price, and then go out of print and rise in value above cover price. And you lucky Bleeding Cool readers get in at the ground floor. There is no financial incentive for this article, save getting Bleeding Cool readers an insane deal on a company charging way too little for these volumes. They have fifty such volumes, you could buy them all for £125, the lot, whereas full price would be around £650. So dive in… those Darwyn Cooke volumes have to be a must.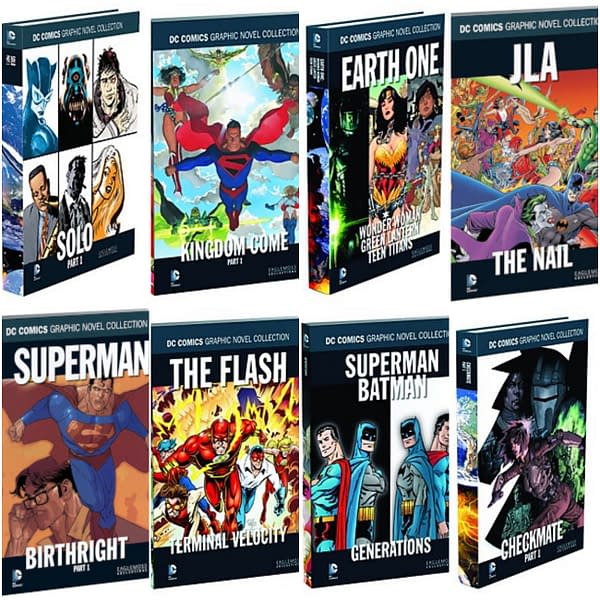 Invasion – Special Edition 10
Kingdom Come Part 1
Kingdom Come Part 2
Solo! Part 1
One Earth Wonder Woman and Green Lantern
The New Gods Part 1
The New Gods Part 2
Superman: Whatever Happened to the Man of Tomorrow – Volume 63
The Legion of Super Heroes – The Great Darkness
The Flash Lightning in a Bottle
Green Arrow: Year One – Volume 45
Flash: Terminal Velocity
Shazam/Superman: First Thunder – Volume 68
Superman/Batman: World's Finest – Volume 66
Swamp Thing Part 1 – Volume 65
Teen Titans – Birth of the Titans
Justice League of America: The Nail Graphic Novel – Volume 24
Justice League of America: New World Order – Volume 52
The Flash: The Return of Barry Allen – Volume 48
Superman/Batman: Public Enemies – Volume 5
Wonder Woman: Gods and Mortals – Volume 50
Justice League: Rise And Fall
Batman/Huntress: Cry For Blood – Volume 61
Green Lantern: The Revenge of the Green Lanterns – Volume 67
Green Arrow/Green Lantern: Hard Travelling Heroes – Volume 58
Batman: Birth of the Demon Part 1 – Volume 33
Batman And The Outsiders
Superman/Batman: Supergirl – Volume 21
Legends
Green Arrow: Quiver Part 1 – Volume 37
Green Arrow: Quiver Part 2 – Volume 38
Justice League of America: Another Nail – Volume 49
Catwoman: The Trail of Catwoman – Volume 36
Superman/Batman Generations I
JSA: The Golden Age – Volume 69
Justice League of America: Act of God – Volume 62
Checkmate Part 1
Wonder Woman Part 1
Justice League of America/JSA: Virtue and Vice – Volume 64
JLA Scary Monsters
Teen Titans The Future is Now
Wonder Woman Part 2 Vol.99
JSA: Justice Be Done
Teen Titans: A Kid's Game
Catwoman: Selina's Big Score – Volume 28
Teen Titans: The Return Of Donna Troy
Superman: Panic in the Sky
Green Lantern Lights Out Hard Cover (N52)
Superman Birthright Part 1 – Volume 40
The New Frontier Part 2 – Volume 47
Enjoyed this article? Share it!