2Dogs Games Plans Destiny's Sword Closed Beta for This Year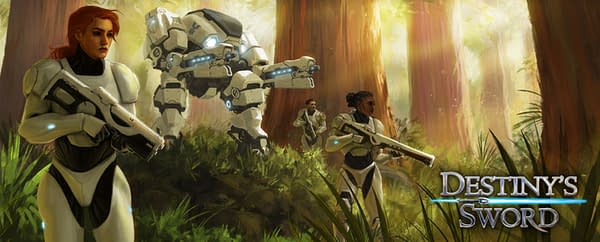 2 Dogs Games has announced a sci-fi strategy/combat MMORPG called Destiny's Sword, which is slated to launch in Closed Beta later this year. The game is intended to launch in Open Beta as a free-to-play title in early 2020. Destiny's Sword is being developed first for PC via Steam, with console releases to follow in the future.
The MMORPG has a unique twist. Rather than basing combat on number crunching, players manage their character's physical and mental health throughout their combat careers. 2Dogs intends for Destiny's Sword to provide a realistic portrayal of mental health issues by highlighting the long-term consequences of combat.
Which is, honestly, a fresh take on a game if we've ever seen one.
The game's blog describes the mental health mechanics:
Think about it: In any MMO including Destiny's Sword, you are tasked with adventuring out into the world to complete missions and earn rewards. But the life of a combatant takes its toll over time, and even the most hardened fighter needs time to recharge. Back in the arms of your community, you will rest and zero in on the motivations and experiences you've just been through. It is this duality where Destiny's Sword shines.

We're currently developing Destiny's Sword as an online combat game in which thousands of players command squadrons of futuristic troops through competitive and cooperative missions – but with a unique twist. Gameplay in Destiny's Sword focuses on bringing you together with other players through meaningful social interaction – cultivating empathy and cooperation in stark contrast to the anti-social focus of conventional online games.

As you can see, Destiny's Sword is about much more than typical combat progression. You will focus more on social progression through unique game mechanics designed to encourage camaraderie and fellowship with other players. Success is not based on how much you can individually win and hoard, but on how much you can contribute to the community to elevate those around you.

How is this accomplished? Using the proprietary Insight Engine technology, player characters will be able to express over 80 different feelings. Each of your characters will be affected by their combat experiences, interactions with other characters, random life events and by your decisions and actions throughout the game. Your characters can be wounded and killed, but can also suffer persistent mental health issues like PTSD, depression, anxiety, and addiction.
2Dogs Games intends to share more information on Destiny's Sword in the coming months.