Abaddon the Despoiler Returns to Set 40K Universe Ablaze
Out of all the villains that have menaced the Imperium of Man during Warhammer 40,000's 30+ year history, Abaddon the Despoiler is probably the most iconic. And now, Games Workshop is giving the iconic Warmaster a brand new miniature: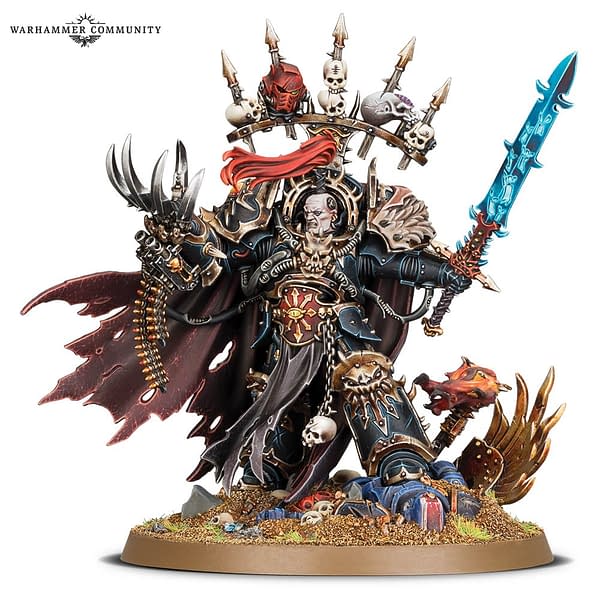 Abaddon is an integral part of Warhammer history – the star of countless books, campaigns and tabletop battles, this legendary overlord is perhaps second only to the Emperor as an icon of the 41st Millennium, and he definitely gets out more. The Warmaster has been one of the chief architects of the Imperium's current woes, and it's only fitting that he returns now with a new model.
That's pretty incredible, right? The new sculpt clearly draws a lot of inspiration from Jes Goodwin's original designs, and updates everything with Games Workshop's state of the art production system. Abaddon looks like he's ready to set the galaxy on fire, and just needs a match to do it.
The new Abaddon figure is huge, too: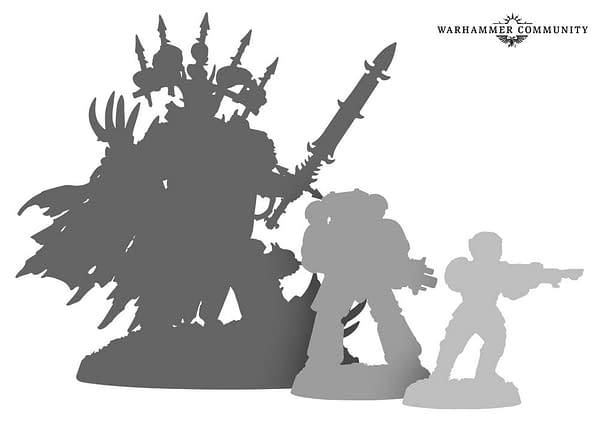 There are so many cool little details worked into this sculpt, with a trophy rack worked into the Warmaster's back pack, the Daemon sword Drach'nyen looks fantastic, and all that battle damage: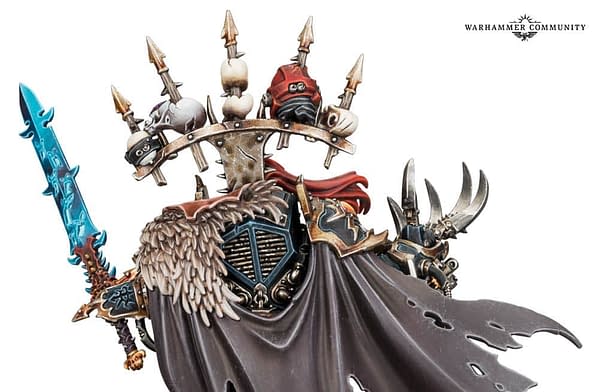 And sadly, now we know what happened to Brother Tim. Poor guy went out for snacks and got stepped on by a rampaging Warmaster: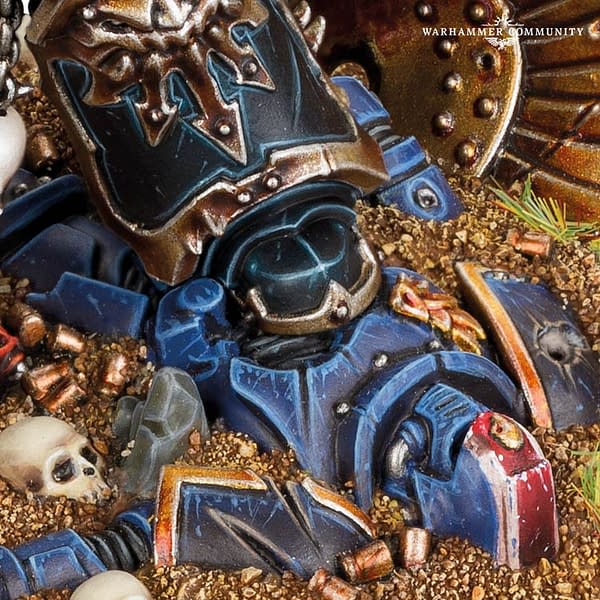 The new Abaddon the Despoiler miniature will be pretty customizable, too:
You'll be able to customise the model to fit how you see Abaddon the Despoiler, with a choice of three heads. One, snarling and wrenched with fury, cleaves closely to the classic representation of the character. Another, wrought in the visage of Horus, pays homage to his dark heritage. A final head depicts Abaddon with a respirator, giving him a brutal, impersonal feel, tying him to the masked, savage warriors he leads in battle. Abaddon's cloak is also optional, giving you yet another way to personalise your model.
Abaddon popping back with a new model can't be good news for everyone, though, and it looks like the Warmaster will be leading the Forces of Chaos in its latest offensive against the Vigilus system.
Chaos has arrived in force on Vigilus, spearheaded by the Black Legion itself. Hardened by millennia of relentless combat and fresh from blood-soaked subjugations in the Imperium Nihilus, they are a force of nightmares, combining the ancient might of the Space Marine Legions with unspeakable and unholy gifts.
If you combine this awesome new Abaddon model with the new Chaos goodies in the new Warhammer 40,000: Shadowspear Battlebox, you're going to have a whole lot of hurt to throw at your opponents soon!
The new Abaddon the Despoiler miniature will be available for pre-order soon! Check with your local game shop or independent Games Workshop stockist for more information.