Airborne Kingdom Gets A New Trailer During The PC Gaming Show
During the PC Gaming Show, we got to see a brand new trailer for Airborne Kingdom, being developed and published by The Wandering Band. This has been one of those games we've been keeping an eye on as it reminds us a lot of games like Guns Of Icarus in terms of the setting, where everything takes place in the sky. But it also has a bit of fantasy RPG element to it with an entire empire floating above the lands. This game blends Strategy, City Builder, and Exploration together into a game that will keep you busy for hours as you have to manage how everything will work in your world while also expanding it. Right now, the game is set to be released in the Fall of 2020 on the Epic Games Store, where you can currently pre-order it. No word yet on whether it will come to Steam or consoles down the road, but for now, check out the trailer before its released next week.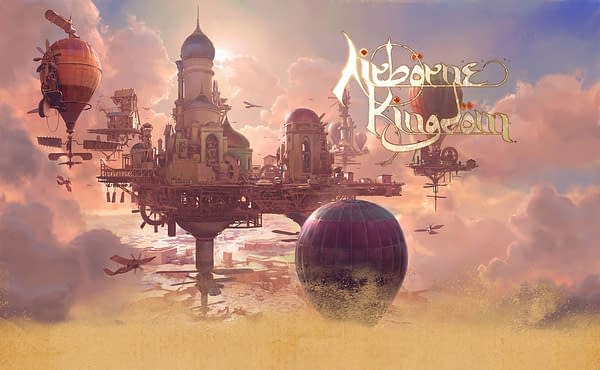 Airborne Kingdom uniquely blends management with exploration. Barren landscapes never let you stay put for long, but perhaps your efforts can restore the world to its former utopia. Grow your clan, develop technologies, and uncover lost kingdoms.

Build Your Domain: Construct a unique sky city. Build housing, satisfy needs, and grow your clan. Maintain lift, balance weight, and be careful not to run low on fuel!

Fly The Barrens: Explore the landscape, which changes with every playthrough. Search for resources, find lost technologies, and discover the fate of The Ancients!

Connect The Kingdoms: Gain allegiance with the ground kingdoms. Help them find artifacts, construct monuments, and build trade routes. Your guidance can propel an era of harmony!