Arcade Paradise Receives Kung Fury: Street Rage DLC
Wired Productions and indie studio Nosebleed Interactive have added a new DLC to Arcade Paradise that will give you a Kung Fury arcade cabinet. Bringing a whole new level of meta and crossover star power to the simulator game, you'll now have the ability to add this special movie-themed cabinet to the place as you can get Kung Fury: Street Rage! The playable arcade beat-em-up plays off of the was game companies used to make titles based on films all the time and shove them into arcades to see if they can make a little extra money off the franchise. The game itself will let you play as four different characters from the indie film as you take on all the forces of evil and crime. We got more info on the game below, as well as a trailer showing off what you can do, as the DLC will run you $3.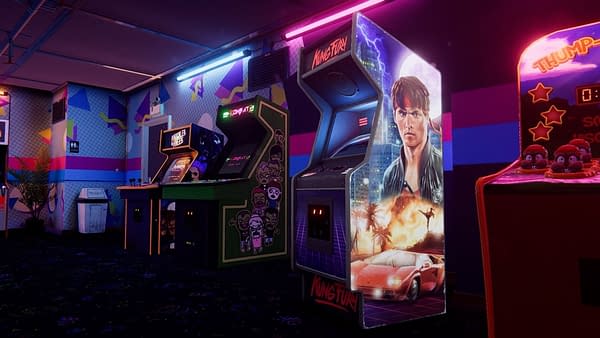 "It's 1985, and the violence is raging in the streets of Miami; it's gonna take the toughest martial artist cop and three hard-as-nails enforcers from across space AND time to clean them up! Bring The Fury to your Arcade! – Turn up the heat with Kung Fury: Street Rage – available as this sweet new cabinet in Arcade Paradise DLC, with new goals, objectives, and leaderboards!
Choose Your Fighter – Pick from 4 characters – each with their own unique abilities, playstyles, and durability to start taking out the trash as you chase that high score!
Fight Waves Of Enemies – Use intense two-button arcade action to DEVASTATING bone-crunching effect; easy to pick up – hard to master as the waves get faster and more diverse!
Go back to the '80s – Authentic retro-arcade gameplay and VHS aesthetics – with a synth soundtrack to beat down to provided by Swedish electro sensations Mitch Murder and Joel Eriksson.