Arcade1Up Opens Pre-Orders On "Star Wars" Home Arcade
The folks at Arcade1Up have officially opened up pre-orders for their Star Wars home arcade cabinet which was revealed back at E3 2019. The cabinet will be sold exclusively through GameStop, and will feature all the original Star Wars arcade games from the '80s in the customized build with the special TIE-Fighter controller. for $500. You can read more about it below as the cabinet will officially be released on October 15th, 2019.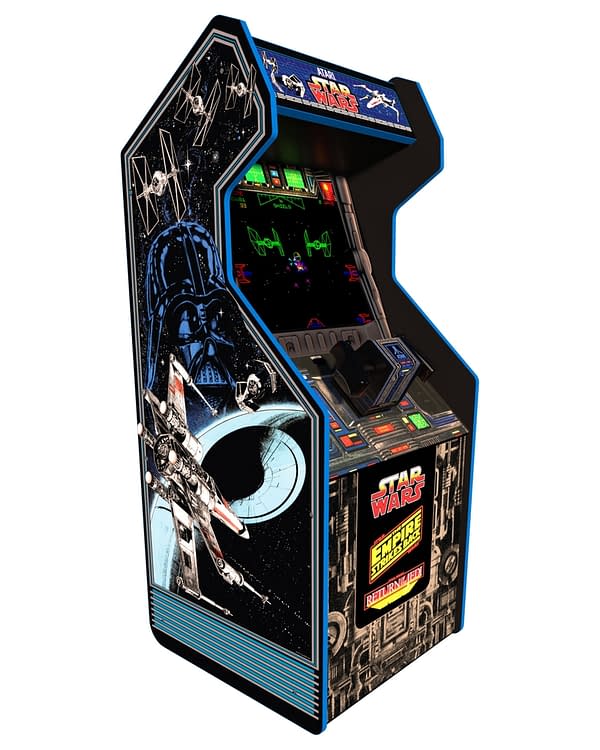 The Star WarsTM Home Arcade Game from Arcade1Up features the artwork from the original arcade machine on the cabinet and the included riser. Standing at just over 5' tall (slightly below 4' without the riser), the arcade machine comes with a light-up marquee, full-color 17" display and dual speakers. These features, combined with the real-feel flight yoke and control buttons allow for endless hours of gaming. The Star WarsTM Home Arcade Game features the original arcade versions of the classic games based on Star Wars: A New Hope, Star Wars: The Empire Strikes Back and Star Wars: Return of the Jedi!

"The Star WarsTM Home Arcade Game cabinet holds a special place in the hearts of fans," said Scott Bachrach, CEO, Tastemakers, LLC. "With the Skywalker saga coming to a close later this year with Star Wars: The Rise of Skywalker, we couldn't think of a better way to honor the Star Wars legacy than by bringing back these classic arcade titles."