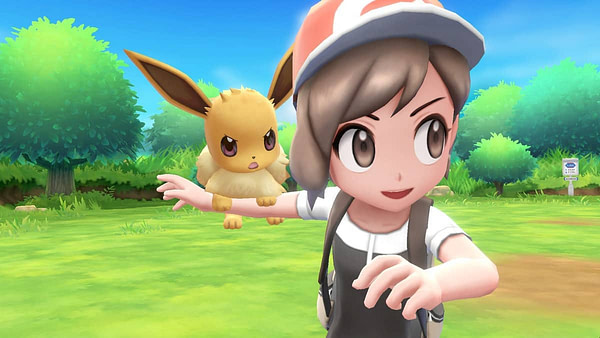 Ariana Grande might be best known for her music, but she's ventured into the world of video games before with some interesting results. She's been the central draw to two different limited events for Final Fantasy Brave Exvius and she's joined Jimmy Fallon in testing out the Nintendo Labo. This time, she's entered the gaming sphere to talk about Pokémon Let's Go Eevee and Pokémon Let's Go Pikachu.
Specifically, that she is Team Eevee.
honestly. yesterday i had a day off and i played pokémon let's go eevee for fifteen hours. honestly.

— Ariana Grande (@ArianaGrande) January 13, 2019
Naturally, that revelation sparked some interesting commentary among Grande fans and Pokémon fans alike. Many people were shocked the pop star plays Pokémon in the first place, while others wanted to know what her favorite Pokémon is. All the kerfuffle ensured that the official Pokémon twitter got wind of the story and had their own take on the matter:
#TeamEevee confirmed 😉 https://t.co/MOqHujYXLi

— Pokémon (@Pokemon) January 13, 2019
Pokémon Let's Go is the first Nintendo Switch Pokémon RPG, and it links with Pokémon Go. Let's Go brought a few major changes to the RPG, including how players go about catching new Pokémon, but which version players picked up determined which starter Pokémon they ended up with. Fans who picked up Pokémon Let's Go Eevee would start with an Eevee, while Pokémon Let's Go Pikachu players started off with the series mascot.
While Grande may have gone with the wrong starter, at least she went with the best Pokémon Go team.
mystic ✨

— Ariana Grande (@ArianaGrande) July 31, 2016