How 'Assassin's Creed: Unity' Could Help Rebuild Notre Dame Cathedral 


The world watched in horror as the 13th century Parisian landmark of Notre Dame cathedral burned. 

Words fail to really convey the emotions while watching the conflagration engulf such an iconic place of not only worship but peace and awe.
According to officials, the fire was stopped before it could reach the twin belfry, which would could have resulted in further catastrophic damage if the bells had fallen- possibly doing even worse structural damage. 

The roof area of the chapel known as The Forest is a total loss, and at this point, there is no way of knowing about the state of the internal parts of the cathedral. 

A number of statues and pieces of art were thankfully not in situ, as they had been removed for restoration recently.
According to CNN, a spokes person shared that prosecutors will be investigating an "involuntary destruction by fire", and there are no OFFICIAL causes yet, even though several local sources have been quoted as alluding to something electrical, or something to do with the recent restoration construction (explaining the multiple scaffolding areas around Notre Dame).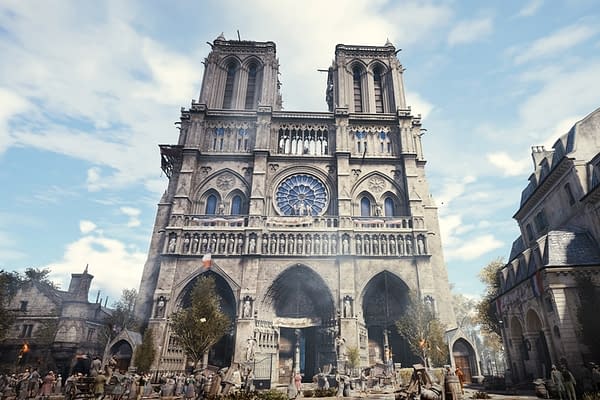 There is SOME good news alongside this unthinkable occurrence, and it comes from an unlikely place- the Assassin's Creed video game series from Ubisoft. 

The ongoing franchise uses historical places in their stories, oftentimes recreated down to the most minute of details for home gaming.
One such title is Assassin's Creed: Unity", which just so happens to have scenes within Notre Dame. 

Caroline Miousse, artist for "Unity", had spoken previously to The Verge about the painstaking detail she and her team had gone to in order to accurately present the landmark, filming within the cathedral for 2 years. 

French President Emanuel Macron has vowed to rebuild the landmark.
Miousse's record, along with the late Vassar art historian Andrew Tallon's 3D imaging of the building, will be an invaluable part of that resurrection.
We are, of course, hoping the damage isn't a total loss, as Notre Dame also housed the single-largest pipe organ in all of Europe (around 8,500 pipes), and numerous stone facades and icons from the centuries.
The good new is- things don't seem as bad we thought.
And, several individuals have come forward pledging to donate upwards of $1,000,000 to help facilitate the rebuild effort.