Atari Announces Video Game-Themed Atari Hotel In The Works
Of all the things we expected Atari to tell us they might be working on in 2020, a chain of hotels with their own logo and branding was not on the list. This morning the company announced the company had penned a new deal with GSD Group, which is an innovation and strategy agency led by founder Shelly Murphy and partner Napoleon Smith III. The deal has allowed them to acquire the tights to create a and build video game-themed Atari Hotels in the United States. The first one will break ground sometime this year in Phoenix, Arizona, with plans to build hotels in Las Vegas, Denver, Chicago, Austin, Seattle, San Francisco, and San Jose. Here's a few quotes from this morning's announcement.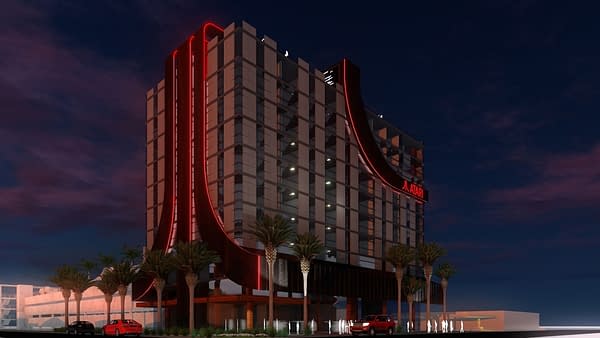 "We are thrilled to partner with GSD Group and True North Studio to build the first-ever Atari branded hotels across the United States. Together we'll build a space that will be much more than just a place to stay," said Fred Chesnais, CEO of Atari. "Atari is an iconic global brand that resonates with people of all ages, countries, cultures and ethnic backgrounds and we cannot wait for our fans and their families to enjoy this new hotel concept."

"When creating this brand-new hotel concept, we knew that Atari would be the perfect way to give guests the 'nostalgic and retro meets modern' look and feel we were going for. Let's face it, how cool will it be to stay inside an Atari?!" said Napoleon Smith III.

"Atari Hotels will be the first of their kind in the U.S., offering gamers of all ages the ultimate in immersive entertainment and in every aspect of gaming. We're excited to be working on this project with such great partners and to bring a big win to Arizona," added Shelly Murphy.