Posted in: Card Games, Games, Pokémon TCG, Tabletop | Tagged: pokemon, pokemon cards, Pokemon TCG, Scarlet & Violet, sowsow
---
Pokémon Trading Card Game Artist Spotlight: AKIRA EGAWA
This week's Pokémon TCG Artist Spotlight takes on AKIRA EGAWA, artist of the four Gold Alternate Arts from Crown Zenith and more.
---
Throughout the years, the Pokémon Trading Card Game has featured a variety of incredible art styles. Now that the hobby has been around for more than a quarter of a century, we have seen the artwork of Pokémon TCG cards elevated by daring new artist choices as well as illustrators who have been veteran contributors since the very first releases. Let's take a journey through the eye-popping, mind-expanding history of Pokémon TCG artwork by exploring some of the hobby's most interesting and unique artists. Today, we will spotlight AKIRA EGAWA.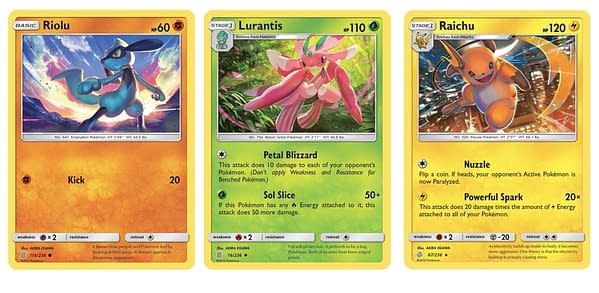 With their name stylized in capital letters on their credit, you know AKIRA EGAWA came to the Pokémon TCG with the intention of being bold. That has certainly been the case, as EGAWA's art style is immediately visually distinct, even though they have only contributed for a few years. EGAWA's first-ever credit was in Sun & Moon – Unified Minds, where they delivered two painterly cards: a stunning Riolu and an amazing Lurantis. This was toward the end of the Sun & Moon era, so we didn't see EGAWA take on any Ultra Rares or Alternate Arts during this era, but this dynamic Raichu from Sun & Moon – Cosmic Eclipse continued to hint at the greatness that would come in EGAWA's Pokémon contributions.
During the Sword & Shield era, we saw EGAWA expand beyond the border of commons, uncommons, and rares. The first time EGAWA illustrated an Ultra Rare was with Lucario in Champion's Path. How appropriate that EGAWA's first-ever card was Riolu and their first-ever Ultra Rare was Lucario?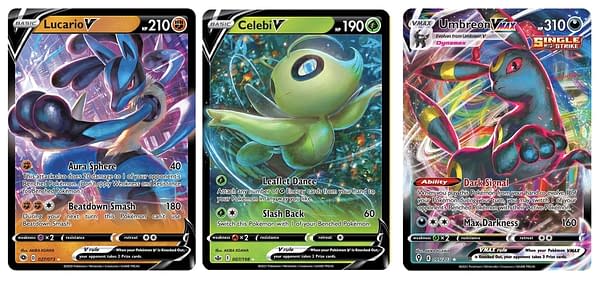 EGAWA became a staple of Ultra Rares soon after that, with standouts being the gorgeous Celebi from Sword & Shield – Battle Styles and the iconic Umbreon VMAX from Sword & Shield – Evolving Skies. While not pictured, other memorable cards like this include Blaziken VMAX from Sword & Shield – Chilling Reign, Chandelure VMAX from Sword & Shield – Fusion Strike, and more.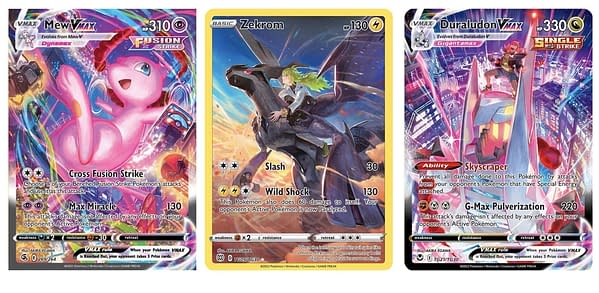 EGAWA got to shine even more on the various card types during this era that allowed artists to flex their skills, including Alternate Arts, Character Rares, and Illustration Rares. Interestingly, EGAWA's first Alternate Art, Mew from Sword & Shield – Fusion Strike, was seen as a bit of a letdown due to how similar it was to a standard VMAX. EGAWA would later embrace the freedom of this card type with Zekrom Character Rare from Sword & Shield – Brilliant Stars and the Duraludon VMAX Character Super Rare from Sword & Shield – Silver Tempest.
It was Crown Zenith that saw EGAWA get their best gig ever: a four-card collection in the set's Galarian Gallery subset featuring Arceus, Giratina, Origin Forme Palkia, and Origin Forme Dialga on Gold Alternate Art VSTARs. EGAWA is the only artist to draw this card type, as the Gold Secret Rares before and after this used different styles. These are considered the top chase cards of Crown Zenith.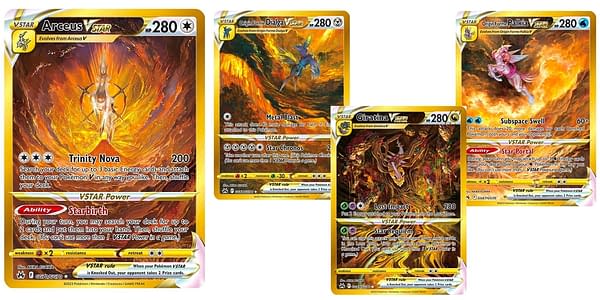 Be sure to check Bleeding Cool every day to follow our in-depth Pokémon TCG coverage as we explore the hobby's past, present, and even future with upcoming set reveals.
---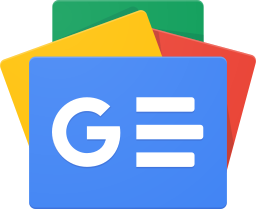 Stay up-to-date and support the site by following Bleeding Cool on Google News today!