Atari VCS Now Available for Pre-Order on IndieGoGo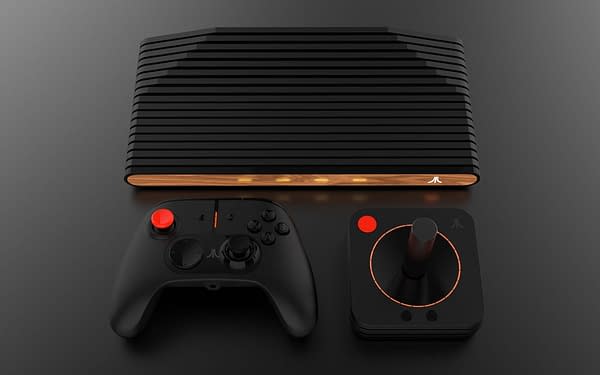 Atari has announced that its new Atari VCS hardware platform is now available for pre-order exclusively on Indiegogo. Two different VCS models are available for pre-order: the Atari VCS Day One Collector's Edition which features a retro-inspired real wood-front and the Atari VCS Onyx which has a glossy black face and "searing Atari Red illuminated Fuji logo."
The VCS Day One Collector's Edition retails for $299 USD and is exclusive to the IndieGoGo pre-order campaign. It will only be available for a limited time. The VCS Onyx is the more standard edition of the console, and is priced at $199 USD. You can pick up the Classic Joystick or the modern controller as standalone purchases or in select combo bundles.
The initial wave of Atari VCS shipments are planned for mid-2019, so it will be about a year before you get your hands on the newest Atari box.
The Atari VCS is a modern device, despite looking like a retro console. It comes with the Atari Vault collection pre-installed to give you more than 100 classic Atari games including all-time favorites like Asteroids, Centipede, Missile Command, Gravitar, and Yar's Revenge.
However, the VCS also features an open platform as users can access the Linux sandbox to add their own software and customize their system. The console will also have universal peripheral connectivity to work with other PC input devices such as bluetooth and USB game controllers, mouse and keyboard, webcams, microphones, external speakers, and headphones.
So its basically a baby Atari dekstop tower.
"We are happy with the progress we are making on Atari VCS and thrilled that fans finally have a chance to reserve the first ones," said Michael Arzt, Atari COO of Connected Devices. "Atari VCS will give fans a lot of freedom to game, stream, connect and customize their experience like never before. The entire Atari team is working hard to deliver this unique platform and can't wait for fans to get their hands on it. We'll have exciting reveals and announcements between now and then so stay tuned!"
As far as internal specs go, Atari has partnered with AMD to provide the console's custom processor with Radeon Graphics Technology, but they've also teamed up with Power A to develop the Classic Joystick and Modern Controller peripherals for the console. The Atari VCS will support 4K resolution, HDR, and 60 FPS content, onboard and expandable cloud storage options, dual-band WiFi, Bluetooth 5.0, and USB 3.0 support.
You can find more information on the console, or snag yourself a pre-order here. The VCS pre-order announcement trailer is below.