Atari VCS Gets Pushed to Late 2019 But Will Get Upgrades
Atari has some bittersweet news for people waiting for the Atari VCS, as the console will be getting some improvements but will be pushed back into late 2019. It's been an interesting but quiet ride for the new console coming from one of the original gaming companies on the planet, but in a new blog post on Medium, the company laid out details of new hardware and capabilities going into the VCS. Those include a 14nm AMD processor with Radeon Vega graphics architecture and two Zen CPY cores, and AMD's Ryzen embedded chip. You'll also see built-in Ethernet, Native 4K video with modern HDCP, and a secure frame buffer supporting DRM. Here's some added details from the post.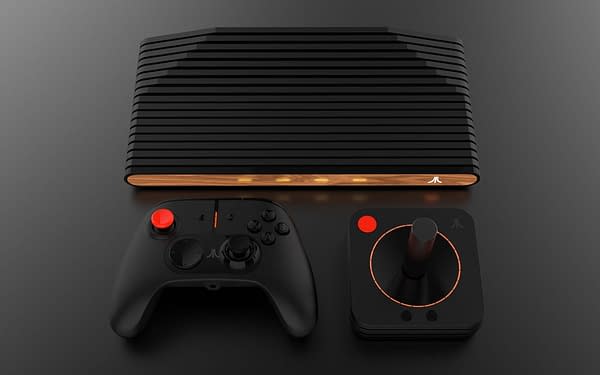 This upgrade will translate to better overall performance in a cooler and quieter box — all with minimal impact to our manufacturing processes. While additional specifications about the new AMD processor will be announced closer to launch, be assured that the new AMD Ryzen processor is a much better fit for this project in multiple ways and will further enable the Atari VCS to deliver on its promise to be a unique and highly flexible platform for creators.

Atari cannot thank our great partners at AMD enough for bringing forward this exciting new — and thus-far unannounced — product for us to utilize in the VCS.

The North American schedule is now targeting end of 2019 for delivery.With this decision to upgrade, and the resulting modifications to the system architecture and software that are needed, the VCS team now projects a new delivery window for the Atari VCS at the end of 2019 for Indiegogo backers.

Atari has an incredible community of backers and fans and the Atari VCS team is committed to delivering the best possible finished product and experience into our customer's hands. The Atari VCS represents a huge part of Atari's future and we refuse to compromise that opportunity with an inferior product experience.
Hopefully, the company will actually bring some hardware to E3 2019 for people to try out. If not, it'll be a hard sell trying to get people to buy into a product that keeps being pushed back and no one had a chance to experience first.