Beep Games has released a new gameplay trailer for Bartlow's Dread Machine, showing off more of the game's mechanics and play style. Ever since the game was unveiled at the New York Game Awards, we've been fascinated with this indie title where you control a pair of old-timey heroes inside an elaborate mechanical playhouse. The game slowly tells an interactive story as you have to make decisions with a pair of characters who are essentially on a rail system in a 3D environment. It's pretty cool to see it in action and we're looking forward to playing it whenever they release it this summer. But for the time being, enjoy the new gameplay trailer below along with details of the game.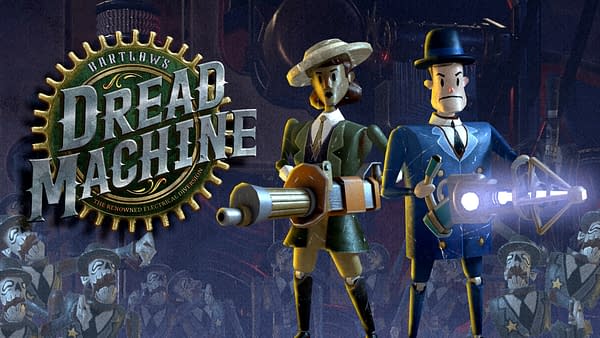 An artifact from the past returns in Bartlow's Dread Machine, a long-forgotten game from the dawn of the Electric Age. Dread Machine is a dual stick arcade shooter with single player and couch co-op modes, six scintillating game worlds and a cast of improbable monsters and historical characters. Teddy Roosevelt has been kidnapped! Your mission: Pursue his abductors from New York, across the Great Plains to San Francisco, the high seas and beyond using trains, ships and even a newfangled automobile. Master an arsenal of futuristic Edwardian weapons as you fight otherworldly creatures to free the Commander in Chief.

Single-player and couch co-op modes, so you can play solo or team up with a trusted friend.
Whimsical visual style that pits tin toys against taxing enemies across a side-scrolling, penny arcade-inspired landscape.
Fun storyline set in a bizarre version of early twentieth century United States.
Upgrades galore: tons of guns, hats, and items to level up your character.
So much variety! Travel through six era-appropriate locales; customize your character's gender and skin tone; unlock and play as famous historical figures like Marie Curie, Nikola Tesla, and Zombie General Custer.
More than meets the eye? There are rumors that A. H. Bartlow, the original inventor of this incredible device, went mad while he was building it.
Enjoyed this article? Share it!