Latest Far Cry 5 Update Fixes Co-Op and Arcade Issues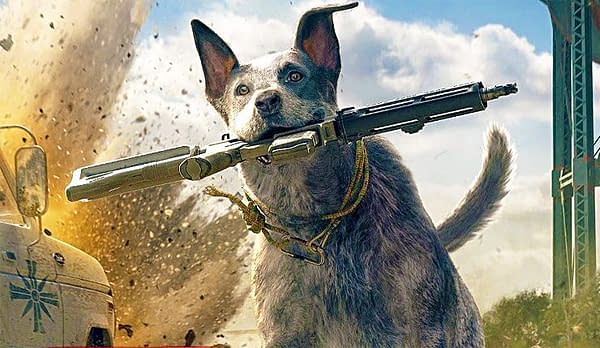 Far Cry 5's launch had a couple of stability issues, but Ubisoft is fixing those with the game's latest update, which will fix a number of stability, co0op, line, and Far Cry Arcade issues. Ubisoft announced the changes on the Far Cry forum by revealing the patch notes for the update which is available now on PC and will hit consoles on Monday, April 9th.
The patch fixes "low occurrence crashes and walkthrough breaks," to make missions and terrain less prone to bugs. The patch also improves connection and voice communication in co-op, and PvP matchmaking for Far Cry Arcade.
The full list of fixes from the patch notes are below:
Stability & Performance
Fixed low occurrence crashes and walkthrough breaks
Additional quality bug fixes
Fixed low occurrence save corruption
Companion, Enemy, & Animal AI
Fixed low repro AI issues
Design & Mission Progression
Fixed issues preventing silver bar purchase
Fixed minor bugs
Gameplay & UI
COOP and Online
Improved COOP connectivity
Fixed low occurrence COOP specific walkthrough breaks
Fixed voice communication issue where players could be permanently muted
Hurk was blowing up the client player when in a helicopter, fixed that.
Far Cry Arcade
Improved map download efficiency
Fixed various Arcade gameplay issues
Fixed issue where map textures would be extremely low
Improved PVP matchmaking
Fixed lobby loadout selection and map selection issues
Map Editor
Fixed issue with Arcade Editor crashes
PC Patch Only:
Fixed issues that were causing incorrect spawn if the game was minimized during loading