Bethesda Softworks Reveals Rage 2 Post Launch Content Roadmap
With Rage 2 coming out next week, you might be wondering what Bethesda Softworks has planned for the game after launch. No worries, we got a map! As you can see from the graphic below, the company basically has a plan for most of 2019 as May will start off with a world event called "Bring The Ruckus" along with new skins and wasteland challenges, right out the gate. In fact, every month appears to have all three of those pieces of content planned through August meaning you'll be seeing at least a monthly update to the game which will probably come with updates.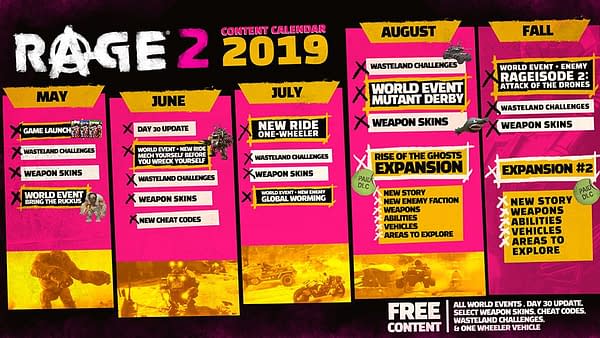 Some of the more interesting points to the content is material like Cheat Codes coming in June, but not just cheat codes, NEW cheat codes. Meaning there are already codes built into the game for people to exploit. It's also interesting to see two DLC packs are planned as their own separate additions to the game that will have story content included. Rage 2 will be released on May 14th for PC, PS4, and Xbox One.