Last week, Kakao Games and Pearl Abyss released info about the next set of updates to Black Desert Online, and this week we're seeing the fist of them arrive. Specifically in the form of Doom the Dream Horse, all firey and only accepting of the best riders the game has to offer. According to the developers, its unique skill Dark Sprint will leave a trail of fire in its path and burn nearby opponents while you run across the battlefield. Doom can only be obtained by training then awakening a Tier 8 Lv. 30 courser with a Krogdalo's Origin Stone via NPC Gula of Stonetail Horse Ranch. Yeah, we know, that's a lot to take in to make one horse your own, but it's one hell of a house, literally. To help you get there, the devs have added a +100% EXP boost for mount/training EXP, which will run from April 30th to May 15th.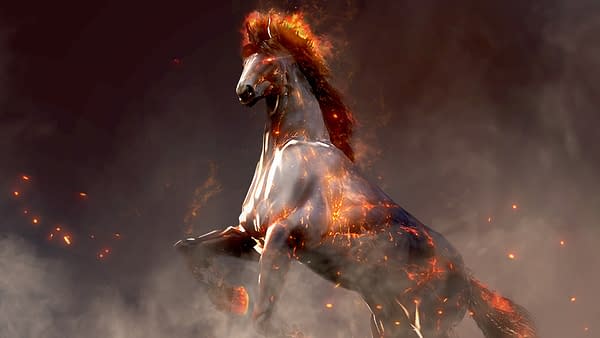 Meanwhile, that's not the only addition added to the game as Garmoth makes her presence known Kamasylvia. According to the info, the dragon will now randomly appear in Sherekhan Necropolis, Blood Wolf Settlement, and Tshira Ruins. If you manage to survive her attacks you'll find some handsome treasure waiting for you. Here's a proper trailer from Black Desert Online showing off what awaits you.
Enjoyed this article? Share it!