Blizzard Pulls Holiday Overwatch Map After Players Get Stuck at Spawn
A little bit of troubling news during the holiday event in Overwatch as Blizzard had to pull one of the maps after people got stuck. Everyone was super thrilled to see a holiday version of Blizzard World be added as the Claifornia-esq positioned theme park got a shade of holiday cheer. Sadly, only half the players every game got to enjoy it as the game bugged out and locked attacking players inside the Hearthstone tavern where they spawn. The developers had to pull the map and issues this statement on their forums.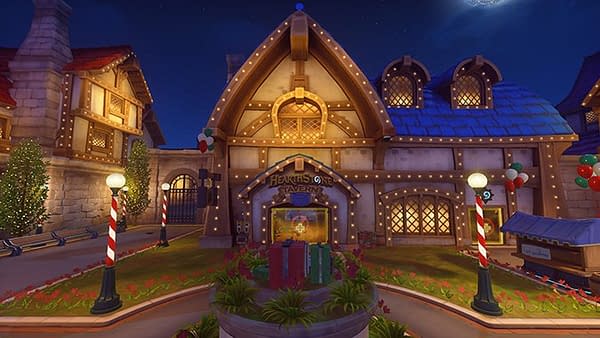 We've identified an issue with Blizzard World preventing players from leaving spawn areas at the start of the match and completing the match.

Due to the impact of this issue, we have temporarily disabled Blizzard World in all regions on PC, PlayStation 4, and Xbox One while we troubleshoot. We don't have an ETA to share right now for when Blizzard World will again be playable, but this is currently our top priority and we will be sure to provide updates in this thread and on Twitter via @BlizzardCS 33 as they become available.
Hopefully, this is a simple fix to get the doors to open, but who really knows beyond the devs at this point. But we're guessing we'll see it put back into Overwatch before the weekend.