Blizzard Receives More Backlash Over "Hearthstone" Player Ban
Just 48 hours after Blizzard Entertainment ruled to ban a player for making a political statement during a Hearthstone event, the company is facing major backlash. Back on Tuesday morning, we reported on how the company made a ruling over a political statement made during one of their streams by Chung "blitzchung" Ng Wai, who called for the liberation of Hong Kong. Blizzard responded by suspending him from tournaments for a year and withholding his prize earnings over the incident. Since that time, the internet has responded to the actions by calling for a boycott of the company, even starting the hashtag #BoycottBlizzard.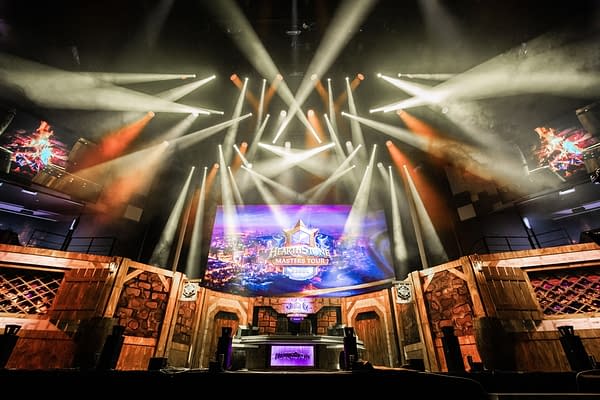 A mere 48 hours later, and it appears Blizzard Entertainment have found themselves in the proverbial crosshairs of everyone who does not like what's happening in Hong Kong at the moment. Twitter is on fire as people are accusing the company of doing it as a business decision. Meanwhile, the protests on Hearthstone's system didn't stop with blitzchung, as the Collegiate Hearthstone championship was interrupted by players holding up a sign that said "Free Hong Kong, boycott Blizzard". The company immediately cut off the interview and declared there would be no more interviews that night. No word yet if Blizzard will take action against those players or if they'll hold back after seeing the backlash so far.
Speaking of the backlash, it's not just being echoed by players and angry fans, broadcasters for Heathstone are also taking a stand. Polygon got the scoop yesterday that Brian Kibler, one of the most popular names on the broadcast team, quit the upcoming Gransmasters tournament happening next week in Bucharest in protest of the actions against blitzchung. He issued a statement through BMK Gaming saying "That kind of appeasement is simply not something I can in good conscience be associated with." On top of that, last night the company was accused of not allowing people to cancel their accounts. A story which VICE proved to be false, and at this time, appears to be an effect of so many people canceling their accounts.
Finally, and the biggest piece of news to come from the past two days, was that several Blizzard employees staged a walkout on their own company after the ban. As of when we're writing this, Blizzard has yet to address the backlash or un-ban blitzchung in the wake of what's been happening. We'll be keeping an eye on the situation for new developments.