In their Spring Update livestream today, Capcom detailed all the upcoming changes to Monster Hunter: World that fans can expect to see in the coming months. Naturally that all involved the upcoming expansion, Iceborne, as it was featured in today's Sony State of Play stream. The new trailer gave us more information on the expansion, though the stream gave us far more info.
The stream started out by giving us the release date for Iceborne, which will launch this Fall, then moved on to showing the same trailer that was featured in the Sony stream just an hour prior to Capcom's dev update.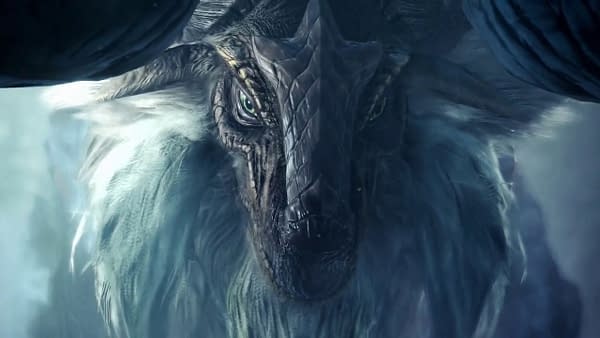 Here's everything you missed, in case you were unable to watch the stream yourself:
Iceborne will release on September 6th, 2019
Iceborne is just a massive expansion DLC, so you'll need to own the main game to play it

It takes place after the main campaign of Monster Hunter: World

The DLC brings in a new rank, called Master Rank, which is similar to G Rank from previous titles
This new local is called the "Hoarfrost Reach" and was designed based on player feedback and is visually very different from the areas in the main game
Snow effects and other visual elements had a lot of particular care involved in their creation, like players leaving a trail behind them
Players can use hot peppers to make hot drinks to stave off the persistent effects of cold on your stamina gague, much like we've seen before
Popols are back
There are plenty of unique creatures in the new area
There are natural hot springs you can use to warm yourself up and deal with ailments brought on by the cold
Bonbaro is the first wyvern that players will encounter in Iceborn, and he's something of a bulldozer
Beotodus is one of the first big monsters that you'll run into, and he will bury in the snow to track you down, but shares an environment with Bonbaro so you might run into a turf war between the two
Nargacuga is returning in Iceborne and appears about halfway through the story, and is as much of a challenge as you might recall with his swift attacks and shrewd way of fighting
The new flagship monster for Iceborne is Velkhana, an ice-type elder dragon, who is absolutely brutal by combining straightforward ice attacks along with some more mysterious gameplay aspects that should make things interesting for players
New hunter actions are being added

You'll be able to use your Slinger's with your weapon drawn with all weapon types
You can use the Slinger's Clutch Claw to grapple with monsters and control them
While clinging onto a monster you can use several other attacks like the flinch shot, power shot,
There are new combos to incorporate the use of a Slinger with all weapons
You can reload ammo while evading with a slide

Iceborne will be available as a digital edition, including a Digital Deluxe Edition which contains the expansion, stickers, gestures, and layered armor
The Icebore Deluxe Kit includes the same bonuses as the Digital Deluxe edition along with a SteelBook case.
The Monster Hunter: World – Iceborne Master Edition includes all the deluxe edition bonuses plus the base game
The pre-order bonus for Iceborne is the Yukumo layered armor
The Steam release for Iceborne on PC is being planned for this winter.
As for the base game, on Saturday, May 11th, Arch-Tempered Nergigante will become available for players to take on for a limited time. There's a new set of Nergigante Gamma armor to craft, as well. PlayStation owners can get the Nergigante dynamic theme for PS4 to get a closer look at the elder dragon. It is only available for purchase.
You can watch the stream here.
Enjoyed this article? Share it!