City-Building Puzzler URBO Will Come To Steam Next Fest
Test your puzzle-solving skills in the middle of a mystifying cityscape as URBO will arrive for Steam Next Fest next week.
---
Indie developer and publisher Door 407 confirmed this week that their latest game URBO will be coming to Steam Next Fest. Being released by the same company that gave us Diplomacy Is Not An Option, the game will have you solving puzzles across a city-builder, where the main goal is to build up your spaces until there's nothing left to build on. Sounds simple enough, but don't be fooled, as everything has a purpose and a reason that you most solve before the level is complete. The free demo will drop when the fest begins on February 6th, 2023. For now, here's more info and a trailer.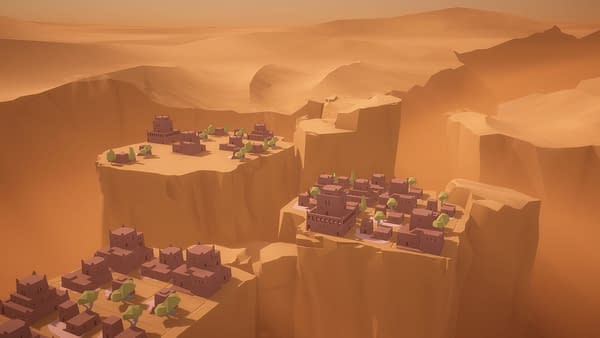 "URBO offers you the opportunity to build towns on floating islands. You'll watch small houses grow into bigger ones, then bigger ones into even more, slowly filling the space for your town. When you run out of space on one island, a new one will appear, followed by another, and so on, until you complete the level. Dive into the inimitable ambiance of URBO, where landscapes delight the eye and puzzles evoke memories of mathematically precise riddles from ancient legends. You shall create cities that can only be seen in dreams. Dreams to be remembered and to which you'd wish to return. URBO is a unique mixture of visual minimalism, relaxing music, meditative game tempo, and puzzles that impress with their elegant solutions."
"URBO invites you to visit myriad worlds. Futuristic cities floating in the abyss of open space. The capital is hidden in an impregnable canyon in the heart of the desert. The peaceful quarters of a small fishing village nestled on the shores of the Mediterranean Sea. URBO is where dreams of distant places come true. You shall see many worlds, existing ones, lost ones, and these that are yet to be found. The choice is yours. URBO gives you hours of pleasant moments of contemplation. Under the disguise of simplicity lies a riddle that requires concentration. The riddle generously rewards an attentive player. URBO is designed so that its nature is clear at first glance. But it will take time and experience to learn how to pick the keys to all the puzzles."
"The rules are very simple: build houses on playing fields of different geometric shapes. From small houses come bigger ones, then even bigger ones, and so on. Thus grows your city and the number of people who call it home. Maybe one day you can build a city that can't expand anymore. But even then, there is always a new playing field of a different form, requiring a fresh approach. Take your mind off work for a quarter of an hour or spend an entire evening playing the game. Run it while waiting for guests or during a break from your favorite activities. Take a moment to pause if you're feeling stressed. Shift your attention when you realize you can't solve an important problem. Who knows, maybe it's URBO that holds the key to it."