Conan Exiles Receives Some New DLC Content Called "Jewel of the West"
Funcom released a brand new DLC pack today for Conan Exiles that has some intriguing content designed to give players a broader experience. We have a complete set of notes for you below as the DLC will be sold for $10, but you should be aware that none of this will give you an advantage in the game, it's all content and cosmetics.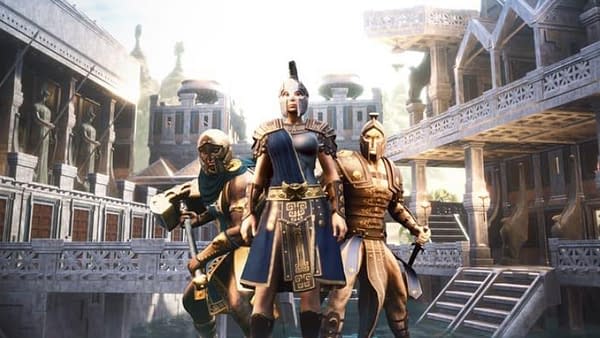 Get your hands on all new building pieces, placeables, weapons, armors and warpaints from the powerful kingdom of Aquilonia! The new content allows you to build exclusive new houses and settlements with a complete set of Aquilonian building pieces. Build structures sheathed in smooth marble to create a whole new look for your base. Don three new armor sets like the Aquilonian Scout light armor and wield weapons like…

39 new Aquilonian building pieces.

A full set of building pieces with the same stats as existing tier three.

15 new armor pieces in three sets, such as the Black Dragon armor.

Light, medium and heavy sets with an epic end-game version of each.

9 new weapons in one Aquilonian weapon set.

Same power as iron weapons with an epic end-game version of each weapon.

5 new Aquilonian warpaints.

Decorative warpaints symbolizing for example rule and bravery.

25 new placeables, such as the harp and councilor chair.

Craft them at the new Aquilonian Artisan table.

All the new content from Aquilonia is exclusive to this DLC and adds a host of new visual options but does not give any in-game advantage in power. All the new items have comparable stats to existing items.