"Gamestop 2.0": A Retail Renaissance! Pt. 5
Hey there! By now, I hope you've seen my earlier article concerning an overview of Gamestop's experimental revitalization and rebranding project in Tulsa, Oklahoma, known there as "Gamestop 2.0". If not, this can be found here. I'd highly recommend you give it a look if you want an overview of what marvelous things await the gaming and game merchandise company, and through their unveiling, the consumers. Additionally, check out one of my latest articles for detailed information about my trip to the larger Gamestop 2.0 store.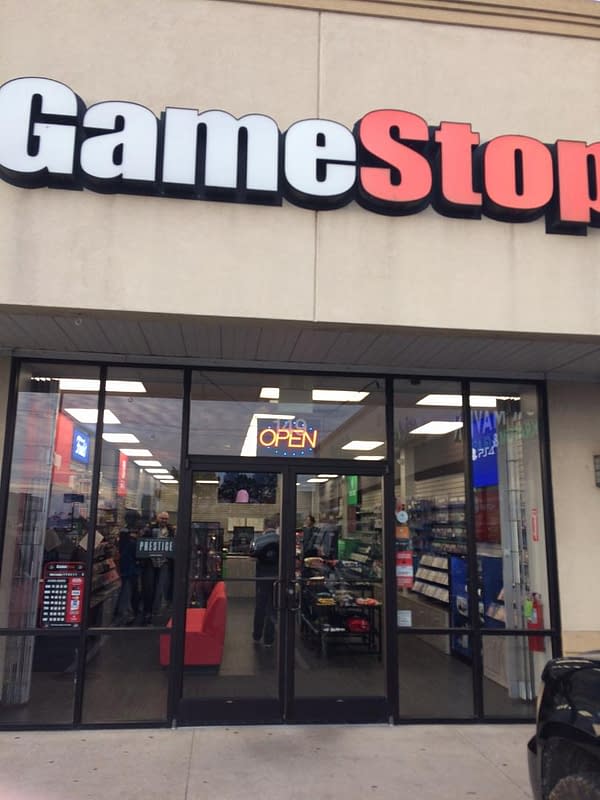 Now, you'll notice that in all four of my previous articles I made mention of the "Retro" store model for Gamestop 2.0's project in Pryor, Oklahoma (the other locations were all in Tulsa). In this article, I aim to detail the Retro store, its pros, and its cons.
So, upon walking in, I actually failed to immediately notice the cathode-ray television displays in the back of the store, but they were there, alongside a couple of arcade machines (Pac-Man and one other – I forget what it was but I think it was a golfing game). Instead, I was transfixed on the consoles – namely, what Nintendo consoles and game cartridges the store had for sale.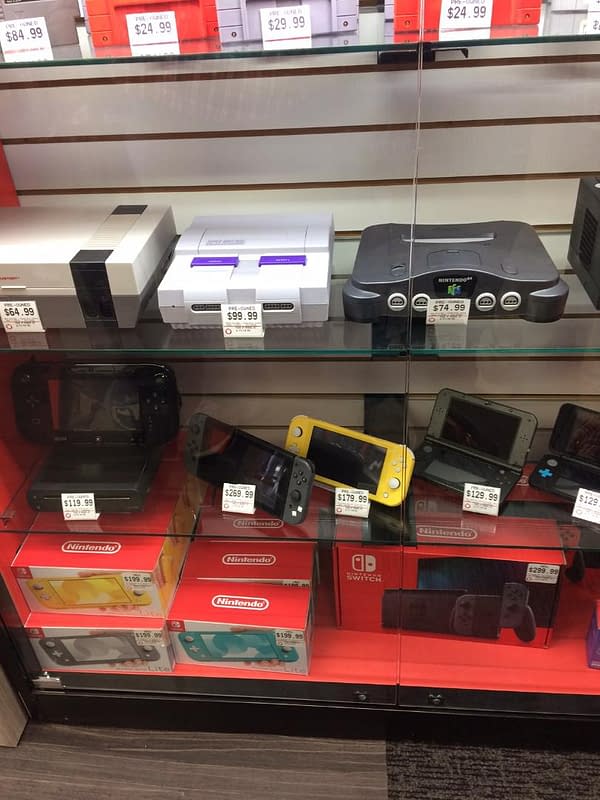 Not only did they sell Nintendo Switches, like all other Gamestop stores, but they also sold NES, SNES, and Nintendo 64 consoles and games as well. For a Gamestop store in the modern era, this is unfounded (if you look over Gamestop selling them when they were fresher).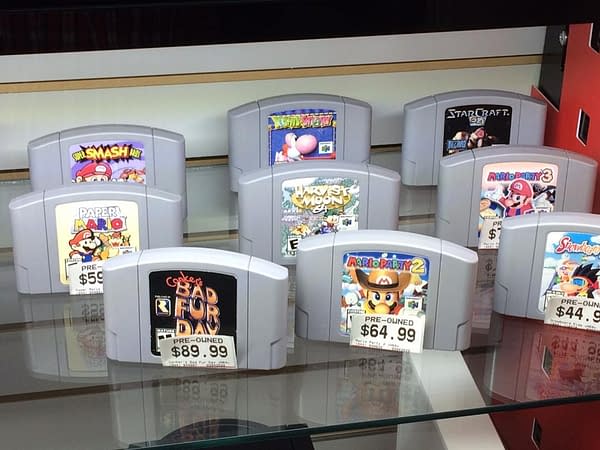 It was interesting to note that while the Nintendo games – all of them, not just the N64 games – were pretty expensive, most if not all of the Sony Playstation games being sold were under twenty dollars, or even less than ten. I spoke with a store associate about this and found that someone had come by within hours of this Gamestop acquiring a Playstation 3 with backwards compatibility (with the sale price at somewhere substantially under $100), and bought it without hesitation. I wonder if this discrepancy between Nintendo consoles and titles, and Sony's, is a source of concern.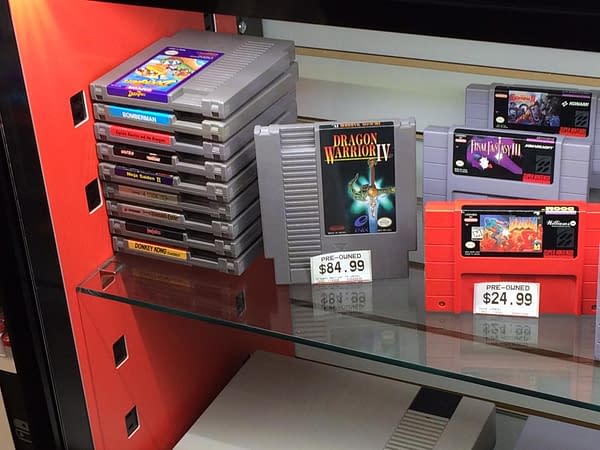 At any rate, I also looked at their "Endless Aisles" digital kiosk (which I went into alluding to in Part Three of this feature, found here). To my dismay, I saw that although the store didn't have certain titles available for sale at this location, the kiosk listed them as for sale all the same. I spoke with that very same store associate and they were just as perplexed as I was. That's a bit troubling.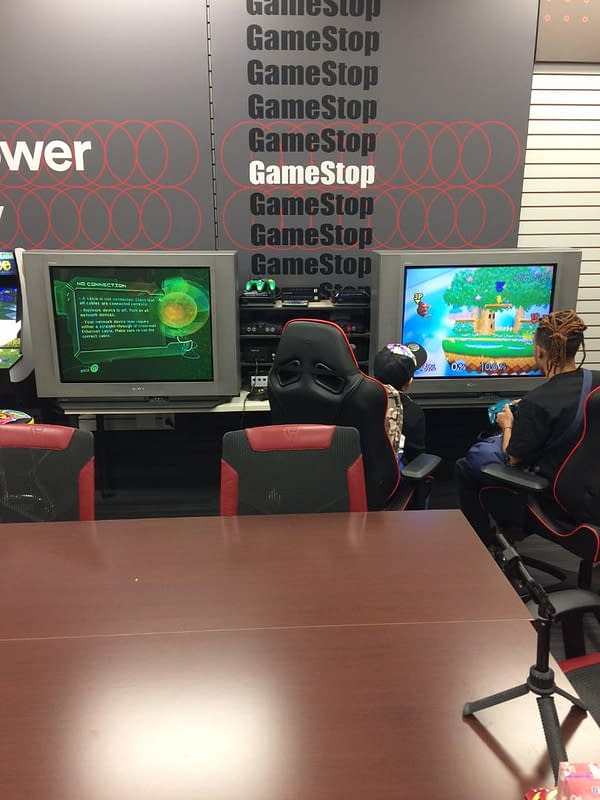 At this point, I walked towards the back to watch some people playing the original Super Smash Bros. for N64. That was neat and only a small part of the mass of games that this location was offering for play.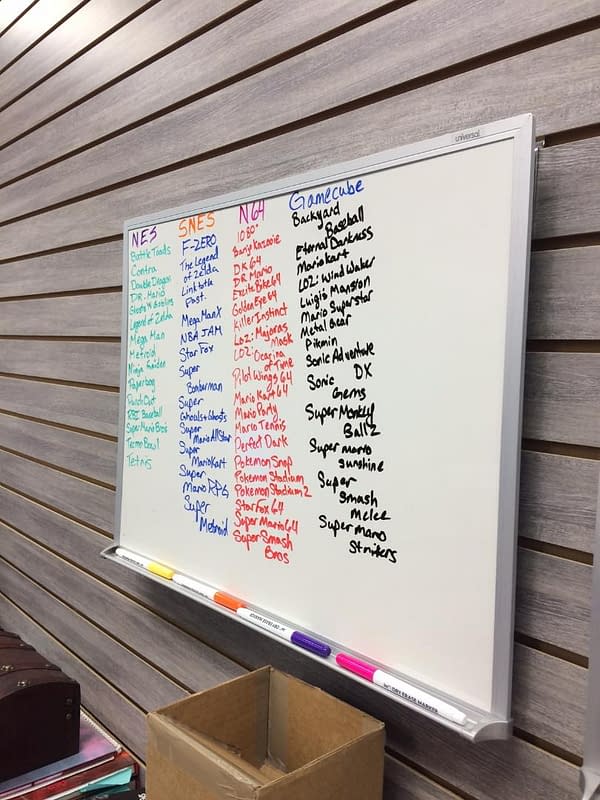 I saw something in the title list that really caught my eye. Is that…?
It is!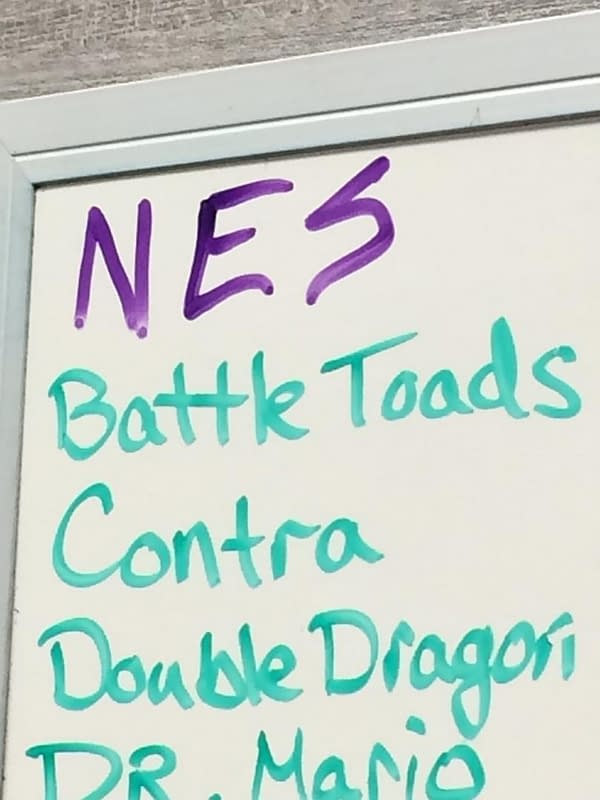 Does Battletoads save the Retro location from being my least-favoured store on the tour? I don't think so. I had a few issues with this spot, namely its "authentic" use of CRT televisions – this not only takes up massive amounts of space but why not just get some flatter displays that have line-in ports? At other stores, Gamestop has proven that they can fit twelve displays along the back of the sidewalls of the stores of that size. The Retro location could probably do the same, give or take between two and four.
Furthermore, a friend of mine and Nintendo 64 collector/connoisseur, Brandon Fox, had been shown images of the N64 games and made an important point to note that some of these games might be re-cased with new cartridges. Obviously this means that Gamestop employees working at their Retro locations (should they wish to expand this) need to make sure they know how to spot counterfeit cartridges.
In the end, though, I rather enjoyed the idea that players could play retro games in a Gamestop, but what about people who want to play new games? Pryor, Oklahoma is roughly an hour's drive away from Tulsa, so Tulsa is a bit of a schlep for people who want to play newer titles before buying them.
However, the location was pretty cool, all things considered. They have some issues to iron out but I rather liked the location as a whole, as well as my trip overall. Thank you to Gamestop for facilitating this experience!
What do you think? Are there retro or vintage games that you want to play now that you've read this article? Let us know your thoughts on the location!
If you want to go to this Retro Gamestop, the address is: 149 Steve Barry Blvd. Pryor, OK 74361