"Crash Team Racing Nitro-Fueled" Goes Back N. Time For Latest Event
Crash Team Racing Nitro-Fueled will be getting a brand new event kicking off on August 2nd as the players will be going Back N. Time. The game's second free Grand Prix season will send you to a new track where the dinosaurs roam free and everyone's age seems to be in flux. You'll be racing as old and young versions of all the racers on a brand new track.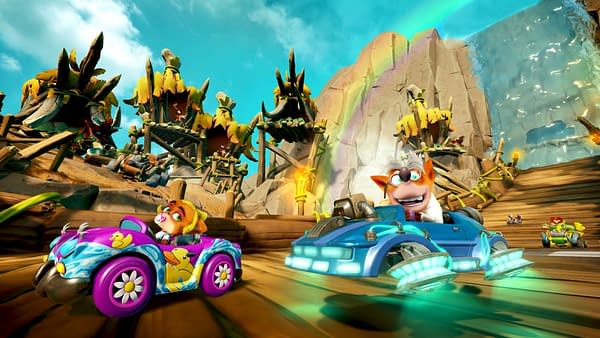 The event will end on August 15th, so you have a small amount of time to get in on it. Activision also released this roadmap showing players all of the rewards you can pick up for the event along with the challenges that lay in front of you. We have more details and the trailer for you here.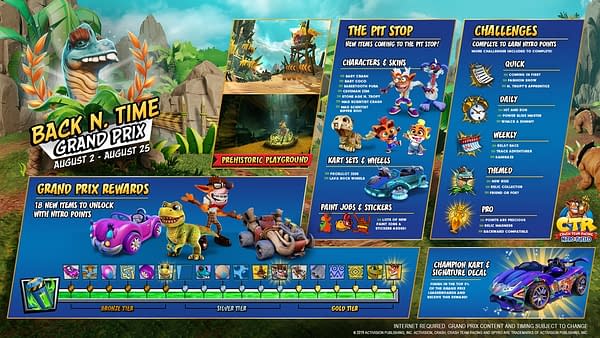 It looks like Cortex hit the rewind button a little too long, creating Baby versions of Crash and Coco, two new playable characters showing up in the Pit Stop this season! But don't let the pacifiers fool you, the Back-N. Time Grand Prix is also packing some major bedrock flair with the ability to unlock the kart turned time-machine Probulot 2000 in the Pit Stop, the beloved kart from Crash Tag Team Racing. Players will have 18 new items to earn by completing challenges and filling their Nitro Gauge. Highlighting these rewards is a new racer to CTR, Baby T., the beloved character from Crash Bandicoot 3: Warped.

New skins, such as Mad Scientist Crash, Sabertooth Pura, and Stone Age N. Tropy (to name a few) will also be making their way to the Pit Stop. There will be ways to intimidate the competition all around the track with new kart customization items like the flame-flaring Lave Rock Wheels. You can almost feel the heat coming off these primitive bad boys!

Last but not least, Beenox has really outdone themselves with the new Prehistoric Playground track. Prehistoric Playground will immerse racers in an epic world with Jurassic-sized flora, violent geysers bursting from the ground, caves with mysterious wall-paintings, and of course, giant dinosaurs roaming the land! With the introduction of the Grand Prix, Crash Team Racing Nitro-Fueled has created a new lane for the delivery of content and the framework surrounding kart racers to come.