Daybreak Games Announces Atlantis is Coming to DC Universe Online
Daybreak Games announced today we would be getting a whole new world to explore in DC Universe Online as they're bringing Atlantis to the game. Technically we won't be seeing the update for a while as the new area won't be added until November, but it didn't stop the company from sharing some slim details about it.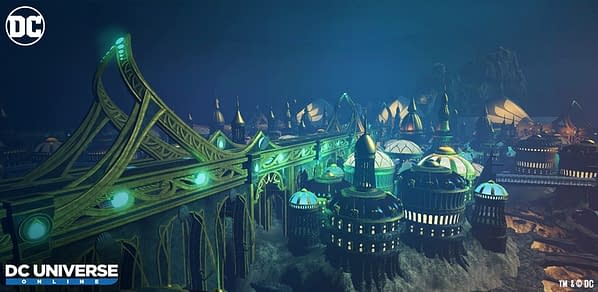 NEW EPISODE: ATLANTIS

In Atlantis, rebellion is festering deep beneath the sea. Aquaman reigns as king, but for how long? The tide is shifting, Corum Rath and his Deluge conspirators seek to seize the throne, and soon Atlantis itself will be thrown into chaos and war.

Players will journey to Atlantis to quell the rebellion, where the fate of the kingdom and perhaps of two worlds – land and sea – hang in the balance.

SJ'S TAKE: "Atlantis y'all. I know everyone – me included – has been wanting to visit Aquaman and Mera's home, and I'm so glad we get to finally take the plunge. The team is going all out on this one, just like we did with Teen Titans, and it's going to be a blast." – SJ Mueller, DC Universe Online Creative Director

JACK'S TAKE: "From the magic of Arion to the dystopian future of Flashpoint, Atlantis has always been at the center of DC Comics history. It is beyond exciting to be able to bring this world to life in DC Universe Online. I can't wait for everyone to see what we have built." – Jack Emmert, Daybreak Head of Games

THINGS TO KNOW ABOUT ATLANTIS:

Atlantis will be a large-scale episode and event, with level-agnostic event versions of content available for a limited time.
The episode will feature new and returning heroes and villains, including Aquaman, Mera, Aqualad, Ocean Master, Corum Rath, Murk, and more.
The storyline will include a variety of singleplayer and multiplayer adventures set for the first time in the undersea kingdom of Atlantis.
The episode will launch new player rewards, including new gear, styles, base items, and feats.