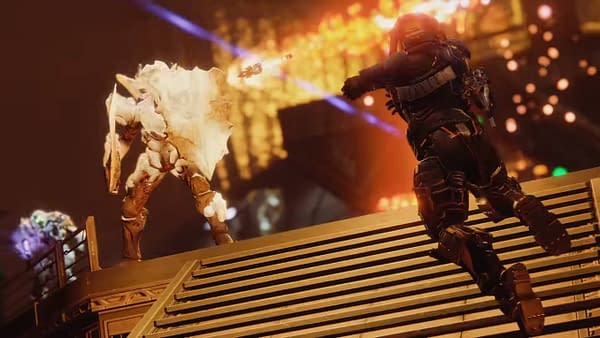 The heroic strike playlist in Destiny 2 has some bugs already as with completed strikes are not counting toward any quest progress. This affects both the heroic strike weekly checklist and Warmind's glory exotic quest. Which basically means heroic strikes are pointless right now, and thats not great. Naturally, Destiny players are not pleased.
Bungie's customer service Twitter account acknowledged the bug yesterday, saying that it's currently investigating the problem.
We are aware and investigating issues where Strikes may not be tracked correctly for some in game pursuits.

— Bungie Help (@BungieHelp) May 9, 2018
After finishing the Warmind campaign, players are given a multi-step quest leading to an exotic weapon, much like the exotic weapon quests on Nessus, Titan and the EDZ. One step in that quest chain requires a player to complete five heroic strikes.
The studio is also investigating a few other bugs which has caused the planned fireteam matchmaking improvements in the crucible to be rolled back, while Destiny2's API is currently acting up for both third-party apps and the official Destiny 2companion. There also appear to be problems with the game's season pass for console players trying to access the new expansion.
Bungie gave the following update to Polygon:
"We will be listing all known issues on the blog this Thursday, with status updates on each, if available."
Which means that, while the studio is aware of the problems, no fixes are yet in place. They did have some tips to offer though:
Assemble any non-matchmade Fireteam members before selecting the Heroic Strikes Playlist in the Director.

Ensure that no one is joining the Fireteam after the Heroic Strike Playlist has been selected, and make sure that no Fireteam members are in their menu before this activity is launched.

If players see a named strike (ex: "The Arms Dealer") when selecting the Heroic Strikes Playlist in the Director before launching, they must back out of the Director and select the Heroic Strikes playlist again. Players will know that they are successfully queuing this playlist when "Heroic Strikes Playlist" appears on-screen.

Once the Heroic Strike Playlist has been successfully launched and players are heading toward their destination, players may safely navigate to their menu to swap gear, adjust settings, or review their inventory.
Enjoyed this article? Share it!