Destiny 2's Crimson Days Rewards Players with a Masterwork Bow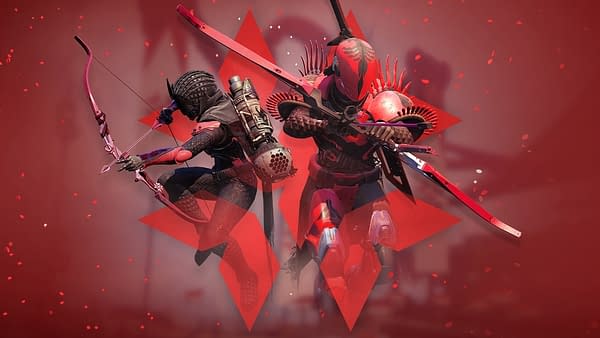 Destiny 2 will be celebrating Valentine's Day with the Crimson Days event again this year and the festivities kick off next week. While the event mostly functions the same way as previous years, the rewards for this year's event includes a masterwork bow alongside some of the more traditional rewards, like a shiny new Ghost shell or emote. In fact, all of last year's Crimson Days events are returning, with the addition of a new Legendary Bow, The Vow.
While the rewards have changed, so too have the way you receive them. The short version is that you'll need to turn in Crimson Bounties to Lord Shaxx in order to earn Confectionary Hearts which you can turn in for the various rewards.
From VG24/7:
You will need to earn Confectionery Hearts for completing Crimson Doubles matches and turning in Crimson Bounties. Lord Shaxx will be handing out these hearts in order to purchase the rewards.

There are two new rewards to earn this year as well. Similar to Horror Story in the last Festival of the Lost, a max power weapon will be available during Crimson Days.

It's a new bow called "The Vow", and it can be exchanged for Confectionery Hearts. The Vow comes fully masterworked and is the first bow available to all players of Destiny 2 and Power 650 for Forsaken players.

Playing Crimson Doubles will earn you seven Confectionery Hearts with every win and five for every loss. Each daily bounty will reward you with 15 Hearts, and the weekly Nightfall Duo bounty will give you 75.

Here are the Confectionery Heart costs for each reward:

Tirastrella Legendary Ghost Shell – 25
Undeterred Exotic Sparrow – 50
The Vow Legendary Bow – 100
Wardcliff Coil Ornament – 125
Flaunting Dance Legendary Emote – 150
Warmhearted Gift Package – 15

If you have an extra hearts, Shaxx will be offering a Warmhearted Gift Package which comes with a chance to receive Enhancement Cores, weapons, mods, gear, and resources.

And yes, there will also be Crimson Days Triumphs for you to complete to earn the Sugary Ghost Shell.
The Crimson Days event will be running in Destiny 2 from February 12th through the 19th.