Dissidia Final Fantasy Opera Omnia Launches Its Summer Fiesta Event
Square Enix has officially launched the Summer Fiesta event in Dissidia Final Fantasy Opera Omnia with a ton of updates and additions. This is basically their version of a summer event that will occupy your time and give you plenty to do during those long hot days where nothing much is going on. Seems like that's been our entire 2020, but you get the idea. You can read about all of the additions to the game below as there are a ton of new quests and items, along with some new avenues to venture down.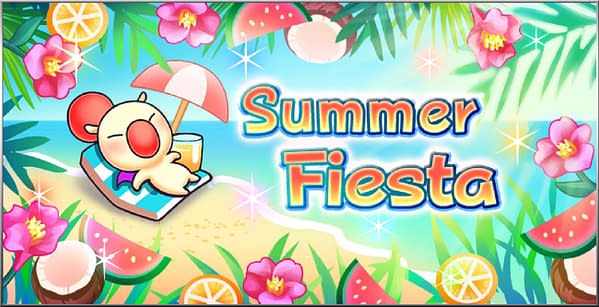 Return of Aranea Highwind

The lance-wielding commodore of Final Fantasy XV, Aranea Highwind, will return to the game for a limited time starting July 20. Fans who missed out on her earlier this year can add this global-first character to their collection and complete her event quests (up to level 50).

Free First Multi Draws

The first Multi Draw from eight special draws will be free to all players, including Aranea's banner, allowing players to obtain rare equipment.

Summer Gigantuar Quest

Players can participate in this daily quest until August 1 to earn Treasure Tokens, which can be exchanged for rewards, including weapon and armor realization materials, draw tickets and more.

Summer Co-Op Quests

Players can participate in a number of timed Co-Op Quests to earn helpful rewards throughout the month:

Now to July 10: Summer Incursion Dawn
From July 10–20: Summer Incursion Fever
From July 20–29: Summer Incursion Blaze

Players can exchange tokens earned from completing these quests for power tokens, armor tokens, draw tickets and more.

Dissidia Final Fantasy Opera Omnia Dimensions' End Challenge

Players can earn limited-time rewards for progressing through this challenging content, including various EX+ weapon materials and over 25,000 gems.

Additional limited-time Summer promotions include:

Chocobo Panel Missions – Complete missions to earn exciting rewards, including gems, draw tickets, EX+ materials and more.
Rewards and Kactuar appearance rates are doubled in Cycle Quests.
During the World of Illusions: Carbuncle, players will have a chance of triple rewards if they encounter the Magic Pot.
Co-Op Stickers – Collect brand new summer 2020 stickers for use in multiplayer, as well as returning summer stickers, for a limited time using Dissidia Points.
Gem Sales – A 3x Effect Support Item Sale along with Kupocards that give players gems daily and weapon enhancement chests are available for purchase for a limited time.
Costume Sales – Alternate costumes for Kain and Tidus will be available for purchase.