After the downfall of Telltale Games and the resurrection from Skybound Games, we finally have Episode 3 this week for The Walking Dead: The Final Season. However, something has already caught the eye of players that could be the news we've been waiting for on Episode 4. Below is a screenshot floating around on Reddit and a couple other outlets today showing that Episode 4 has a release date attached to it for March 26th, putting the final piece of the game and it's legacy just ten weeks away.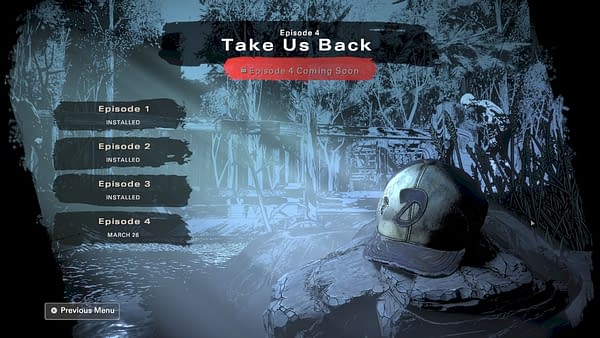 While we would love to believe we're seeing the final piece of the puzzle, it's really weird that this info was just given out to the public with no fanfare from Skybound that this was official. So for now, we're taking it with a grain of salt and assuming the date was a placeholder from the devs until official word comes out. Meanwhile, the devs are currently in the process of dealing with bugs, which we kinda assumed were going to come with the game anyway with all the changes. You can download Episode 3 of The Walking Dead: The Final Season today.
Hi all! Apologies for any bugs or glitches you are experiencing! For now, we ask anyone who's encountering any issues to try a fresh install of the game – after making sure your saves are backed up!

— Skybound Games (@skyboundgames) January 15, 2019
Enjoyed this article? Share it!