EDward Gaming Takes League Of Legends 2021 World Championship
The League Of Legends 2021 World Championship took place this weekend and in the end, EDward Gaming took top honors! The China-based team went head-to-head against one of the most heavily-favored teams in the entire series, South Korea's Damwon Kia. EDG took the first point early on in a grueling first battle while the two teams felt each other out, followed by Damwon taking the next two to make it 2-1. But EDG powered their way back for a second win to tie it up, leading to the fifth match (the first one in a final since 2016) that went over 40 minutes with EDG coming out on top. Along with Jiejie being named the MVP of the series. We got quotes from members of the winning team below along with he complete match for you to watch at the bottom. Congrats to EDward Gaming on their well-earned victory!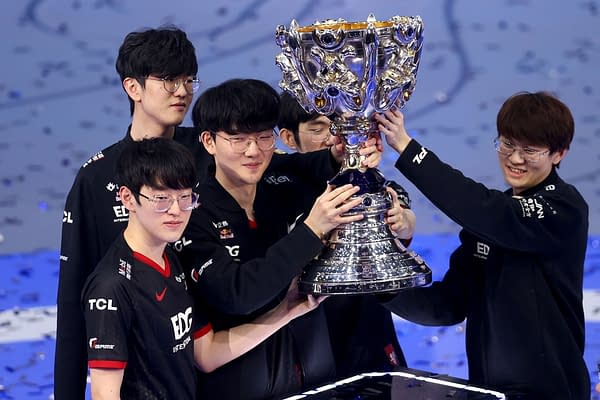 "I feel like coming to EDG has been a new start for me. We had so many difficult times but we tried so many different strategies," said Flandre. "We were able to finally find a way to get the win. Before this game SofM asked me to take revenge against Damwon Kia. We were finally able to take revenge.

"I have experienced so many failures so I believed this time we could get the win," said JieJie.

"I have faced so many challenges throughout this journey. I was finally able to have a good result. I'm also happy I helped Faker take revenge so I'm happy," said Scout. "I'm really surprised that I'm the MVP because I don't feel that I played that well. I feel JieJie should've gotten this because he had an amazing performance. I appreciate all the fans from around the world who have been waiting for this moment.

"Previously I hadn't done so well. I've tried to adapt and improve," said Viper. "For this year I've had really good teammates and I feel that throughout this journey there have been some obstacles and I'm happy to get this trophy."